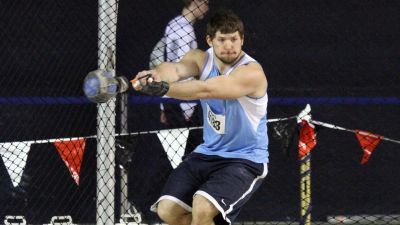 SEWARD, Neb. – The Concordia University track and field program has swept men's conference weekly awards. On Wednesday (Jan. 25), the league named Cody Boellstorff the GPAC Men's Field Athlete of the Week and Lucas Wiechman the GPAC Men's Track Athlete of the Week. Wiechman has earned the same honor that teammate CJ Muller pulled in last week.
Boellstorff just keeps on winning weight throw competitions. The defending national champion in the event put forth a season best toss of 65' 5" while winning the weight throw at the Prairie Wolf Invitational on Jan. 20. That mark currently leads the nation. The native of Waverly, Neb., owns a weight throw personal best of 69' 9," which came at the 2016 national championships. Boellstorff also finished eighth in the shot put at the Prairie Wolf Invite.
Wiechman enjoyed a big day both on the track and in the pole vault at the Prairie Wolf Invite. The Pilger, Neb., native raced to a fresh automatic national qualifying time of 8.25 on his way to a second-place finish in the 60-meter hurdles. Wiechman also equaled a personal best of 16' 2 ¾," a clearance that gave him the top mark in the pole vault competition. He also ran a leg for the 4x400 meter relay that placed first by clocking in at 3:21.48 (national qualifying time). Wiechman is a six-time All-American.
Boellstorff, Wiechman and the rest of the Bulldogs are set to make their first home appearance of 2017 when they host the annual Concordia Indoor Classic inside the Fieldhouse on Sunday. The event schedule for the meet can be viewed HERE.