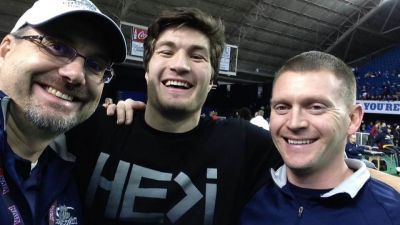 JOHNSON CITY, Tenn. – The star power is evident for the Concordia University track and field programs. In Friday's action at the 2017 NAIA Indoor Track & Field National Championships, the Bulldogs backed up their lofty placements on the national leaderboard. Both Cody Boellstorff and Lucas Wiechman captured individual national titles as part of six All-America performances for Concordia on the second day of the national championships in Johnson City, Tenn.
With one day remaining in the meet, the Bulldogs are leading the nation with 26 points on the men's side. They are second on the women's side with 17.5 points, two behind the leader.
"It's extremely exciting and I'm so proud of every single one of them," said first-year head coach Matt Beisel. "At every meet, there are going to be people who perform to their capability and some people who don't. You never know who that's going to be. The focus of our team has been great. I'm very pleased with what happened both yesterday and today."
Boellstorff has now seized three national titles in his accomplished career. On Friday, he defended his 2016 NAIA championship in the weight throw with his toss of 67' 9." He won the event by more than four feet. Boellstorff topped the NAIA in the weight throw from start to finish this indoor season. In the same event, teammate and fellow senior Zach Lurz (63' 11 ½") outperformed his No. 8 national ranking with a third-place finish. In the process, Lurz picked up the 13th All-America award of his career.
Also a national leader coming into the weekend, Wiechman finished off what he started on Thursday by earning his first-ever national title and his seventh All-America honor. Wiechman totaled 5,112 points for a season best. He didn't stop there. The native of Pilger, Neb., also ran the open 60 meter hurdles and qualified for the finals, clocking in at 8.28 (eighth place). Wiechman will also compete in the pole vault and as part of the men's 4x400 meter relay on Saturday. On Thursday, Wiechman and his 4x4 teammates turned in a season best time of 3:17.42, fifth best.
Named GPAC Most Outstanding Athlete of the Year, Wiechman has been stellar in his senior campaign. Said Beisel, "We're really proud of him."
The women's weight throw also came through with 12 team points courtesy of a runner-up finish from Kali Robb (60' 7 ¼") and a fifth-place claim by Sydney Meyer (58' 3 ¾"). It was the eighth All-America award for Robb, who was also the GPAC champion in the weight throw. Making her third trip to nationals, Meyer notched her first All-America award.
In the women's pole vault, Allie Brooks entered the meet with a legitimate chance at bringing home a national title of her own. She held the No. 1 national ranking for parts of this indoor season and held the No. 2 spot going into the weekend. The GPAC indoor pole vault champion ended up in third place after clearing 12' 2 ½." It was the first career All-America award for Brooks, who also owns the school record in the indoor pole vault.
On the track, CJ Muller gave a strong showing by clocking in at 1:20.27 in the preliminaries of the 600 meter race. That time placed him second heading into the finals, which will take place Saturday afternoon. Muller is a two-time All-American in the event. Muller will also be a key figure for the 4x400 meter relay that will gallop in the finals on the championship's closing day.
Others who competed on Friday, but did not garner top-eight finishes were Ben Hulett (60 meter hurdles), Scott Johnson (long jump), Philip Kreutzer (weight throw), Nathan Matters (600 meters), Marti Vlasin (600 meters) and Tricia Svoboda (weight throw).
The Bulldogs appear primed for impressive team national finishes once again in 2016.
"Anything can happen tomorrow," Beisel said. "I don't even want to estimate what we might do. There are so many moving parts in a meet like this. We'll just see what happens. If we continue doing what we've been doing, we'll have good results."
All-Americans
Cody Boellstorff: weight throw (1st)
Allie Brooks: pole vault (3rd)
Zach Lurz: weight throw (3rd)
Sydney Meyer: weight throw (5th)
Kali Robb: weight throw (2nd)
Lucas Wiechman: heptathlon (1st)
Schedule for Saturday, March 4 (times are CT)
9 a.m. – Women's Shot Put (Liermann, Ragland, Robb, Shaw)
11:55 a.m. – Men's 60 Meter Hurdle Finals (Wiechman)
12 p.m. – Men's Shot Put (Boellstorff, Kreutzer, Lurz
12:15 p.m. – Men's Pole Vault (Reichert, Wiechman)
12:30 p.m. – Women's High Jump (Allie Brooks)
12:35 p.m. – Men's 600 Meter Finals (Muller)
5:35 p.m. – Men's 4x400 Meter Relay Finals