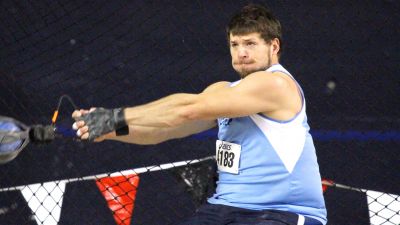 SEWARD, Neb. – Tabbed the GPAC men's field athlete of the week earlier in the day, defending weight throw national champion Cody Boellstorff received an upgrade later on Wednesday. Current owner of the nation's No. 1 weight throw, Boellstorff garnered NAIA National Men's Indoor Field Athlete of The Week accolades, as announced by the NAIA on Wednesday. Boellstorff took home the same national award on Feb. 3, 2016.
A native of Waverly, Neb., Boellstorff just keeps on winning weight throw competitions. The defending national champion in the event put forth a season best toss of 65' 5" while winning the weight throw at the Prairie Wolf Invitational on Jan. 20. Boellstorff sports a weight throw personal best of 69' 9," which came at the 2016 national championships. Boellstorff also finished eighth in the shot put at the Prairie Wolf Invite.
Boellstorff also won a hammer throw national title at the 2015 NAIA outdoor national championships in Gulf Shores, Ala., where the Bulldogs captured the first team national title in school history, for any sport.. He is a five-time All-American.
Boellstorff and the Bulldogs are set to make their first home appearance of 2017 when they host the annual Concordia Indoor Classic inside the Fieldhouse on Sunday. The event schedule for the meet can be viewed HERE.