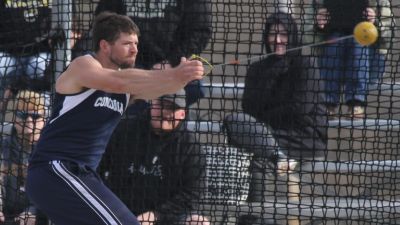 SEWARD, Neb. – It was a banner day in the hammer throw as the Concordia University track and field programs hosted day one of their own Concordia Outdoor Invitational. All of Friday's action took place at the throwing fields on the eastern most part of campus. That's where Cody Boellstorff became a new school standard bearer and Kali Robb equaled a program record of her own.
The accomplished group of Bulldog throwers lived up to its billing on Friday. Already the national leader in the hammer throw, Boellstorff broke former teammate Josh Slechta's previous school record (210' 10") by unleashing a throw of 211' 9." Additionally, Zach Lurz became just the third Bulldog in school history to break 200 feet in the hammer with his personal best of 206' 6." In a show of Concordia's depth, Philip Kreutzer hit 184' 4" and JC Cornelio turned in a fresh automatic national qualifying mark of 180' 9."
Robb entered the weekend leading the nation in both the shot put and hammer. On Friday, she produced outdistanced her season best by more than 10 feet while equaling the school record held by Jamie Crouse (190' 5"). Robb placed third in a loaded field at the Concordia Invite. Teammates Sydney Meyer (179' 3"), Tricia Svoboda (169' 9"), Johanna Ragland (158' 6") and Adrianna Shaw (158' 2") placed fourth, sixth, ninth and 10th, respectively. All of those measurements represented personal bests with Meyer and Svoboda hitting the 'A' standard qualifying mark.
In the women's javelin, Meyer (123' 10") and Jasmine Eickhoff (118' 8") finished third and fourth, respectively. On the men's side, Jake Rodgers (152' 3") turned in the highest placement among Bulldogs, finishing seventh.
The Concordia Invite will heat up on Saturday. Both running and field events are set to begin at 12 p.m. CT. All events will take place inside Bulldog Stadium with the exception of the discus and shot put, which will be staged just to the east of the stadium.