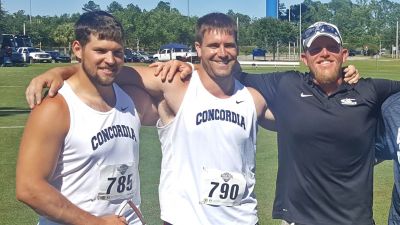 SEWARD, Neb. – Possessing four individual national titles apiece, Cody Boelltstorff and Zach Lurz caught the attention of the Lincoln Journal Star. On Saturday (June 24), the Lincoln news outlet named Concordia's star throwers as State College Male Co-Athletes of the Year. The two accomplished Bulldogs rose above candidates from all other sports from small colleges throughout the state of Nebraska.
In 2017 alone, Boellstorff won national titles in the weight throw and hammer and Lurz took first in the shot put at the indoor national championships. Lurz was also named by the U.S. Track & Field and Cross Country Coaches Association as the NAIA National Men's Outdoor Field Athlete of the Year. Boellstorff and Lurz were essential members of the 2015 outdoor national championship team.
"The level of commitment they put into trying to become the best throwers they possibly could be and working at it constantly for five years," assistant coach Ed McLaughlin told the Journal Star. "Once they decided this is what they wanted to do, they committed to it fully and to the point I was telling them to take days off."
Boellstorff, a native of Waverly, Neb., concluded his career with eight All-America awards, including two at last month's outdoor national championships in Gulf Shores, Ala. Boellstorff earned a 2017 GPAC title in the weight throw, defending his championship in the same event from 2016. He was rewarded this past year with two national field athlete of the week honors. Boellstorff departs from Concordia with school records in the weight throw (69' 9") and hammer throw (216' 6").
Lurz completed his collegiate career with three more All-America awards at the 2017 outdoor championships, giving him 17 as a Bulldog. A native of Chadron, Neb., Lurz took third place in both the shot put and hammer and fourth in the discus. Lurz's 17 points led the Bulldogs, who finished fifth in the national team standings. Also this outdoor season, Lurz won GPAC titles in the hammer and discus and placed fourth in the shot put. Each of Lurz's four career national titles came in the shot put, an event in which he owns program records for both indoor and outdoor. A nine-time GPAC champion, Lurz was the 2015 NAIA outdoor national championships most valuable performer.
Prior to Boellstorff and Lurz, the most recent male Concordia athlete recipient of the Lincoln Journal Star State College Athlete of the Year award was Jason Jisa (basketball) in 2005. On the women's side, three track and field athletes from Concordia have been named State College Athlete of the Year during the GPAC era: Liz King (2016), Sarah Kortze (2013) and Molly Engel (2005). Counting Bailey Morris (basketball) in 2015, Concordia has had a male or female State College Athlete of the Year honoree three-straight years.