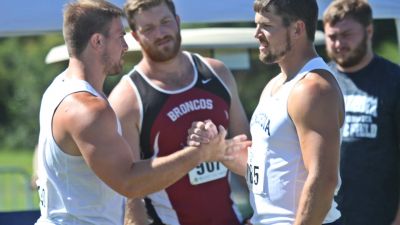 GULF SHORES, Ala. – Senior Cody Boellstorff wasn't thrilled about surrendering the GPAC hammer throw title to teammate Zach Lurz. That occurrence helped motivate Boellstorff in his preparation for the 2017 NAIA Outdoor Track and Field National Championships, which saw the Waverly, Neb., native become a national champion for the fourth time in his career. He and six other Bulldogs claimed All-America honors on Thursday, which marked the opening day of the national championships.
In terms of team scoring, head coach Matt Beisel's squads sit in first place on both sides, although it's extremely early. The men have compiled 20 points. The women have amassed 19 points.
"We had a very good first day," Beisel said. "We had a number of personal bests and people competing above their seed marks, as usual. Having our women and men place as high as they did in the throws was huge. Lucas (Wiechman) ran a fantastic 400 hurdle prelim and I am convinced he is set for a big performance in the finals. McKenzie Gravo stepped up and jumped a personal best. Our women's 4x800 was fantastic. It was a phenomenal effort from our ladies."
After redshirting the 2016 outdoor season, Boellstorff was eager to return to the site where he helped lead the Bulldogs to a team national title in 2015. This time around, Boellstorff popped off a mark of 212' 7 ½", outdistancing runner up Erik Escobedo of Bethel (Ind.) by more than eight feet. Boellstorff is now owner of four career national titles, two in the weight throw and two in the hammer.
"This is a pretty good way for me to end my career," said Boellstorff, who will also compete this weekend in the discus and the shot put. "I'm pretty happy with it."
The hammer proved fruitful for both the Concordia men and women. Not only did Boellstorff win the event, Lurz placed third (200' 11") and Philip Kreutzer fifth (189' 8 ¾"). Those finishes gave the Bulldogs 20 team points. Lurz chalked up his 15th career All-America award. On the women's side, Kali Robb netted her 10th collegiate All-America honor by taking third in the hammer (181' 5"). In the same competition, senior Sydney Meyer placed fifth (175' 1"). Liermann put up a personal best (165' 2 ¼") and made the finals of the weight throw.
There were highs and lows in the women's pole vault where sophomore McKenzie Gravo jumped an outdoor personal best of 12' 7 ½", slotting her in fourth place, up three spots from where she finished a year ago. Sophomore Allie Brooks, a third-place indoor national finisher in the pole vault, no heighted on Thursday. Making her first career national appearance, freshman Tristen Mosier, who cleared 11' 1 ¾."
"My teammate Allie Brooks has kept me motivated for sure," Gravo said. "She has strengthened me in my emotional and spiritual life. I don't think I could be here without her. I'm so happy to be part of this team."
Of the three qualifiers in the women's javelin, Tricia Svoboda was the highlight performer. She turned in a toss of 141 feet, which topped her previous 2017 best by nearly seven feet. Svoboda entered the national meet ranked 15th in the event. Jazzy Eickhoff placed 10th in the javelin.
As mentioned by Beisel, Wiechman got off to a solid start in a meet that will only get more hectic for the GPAC outdoor male athlete of the year. He finished sixth in the prelims of the 400 meter hurdles by finishing in a time of 53.38. He'll be in the finals of the event on Saturday. He will also compete in the 110 meter hurdles, pole vault and as part of the 4x400 meter relay.
In addition, both 4x800 meter relays ran off on Thursday. The women clocked a season best of 9:21.39. Neither relay qualified for the finals. The women's 4x8 included Marti Vlasin, Quinn Wragge, Alayna Daberkow and Miranda Rathjen.
A lot more action is coming up Friday and Saturday (see Friday schedule below).
2017 All-Americans
Cody Boellstorff: hammer (1st)
McKenzie Gravo: pole vault (4th)
Philip Kreutzer: hammer (5th)
Zach Lurz: hammer (3rd)
Sydney Meyer: hammer (5th)
Kali Robb: hammer (3rd)
Tricia Svoboda: javelin (5th)
Concordia Friday schedule
1 p.m. – Women's Shot Put Final (Eickhoff, Liermann, Robb, A. Shaw)
1:45 p.m. – Men's 110m Hurdle Trials (Hulett, Wiechman)
2:20 p.m. – Men's 800m Trials (Muller)
5 p.m. – Men's Discus Final (Boellstorff, Cornelio, Lurz)
8:15 p.m. – Men's 4x400m Relay Trials