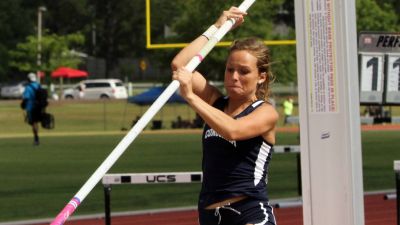 SEWARD, Neb. – Both GPAC weekly honors in the 'field' category went to the Concordia University track and field programs, as announced by the conference on Wednesday. Both national event leaders, senior Cody Boellstorff and sophomore Allie Brooks have been tabbed GPAC Field Athletes of the Week. Head coach Matt Beisel's squads have now collected a total of 10 GPAC athlete of the week awards in 2017 (see list at bottom).
Boellstorff came up just an inch short of a personal best with his hammer throw toss of 205' 7" in a winning performance at last week's Wildcat Classic. That mark currently leads the NAIA by more than 35 feet. A native of Waverly, Neb., Boellstorff will continue his bid to reclaim the school record in the hammer, which is held by former teammate Josh Slechta (210' 10"). Boellstorff is a three-time national champion with one of those titles coming in the hammer (2015).
Meanwhile, Brooks continues to rewrite the record book for Bulldog female vaulters. By clearing 12' 8 ¾" at the Wildcat Classic, Brooks leapt Cassie Starks (12' 6 ¼") for a new school outdoor pole vault standard. Brooks also owns the school record in the indoor pole vault (12' 10 ¾"). A third-place national finisher and GPAC champion this past indoor season, the Seward High School product is the NAIA pole vault leader by 3.5 inches.
Boellstorff, Brooks and the rest of the Bulldogs are getting set to return to action on Saturday at the Bronco Open hosted by Hastings. Action is slated to get started at 10 a.m. CT.
2017 Concordia track & field GPAC athletes of the week
March 29 – Cody Boellstorff (field); Allie Brooks (field)
Feb. 15 – Kali Robb (field); Lucas Wiechman (track)
Feb. 8 – *Allie Brooks (field); CJ Muller (field); Lucas Wiechman (track)
Jan. 25 – *Cody Boellstorff (field); Lucas Wiechman (track)
Jan. 18 – CJ Muller (track)
*NAIA National Athlete of the Week