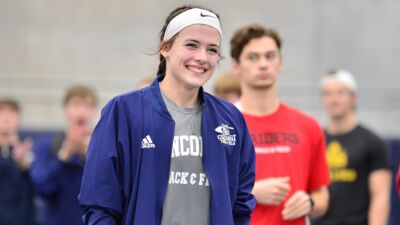 2023 GPAC Indoor Track & Field All-GPAC Awards
SEWARD, Neb. – Courtesy of their performances at the 2023 GPAC Indoor Track & Field Championships, 59 Bulldogs from the Concordia University Track & Field program have been recognized as all-conference award winners. Additionally, Head Coach Matt Beisel was honored as the 2023 Jim McMahon GPAC Women's Indoor Coach of the Year and Adrianna Rodencal reeled in 2023 GPAC Indoor Women's Athlete of the Year honors. At the conference meet, the women's program claimed its eighth GPAC title in a row while the men placed third. The complete list of Bulldog All-GPAC honorees can be found below.
A former Concordia student-athlete himself, Beisel has garnered the ninth GPAC Coach of the Year award of his tenure. Eight of those honors have come for track & field and one resulted from winning the GPAC women's cross country title in 2019. Beisel and his staff have built the women's track program into a powerhouse that has placed in the top five of the NAIA in each of the past six national meets. At the 2023 GPAC indoor meet hosted by the Bulldogs, the women racked up 241.5 points, compared to 109 for second place.
A freshman from Lincoln Lutheran High School, Rodencal won GPAC titles in the 60 meter hurdles and the 200 meters while placing second in the 60 meter dash. Those performances allowed her to rack up 28 team points and become the program's first GPAC Athlete of the Year since Rachel Battershell in 2020. Other GPAC champions last week were Rachel Battershell (400 meters), Zach Bennetts (pole vault), Lauren Dawson (race walk), Rylee Haecker (mile and 1,000 meters), Josie Puelz (pole vault), Amy Richert (pentathlon) and the women's 4x400 meter relay. The 4x4 was made up of Jenna Esch, Jordan Koepke, Trinity Tuls and Battershell.
There were 15 Bulldogs who picked up all-conference honors in multiple events. While Rodencal scored 28 points, Richert piled up 24 and Haecker added 20. Haecker accomplished an impressive feat of taking GPAC championships in both the 1,000 meters and the mile for the second year in a row. On the men's side, Joel Rathe scored in long jump (second) and the 200 meters (seventh) while hitting the 'A' standard for the first time in the long jump. The other new 'A' standard last week came via Abby Gerber in the shot put.
Next up will be the 2023 NAIA Indoor Track & Field National Championships in Brookings, S.D., March 2-4. More information on the national championship meet can be found HERE.
2023 GPAC Indoor All-Conference Award Winners
MEN
· Zach Bennetts – Pole Vault (1st)
· Chase Berry – Pole Vault (4th)
· Mark Cooke – 4x400m Relay (2nd); 60 Hurdles (5th)
· Josiah Edwards – Weight Throw (7th)
· Jack Ellis – 5,000m (7th)
· Liam Fagan – 4x400m Relay (2nd)
· Jayson Frank – High Jump (6th)
· Evan Hill – Pole Vault (5th)
· Ethan Ideus – 4x800m Relay (2nd)
· Wyatt Loga – High Jump (5th)
· Colton Meyer – 4x400m Relay (2nd); 400m (3rd)
· Jimmy Nguyen – 4x800m Relay (2nd)
· Hudson Opp – 4x800m Relay (2nd)
· Mayson Ostermeyer – Pole Vault (7th)
· Joel Rathe – Long Jump (2nd); 200m (7th)
· Calvin Rohde – Mile (4th)
· Austen Rozelle – Weight Throw (8th)
· Darien Semedo – Shot Put (4th)
· Aaron Spivey – Triple Jump (2nd)
· Colby Sugden – 4x400m Relay (2nd)
· Micah Willweber – 4x800m Relay (2nd)
· Chris Wren – Weight Throw (3rd)
· Zach Zohner – Pole Vault (2nd)
WOMEN
· Elena Batenhorst – Pentathlon (3rd)
· Rachel Battershell – 400 Meters (1st); 4x400m Relay (1st); 60 Hurdles (7th)
· Hannah Beintema – Mile (6th); 1,000 Meters (8th)
· Keegan Beisel – 3,000 Meters (8th)
· Erin Boggs – Pole Vault (4th)
· Amira Cummings – Pole Vault (3rd)
· Lauren Dawson – Race Walk (1st)
· Jenna Esch – 4x400m Relay (1st); 800 Meters (2nd); 600 Meters (3rd)
· Kylahn Freiberg – 1,000 Meters (2nd); Mile (3rd)
· Abby Gerber – Shot Put (3rd)
· Peyton Gissler – Race Walk (3rd)
· Rylee Haecker – 1,000 Meters (1st); Mile (1st)
· Hannah Haertel – 4x800m Relay (3rd)
· Rhaya Kaschinske – 1,000 Meters (5th); Mile (7th)
· Kayla Kirchner – 400 Meters (8th)
· Jordan Koepke – 4x400m Relay (1st); 600 Meters (6th)
· Emily Loseke – 400 Meters (5th)
· Erin Mapson – Pole Vault (2nd)
· Hayley Miles – Triple Jump (3rd)
· Hannah Newton – High Jump (6th)
· Josi Noble – Triple Jump (2nd); Pentathlon (5th); 400 Meters (7th)
· Kamryn Pokorney – Weight Throw (7th)
· Josie Puelz – Pole Vault (1st)
· Kellie Rhodes – Long Jump (7th)
· Amy Richert – Pentathlon (1st); Long Jump (2nd); High Jump (3rd)
· Kaia Richmond – 4x800m Relay (3rd)
· Maddie Robinson – Weight Throw (4th); Shot Put (7th)
· Adrianna Rodencal – 60 Hurdles (1st); 200 Meters (1st); 60 Meters (2nd)
· Isabelle Salters – Pentathlon (7th)
· Kimberly Schropfer – High Jump (5th)
· Amanda Steinke – Pentathlon (4th)
· Kayla Svoboda – Pole Vault (6th)
· Trinity Tuls – 4x400m Relay (1st); 400 Meters (4th)
· Jaiden Tweton – 4x800m Relay (3rd)
· Faith Williamson – 4x800m Relay (3rd)
· Abi Wohlgemuth – Weight Throw (8th)