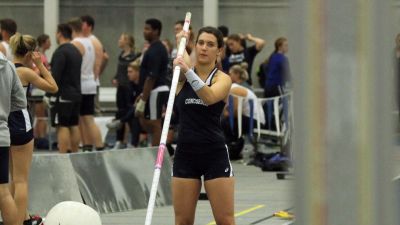 SEWARD, Neb. – Ranked 12th in the first NAIA national indoor ratings released by the coaches association, the Concordia University women's track and field team built upon a strong start by posting three new automatic national qualifying marks on the weekend. The Bulldogs also turned in a national qualifying mark via Cody Williams while hosting the two-day Concordia Classic this weekend (Jan. 26-27).
Head coach Matt Beisel's program has now hosted two of its first three meets of the 2018 indoor season. The program has now tallied 10 total national qualifying marks in 2018.
"It was a big day. We have a lot of really good things happening in every event area," Beisel said. "The coaches are in a pretty good mood tonight."
In addition to Williams, the latest national qualifying marks came from Anna Baack (pole vault), Jazzy Eickhoff (shot put) and Adrianna Shaw (weight throw). A freshman and product of Seward High School, Baack wasn't necessarily expected to qualify for nationals this soon. Not far removed from an ACL tear, Baack vaulted 11' 6 ½" to eclipse the 'A' standard measurement. In the same event, teammate McKenzie Gravo took first place while pushing her season best clearance to 12' 4 ½."
Said Beisel of Baack, "A year ago at this meet she was helping out and in crutches coming off an ACL repair from a basketball injury in high school."
The Bulldogs continue to dominate in the women's shot put. Not only did Eickhoff turn in a fresh qualifying mark, Adrianna Shaw (46' 11"), Samantha Liermann (45' 6 ¼") and Johanna Ragland (45' 1 ½") were the top three place finishers at the Concordia Classic. A ninth-place finisher, freshman Jodi Fry achieved a 'B' standard mark in the shot put.
One of the nation's top shot putters, Shaw has now leapfrogged Liermann on the national list. Shaw also placed third in the weight throw behind Liermann. Shaw's mark checked in at 53' 1 ¾." Concordia put three in the top five of the event.
A standout as a freshman, Williams (Imperial, Neb.) leapt a national qualifying height of 6' 7" in the high jump as part of the heptathlon. Based on his point total in the heptathlon, Williams would rank No. 2 nationally (pending results of other meets this weekend).
On the track, junior Josiah McAllister earned another win in the 1,000 meter race with a 'B' standard time of 2:33.58. He also joined the distance medley team and collaborated on a time of 10:25.56, less than two seconds off the national qualifying time. The group placed second while in a dead heat with first place York. In separate 3,000 meter races, Evan Asche produced a career best (9:16.93) while Taylor Grove (11:03.09) chopped off 30 seconds from her figure from two weeks ago.
Among other highlights, Simon Brummond came in as a runner up in the pole vault (15' 1"), placing just ahead of teammate Tyrell Reichert (15' 1"). In the triple jump, Leah Larson (36' 11") bumped up her 'B' mark.
The Concordia Classic featured 13 teams, including GPAC rivals Doane, Hastings and Midland. Beisel liked the way his athletes competed.
"In most events we did pretty well," Beisel said. "A lot of our multi-eventers are very good in other events that we didn't put them in. They did plenty enough in the multis. There are still a couple of other areas where we are going to need improvements. I think we competed well against our competition. You see a lot of top three placings on our side. If we're putting a lot of kids up there in a 13-team meet, we're doing all right."
The Bulldogs will be headed to Doane for the Fred Beile Invite next Saturday (Feb. 3). Concordia also traveled to the Nisely Invite hosted by Doane back on Jan. 13.