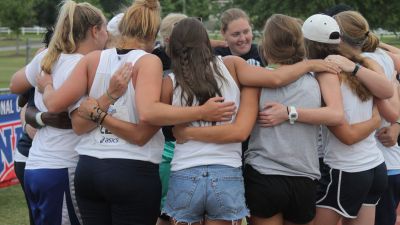 On May 28 the Concordia women's track and field program celebrated it's first-ever team national title. Led by senior Liz King (national champion in the hammer throw), the Bulldogs piled up 71 points at the three-day meet held in Gulf Shores, Ala.
Several national qualifying members of the team took a moment to provide reflections on the experience. Here are their responses.
Kattie Cleveland, Senior
Overall the whole experience was surreal. I don't think any of us realized that we had a chance to win a championship at the beginning of the year. After last year's season and this year's indoor was when we really started talking about wanting to win the whole thing. And when the team ranking came out for outdoor and we were continuously in the top three we started thinking that, 'oh man, we can really do this.'
The whole national weekend was pretty crazy. We had nine girl throwers going and most of us were going in multiple events. Once we started throwing and competing we did some crazy things that probably have never been done before. How many schools can say that they have had four people in the finals of the discus and hammer and then then in the shot and no one has someone like Liz King on their team.
We started scoring points and we were leading after day one, which we were not surprised by. Then we were leading at the end of day two and we started saying, 'holy cow, this is really happening.' After discus on Saturday we looked at the scores and Indiana Tech only had two more events left that they could score in. After the 200 meter was done we knew we were winning but we didn't know if we were going to be sharing out title or not. Then it was time for the 4x4. That when things got crazy. When that race was over we lost it. It's so unreal that we won a championship with only 12 girls and how dominant us throwers were. It was one of the best things that I have ever been a part of. I am so happy that we could do this for Coach (Kregg) Einspahr and that us seniors could end on that amazing note. This was the craziest thing ever and sometimes it still doesn't feel real.
Liz King, Senior
Wow! Oh my goodness! What?! Are you serious?! This cannot be real!
These are the expressions that come to mind about winning a national championship! No one can really put into words what it's like to draw together as a team.
Some people say if you didn't score any points then you didn't really win or you don't deserve it as much as someone else. I say that's wrong!
Everyone did something! Those who were down there with a Concordia jersey on, those who were sitting at home supporting us, those who have gone before us – we all did something.
This is a team win. TEAM stands for Together Everyone Achieves More. We won this title together for each other! Together we all achieved more than anyone thought was possible.
Sydney Meyer, Sophomore
When we were watching the race that would determine if we would be national champions, it was the most indescribable feeling. Knowing that last year our men's team won the national championship, and now this year we were going to win the national championship, it felt like a dream come true. I honestly never thought I would be part of a national championship team, but I am so proud to be a Bulldog! The most memorable aspect of the championship weekend was watching the women throwers dominate in our throwing events by receiving several All-American honors.
Kali Robb, Junior
I would say that you really can't put into words how it feels to be on a collegiate national championship team. It just feels unreal. The one memory I will take away from this year is the team support and family, especially from the seniors. Without them none of this would have been possible.
Jan Steinbrueck, Junior
When we knew that we were in the running for the title, no one could calm down. We all watched the 4x4, which is what it all came down to. As soon as the race finished and the team that was also in the running for the title didn't finish in high enough place to gain enough points, we knew we took it all. We jumped off the fence with explosions of excitement within us. When all of the Concordia track girls came together in a circle with Coach Einspahr, we jumped and screamed so loud that we almost lost our hearing. Being in that circle, I knew I was experiencing the most exciting thing in my life.
It was always my dream to qualify for the national meet, and that alone was extremely exciting. But regardless of qualifying and even winning a national championship, being on Concordia University's track and field team has meant so much more. We're all friends, but most importantly we're family. We lift each other up when we have bad days at practice. We cheer each other on every time a Concordia jersey enters the ring or runway at a meet. And our coach, Ed McLaughlin, has played a huge role in bringing us together like that and making us who we are. The support from parents at every meet is unbelievable, too. Winning the title showed us that anything is possible. God has given the track team amazing gifts and abilities and He has also given me a team and family that I know will stand by me for life.
Tricia Svoboda, Senior
We knew what needed to happen after we were told sitting in the Fieldhouse having our meeting prior to leaving for Alabama. We got there and did everything (assistant coach) Ed (McLaughlin) told and tells each of us we are capable of, and we won a national championship. It was a surprise that it actually happened, but we ARE Concordia track and field so of course it's possible because anything is when you have a group of people work together as we do.
Kim Wood, Senior
(From interview immediately following national championships)
It feels so good. I can't believe it really happened. It's really great to be a part of a team that can do that. It really helps push you in a race when it gets tough. It's great just to run for the team. It's incredible, especially to go out on it.
It was intense. We all got in a circle and Coach Einspahr came over and he got all riled up and started jumping. I got launched into the air by some throwers. They're strong. It was crazy. It's an incredible feeling going out as national champions, especially for Coach Einspahr. It's a really cool feeling to give that to him in his final year.