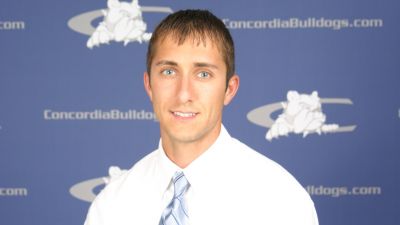 He can help fix your roof and he can make you smile. National champion track star and alum Michael Saalfeld had the crowd chuckling at his Concordia Athletic Hall of Fame induction speech in September 2019. He talked about "snatching up" his current wife (Holly), who was a freshman when he was a senior at CUNE. He also referred to current athletes in attendance as "little kids" while discussing his college experiences.
It's perhaps that fun and endearing personality that best defines Saalfeld, whose inclusion in the school's Hall of Fame was really just a matter of time. Named the 2008-09 Concordia Senior Male Athlete of the Year, Saalfeld is someone you want to listen to.
As Saalfeld told the crowd at the Hall of Fame gathering, "My father instilled in me at a young age the values of faith, family, hard work, discipline and doing the right thing. If you don't have those things, nothing sticks."
Saalfeld built upon those values while becoming one of the most successful track athletes in program history. He won two NAIA national championships in the 800 meters, collected six total All-America awards, captured six GPAC individual titles and remains the school record holder for both the indoor (1:50.08) and outdoor (1:49.11) 800 meter races. At the 2009 Deaflympic/World Deaf Championships, Saalfeld won a gold medal in the 800.
Michael chose to attend Concordia while his twin brother Craig made a name for himself as a multi-event athlete at NCAA Division II Emporia State. Both Saalfeld brothers learned to overcome hearing impairment ever since their youthful days. Craig experienced the top of the mountain in 2013 when he took gold in the decathlon at the Deaflympics. An All-American at Emporia State, Craig formerly lent his service as an assistant coach at Concordia.
As Michael explained last fall, he actually arrived in Seward as a freshman in 2005 with his focus centered primarily on football. He was a placekicker – track was secondary at the time. "(Coach Courtney Meyer)'s the one who got me here," Michael said. "I was 'this' close to signing with Dana College. Thank goodness I did not. I wouldn't be here, for sure. I came here and I really wanted to be a football player. I was a scrawny kid. I was a placekicker and I did track on the side."
By March of 2008, Saalfeld was telling the Lincoln Journal Star about how he had just won the 800 meter indoor national title. At the time he told the news outlet, "The 800 wasn't a strategy race at all. The best plan was to get the lead, stay there and stay ahead of the bumping, shoving and all that going on behind me."
As you can see by now, the 800 became Michael's specialty. He locked in on shaving his time down and football faded a bit into the background. Said Saalfeld at the time, "I'm not so sure spring football is that important for a placekicker anyway. I can kick on my free time."
Saalfeld gives plenty of credit to Coach Kregg Einspahr for helping him become a more confident runner. When Saalfeld first got started in track as a Bulldog, he had no plans of running anything longer than 400 meters because "anything else is long distance" and he wanted no part of that.
"Coach Einspahr had different plans for me," Michael said. "He decided to put me in an 800 meter relay. I was thankful he did it. I ended up running one of the best times on the team. I got to nationals and I started to feel like I had something there. It dominoed from there. I thank Kregg so much for being there for me and for pushing me in the right direction." With a smile he continued, "God knows I would have just been a football player – that wouldn't have worked out."
Saalfeld did kick for three seasons on Meyer's football squad. He connected on 54 extra points and 19 field goals during that time. But the memories that stand out for him are not necessarily the successful field goals or the national titles. Said Saalfeld, "The athletics are fantastic (at Concordia), but it's the people. It's the friendships you develop over time. I met my business partner here. He's my best buddy."
That business he's referring to is called Saalfeld Construction LLC. Michael has been self-employed in the business ever since graduating from Concordia in 2009. He works alongside Craig. From training partners to business partners, the twin brothers are tight. They even understand what it's like to deal with hearing impairment. Craig explained that dynamic to the Columbus Telegram back in 2013.
Said Craig, "I have to pay extra attention to certain things. I like to say that I am a better listener than some people that hear better, because they don't have to concentrate hard on listening -- I have to pay close attention, and that has helped me develop a listening ability. It has, on many occasions helped my character, helped me become stronger as I get older, and made me appreciate the little things in life."
Whatever obstacles there may have been for Michael, he seemed to be able to rise above them at Concordia. He earned a degree in business administration (minor in marketing) while setting himself up for future success. At the time last year's Hall of Fame ceremony was held, Michael and Holly had just welcomed a newborn baby boy into the world. They also have a young daughter.
Said Michael, "I just hope my kids will have the same atmosphere and mentors that Concordia gave me."