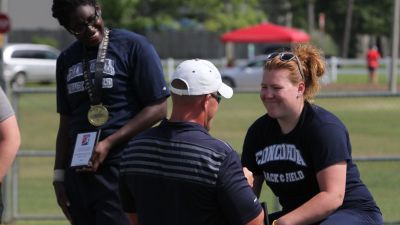 GULF SHORES, Ala. – Led by its thoroughbred throwers, the Concordia University track and field teams have positioned themselves for a special finish to the 2016 NAIA Outdoor Track and Field National Championships. Thanks to 17 points piled up in the shot put during Friday's action in Gulf Shores, Ala., the Bulldog women now own 49 total points and a 26-point lead over second-place Missouri Baptist. The men's 37 points give them a 15-point spread above second-place Indiana Tech.
A year after a men's outdoor national title, the Concordia women enter the final day of the championship meet with a chance at grabbing their first-ever national banner.
"It's amazing. We still have one more day and five more girls to compete tomorrow in the throws," said Kali Robb, Friday's national runner up in the shot put. "It's amazing. We're going to keep pushing through and hopefully get us girls the national championship and have Coach (Kregg) Einspahr go out with a national championship."
Robb starred as one of three Concordia All-Americans in the women's shot put. Senior Stephanie Coley, now a 10-time All-American, added her seventh career All-America plaque in the shot put. Coley placed fourth while freshman Samantha Liermann checked in at No. 5.
On the women's side, five throwers have combined for eight All-America honors while serving as the driving force in lifting the Bulldogs to the top of the national standings. Now they want to stay there.
"We're right where we wanted to be at this point," said Einspahr, who is coaching his final national meet as head coach at Concordia. "Our women in particular are really on track to do some good things. We've got points on the board so now people have to catch us. We're in good shape. The women are in a good place right now. We only have two events for the women tomorrow so we need to come through with that."
Junior Lucas Wiechman turned in the highest finish among Concordia male athletes this championship weekend by placing second in the decathlon. He totaled 6,858 points and placed behind event record-breaker Kale Wolken of Doane. A qualifier in three events, Wiechman will compete in the pole vault on Saturday as the men also attempt to stay in the title chase on the meet's final day.
"It's awesome to see the teams coming together," Wiechman said. "Everyone's feeding off each other's excitement. We're cheering each other on. It's awesome."
The men's discus gave way to two additional Concordia All-Americans with Josh Slechta placing fifth and Zach Lurz sixth. Both Lurz and Slechta have two All-America plaques apiece on the weekend. The title was the 11th in the career of Lurz, who is a two-time shot put national titlist and the reigning NAIA outdoor track and field national championships performer of the meet.
A 12-time GPAC titlist and six-time All-American, senior Kim Wood extended her career another day by placing seventh overall in the prelims of the 800 meter race, an event in which Wood owns the program school record. She finished the race in a time of 2:13.86 on Friday.
Elsewhere on the track, junior CJ Muller narrowly missed out on the finals of the 400 meter race. He placed ninth with a personal best time of 48.37, good for third in his heat. Wiechman also missed out on the finals while competing in the prelims of the 110 meter hurdles.
If things break right on Saturday, another red banner could make its way to the Walz Fieldhouse. Einspahr and his athletes just don't want to get ahead of themselves.
"There are a lot of things you cannot control," Einspahr said. "You have no idea if a team is going to come out and go 1-2-3 in a couple of events. You just take care of yourself. We're not getting too wound up about things at this point. You make a big mistake if you try to put a whole lot of pressure on the team."
2016 Concordia outdoor All-Americans
Kattie Cleveland (hammer – 6th)
Stephanie Coley (shot put – 4th; hammer – 4th)
McKenzie Gravo (pole vault – 7th)
Liz King (hammer – 1st; javelin – 2nd)
Philip Kreutzer (hammer – 6th)
Samantha Liermann (shot put – 5th)
Zach Lurz (hammer – 4th; discus – 6th)
Kali Robb (shot put – 2nd; hammer – 5th)
Jose Rojas (hammer – 3rd)
Josh Slechta (hammer – 2nd; discus – 5th)
Lucas Wiechman – (decathlon – 2nd)