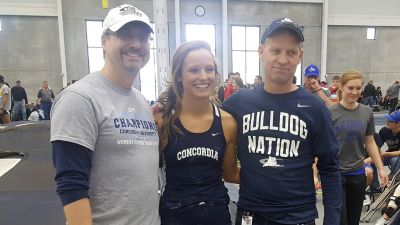 Gene Brooks has always been proud of his daughter Allison (who goes by Allie). There was just one thing that didn't quite make sense to him. Allie won two high school state pole vault championships in South Dakota and seemed to be merely scratching the surface in regards to her vast athletic potential.
This time two years ago, as a senior at Seward High School, Allie had contemplated giving up the pole vault and going to college to simply be a student. "You're a two-time state champion. How come you're not more excited about continuing that?" Gene wondered.
Sometimes you just don't know what you've got. Till it's gone.
Says Allie, "Getting injured was like God telling me, 'You're not done with vaulting yet. You're going to keep doing it.' It's crazy to look back and think, tearing my ACL was probably the best thing that's happened in my vaulting career. If that didn't happen I wouldn't be where I am right now."
Sounds strange, but an ACL tear is what sparked a competitive fire that has driven Allie to the top of the national leaderboard and the school record books in the pole vault. She's taken flight as a sophomore and she's living up to the Brooks name.
Named NAIA National Field Athlete of the Week on Wednesday, what makes Allie's success so impressive is how quickly it has come about. While fresh off that ACL tear suffered at the first meet of her prep senior year, Allie still managed to qualify for the indoor and outdoor national championships last year as a freshman. She was a member of the 2016 squad that captured the first team national title in the history of women's athletics at Concordia.
This year – she's been absolutely ridiculous. With Gene and her mother Janice in attendance, Allie first broke the pole vault school record at the Concordia Classic with a clearance of 12' 6 ¾." Less than a week later, she vaulted four inches higher and also broke a school record in the high jump that had lasted for more than 30 years.
"It was just a really special moment," said Allie of setting a new school standard for the first time. "Pole vault is really special to me. It was awesome to have my dad there and my mom. Me and my dad have always talked about how cool it would be if we both could have records here. It's crazy and awesome that it's a reality. It was a crazy good feeling. I just felt overwhelmed with being blessed."
In some respects, it may not be all that surprising that Allie is competing at a level not seen before from a Concordia female pole vaulter. Only somewhat jokingly, Concordia and Seward High pole vault coach Jason Berry referred to Gene as "the man, the myth, the legend." Gene won five pole vault national titles and established the men's program indoor pole vault standard during his distinguished athletic career as a Bulldog. In other words, Allie had the right pedigree.
Naturally, Gene is stoked to see his daughter succeeding at something he's long been passionate about. Allie first vaulted at the age of five and has been a regular at the Seward 4th of July street vault that Gene started more than 25 years ago. But he's tried hard not to be an overbearing parent that forces something upon his children. He's also been happy to let Berry do his thing as pole vault coach.
"It is really tough," Gene said. "Coach Berry is an awesome coach. I want him to know how much he's respected. He's the one she needs to listen to. I don't ever want to contradict him, but she is my daughter and we talk pole vault a lot. I talk to Jason, too, and we share things."
Whatever the arrangement, it's working. Allie is thriving at an institution she swore she wouldn't attend. She wanted to be near the ocean and Concordia University Irvine seemed like the perfect place to be. She was going to get away and really explore a new world. She eventually realized that a whole new world was right in front of her, in her hometown. "I went and visited and I loved it," Allie says remembering Concordia Irvine. "I think it was the week of graduation that all of the sudden, God was like, 'You're going to Concordia-Nebraska.' I was like, 'What?' It worked out. It's been amazing. I love it here. I'm so glad I didn't go anywhere else."
Berry barely had a chance to work with Allie at Seward High before the injury occurred. Allie had done something a vaulter should never do – she landed on her feet. Then her spikes caught and her knee gave out.
Despite the injury, Berry knew and saw enough of Allie that he wanted to see her stay in Seward. He was hopeful she would give Concordia a shot. "Your ACL's gone, but I'm still interested," Berry recalled telling her. "We kept having dialogue back and forth. I told her that if she wanted to get better and this was a passion she wanted to follow, Concordia is where you need to go. At the district track meet her senior year, she was there watching. She just subtly goes, 'Hey Jason, I've been thinking about something. I think I've decided to go to Concordia.'"
It was one of those thrilling recruiting moments for Berry, who jumped up and then hugged Allie. Berry knew of Allie when she was just a small child. He had pegged her as future vaulter just in seeing how outgoing she had been. "She was the one that was always climbing trees and always climbing on top of stuff," Berry said. "She was the energetic, rowdy, all-over-the-place kid. I remember when I came over to Gene's house, she was always doing something."
She's still doing some things, some pretty big things. You get the sense that her success is sometimes embarrassing for her. It distracts from what's most important to her – things like God, her family and pole vaulting, of course.
She's at the top right now, but she remains humble and aware that her biggest goals are yet to be fulfilled. "It's a really crazy feeling," Allie says of her No. 1 national positioning. "In the past I've always looked at the website and looked at the girl at the top. She's the one you have to beat. It's just crazy that God has let me be in that position. It's such a great opportunity. The night that I got the school record my dad texted me, 'God blesses you so that you can bless others. Don't miss out on these opportunities.'"
Clearly those sentiments, word-for-word, are deeply ingrained in Allie. "I really believe that she wants to use this blessing in her life to be a blessing for other people," Gene said. "She wants to be a witness for Christ. That's the thing that means the most to me and why I'm so proud of her."
Fueled by an injury that rekindled a burning passion for competition, Allie has surely been a blessing to Concordia through her mere presence. With God serving as her rock, Allie wants to go higher, like 13' 6" to be exact. Considering all she's accomplished already as a sophomore, one would be foolish to count her out.