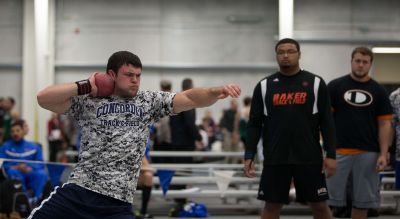 A look back at Concordia's first-ever GPAC men's track titles
By Jake Knabel, Director of Athletic Communications
NOTE: A version of the following story first appeared in Concordia University's summer edition of the Broadcaster magazine. The piece below is the complete feature story on the Bulldogs' first two GPAC men's track and field titles in program history.
In the seven years preceding the 2013-14 season, the Concordia University men's track and field program watched as rival Doane College captured all seven GPAC indoor titles and six conference outdoor championships. The only thing sweeter for the 2014 Bulldogs than to win their first-ever men's league title would be to do it on Doane's home turf.
In a season for the ages, 22nd-year head coach Kregg Einspahr's squad seized a GPAC championship not once, but twice. The Bulldogs dethroned their rival not once, but twice. They won the indoor title in Crete on Feb. 22 and then the outdoor title on May 3.
"We've been in the top three on an annual basis and knocking on the door (of a title)," Einspahr said. "I don't think we've ever been in a position to convincingly win the conference championship like we were this year. It really came together for us at the indoor conference meet. Those are milestones. It's kind of a hump to get over."
Senior John Cartier knew exactly what it was like to come up agonizingly short of that elusive title. The Bulldogs finished runner up at the indoor meet four-straight years from 2009 to 2012. The 2011 indoor championships appeared to be Concordia's for the taking until a late miscue doomed it.
With 196 points to Doane's 172 at this year's indoor championships, the Bulldogs could exhale. It was finally their time.
"Last year I promised prematurely that we were going to get the GPAC title, but I'm glad we could make up for it this year, especially at Doane's home track," Cartier said shortly after the meet. "They ran a great meet here, but I'm just glad we did get the W. It's been four years in the making. We've gone through a lot of ups and downs. I'm just so happy and thankful."
That's not to say the first title in school history came without some tense moments. Doane maneuvered itself into position for a few extra points here and there, making for a clear two-horse race. Concordia did not clinch the meet until the 3,000 meter run that Saturday evening.
The final tally was closer than what was projected on paper.
"A lot of it was relief," senior hurdler Jonathon Becker said. "It was incredibly joyous to see all of the team's hard work pay off, especially after being close and continuing to work together with your friends and your teammates. There was just a lot of relief to finally see your hard work pay off and be able to celebrate with your family and friends."
A little over two months later, Concordia returned to Doane for the outdoor championships. This time it would not be close. Behind performer of the meet Zach Lurz, the Bulldogs piled up 216 points to the Tigers' 140.5.
It was a dominant outing not duplicated in the proud history of the program.
"Going into this year it was one of our goals to win indoor and outdoor," senior Ben Hinckfoot said. "We knew we could do it. We knew we had the athletes to do it and we accomplished it. It really feels amazing. We got so close my freshman year and we've been working to get back there. We finally did it."
For a program plush with plenty of advantages, it seemed it was only a matter of time before that first GPAC title came about. Concordia's women captured conference championships of their own with indoor and outdoor titles in 2010 and then another outdoor crown in 2012.
With continually upgraded facilities and a great collection of coaches helping attract better and better recruits, it was the men's turn.
"Clearly we have the facilities and coaches to match up with anybody at this point," Einspahr said. "It's taken quite a bit of time to get to this point. It's the culmination of a lot of hard work, persistence and frustrations, frankly.
"We started with a gravel track when I got here 22 years ago. We would take a couple vanloads of kids to meets. Now we take at least two charter buses and sometimes a couple charters and a couple vans. We have some wonderful facilities now and our coaching staff is tremendous."
That staff includes Concordia track and field alums Mark Samuels (sprints, hurdles, jumps), Ed McLaughlin (throws), Jason Berry (pole vault) and Nick Mann (jumps) – all with an intimate knowledge of what it took to rise to the top.
Along with Einspahr, Concordia and NAIA Hall of Famer, the Bulldog brain trust put together a squad that broke the stranglehold of Doane and Nebraska Wesleyan.
"We're complimented on a regular basis by other head coaches with regard to the quality of our assistant coaches. They're outstanding," Einspahr said. "They know how to work with kids. A lot comes back to recruiting though, and that's a continual battle."
In a track and field conference Einspahr believes is the best in the United States at the small college level, there's no time to rest on the laurels of the 2013-14 season. But now in the middle of the offseason, it's hard not to reflect back on a special year.
"Doane had won the last six championships in a row so that's the team we've been battling with to try to win the conference," Einspahr said. "Clearly it's meaningful to do that. They're a great program with a great coaching staff and when you can match up with them on a regular basis you feel very good about where your program's at and where it's going."