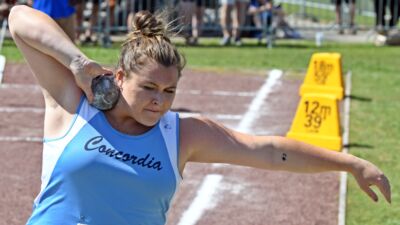 When Adrianna "Addie" Shaw began her time at Concordia University in the fall of 2016, she embarked upon what would conclude as one of the top collegiate careers ever for a Bulldog thrower. The native of Bassett, Neb., and Rock County High School graduate had her 2020 outdoor season wiped out by COVID-19. In response, Shaw made the decision to return to Concordia in 2021 for a fifth year as a member of the track & field program.
Shaw made it a memorable final GPAC meet when she turned in three new personal bests while winning GPAC titles in the hammer and shot put while placing second in the discus. She then added three more All-America awards to her career total at the 2021 NAIA Outdoor Track & Field National Championships. As a team, the Bulldogs won the conference title (fifth in a row) and placed third at the NAIA national meet.
Shaw will remember many of the accomplishments, but the relationships and time spent with teammates made the past five years all the more rewarding. We asked Addie to reflect on her career with a series of questions that were answered below.
Shaw career highlights:
· Two-time NAIA National Champion (discus in 2018 and 2019)
· 11-time NAIA All-American
· Three-time NAIA national runner up
· Four-time GPAC champion
· 17 all-conference awards
· School record holder in the weight throw
· Member of four GPAC championship teams

Q&A with Adrianna Shaw
What made it worth it for you to come back this spring for a final season of outdoor?
Being able to come back and do the sport that I have fallen in love with and given so much time and thought and attention to over the last eleven years was really special. Not a lot of people have an opportunity like some of us did to come back and train and compete for another year and I can't take that for granted. I'm lucky to have a team and support system that was ready to continue to support me and cheer me on both academically and athletically for another year. I learned so much about throwing and my relationship with throwing this year alone. I got to spend an extra year with my throwing family, which means so much. The accolades that the women's team earned this year are such great accomplishments but the relationships that I've built with my teammates will outlast the joy that those accomplishments bring.
What stands out for you when thinking about the accomplishments that included two national titles and three national runner up claims? How do you make sense of the success you enjoyed over the past five years?
I think the emotion around it all stands out the most. It isn't necessarily my own emotion. I tend to need a while for everything to sink in and will think about the things that didn't go as hoped because of the goals I set for myself. The emotion from my teammates and (coaches) Ed (McLaughlin) and Hans (Eickmeier) and how they can share in it with me is amazing. If you look at the nationals field, Concordia brings more than most. You know when someone from Concordia is in the ring because you have a massive amount of people that are there supporting you. The accomplishments wouldn't be as fun without the hugs and congratulations from your teammates and their families afterwards.
It is hard to make sense of it, especially with how it ended. There were a lot of hours spent in the weight room and in the rings, but people don't see the time spent watching film and watching other people's film, tech in your bedroom or at work, trying to work through cues. It's a sacrifice from what people consider the normal college experience. I think that it shows in the successes that I have had and I have to remind myself of that, that all of that hard work still produced great things even if I didn't end my career how I wanted.
When Coach McLaughlin calls you one of the best throwers ever at Concordia, what do those words mean to you?
It means a lot coming from him. If you sit down and get him talking about Concordia Track & Field you might be there all day. He knows the history of the program better than anyone else. He also knows my goals and how I work better than anyone else. When I came to Concordia I would walk past the record board and hope to be up there one day. Knowing what our program has done and working with a lot of the people that are considered great throwers from our programs – knowing that I am thought of at that level is so special. I can't even put it into words.
You had a couple of tweets after the national meet regarding Coach McLaughlin and the "amazing women" that are part of the track and field team. Can you expand upon what that support system has meant to you?
To have Ed as a coach is to also have a second dad who knows what you need before you even know what you need. I think some people think that he invests too much in throws, but I think it shows in the success that we have had as a group not only this year but also in the past. I think it shows in how close our group is. I've been exposed to the world of throws for eleven years now and college throws programs for ten and I have not seen someone who can demand respect, knit together a true family atmosphere, and produce results like Ed has.
I think this year's women's team was very special. I got to see the hard work that the throwers put in every day but it was cool to get to hear everything that Josie Puelz, Sarah Lewis and Rachel Battershell were doing all year. I got to know Sarah and Rachel a lot better this past year through classes and similar workout times in the Fieldhouse and seeing their struggles and hard work still pay off is so cool. It looks different than it does for us in our events. I spent a lot of time with Sarah Ragland, Liz Stottlemyre and Beth Shaw this year and knowing how much they had put in this year, physically, mentally and emotionally, made seeing their successes even more special.
Additional comments …
I'm someone who needs a long time to reflect, so I'm not sure that I have processed everything I want to say regarding my time at Concordia. I do know that track has taught me so much about myself. It has taught me how far I can push my limits, how to handle difficult situations and how to work with people who are different from me. I think track gave me a voice I wasn't comfortable using and showed me that I can be a leader in my own way. It taught me what true friendship is. Because of track I have friends all over the world, a stronger faith life and more self-confidence. I attribute all of this to track but I know that these things would not be true without the people at Concordia. The support from my teammates, coaches and professors leaves me speechless. They have shaped me to be a better person than when I came in. Concordia has a special place in my heart.
Coach McLaughlin said the following at the conclusion of the NAIA outdoor national meet: "Addie is an amazing woman who has given so much of herself to this program, this school and this sport. Her tenacity and dedication is second to none. I was so excited when she decided to use her final year of eligibility. We had a lot of fun this year and she accomplished so much. She did so much for us and I hope she knows she will be missed. Her impact on our family will be far reaching. She is a Bulldog through and through and I can't wait to see what the future holds for her."