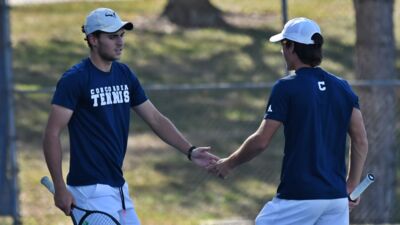 SEWARD, Neb. – Despite having the advantage after doubles play, the Concordia University Men's Tennis team fell at the hands of Iowa Central Community College, 5-2, on Saturday (Sept. 24) afternoon. The visiting Tritons spoiled the Bulldog home opener by winning five of six singles matches. In a starring role, Concordia freshman Santiago Abadia claimed victories in both singles and doubles.
Head Coach Cam Long's squad slipped to 1-1 this fall. The win came back on Sept. 13 by a 4-3 score at Bethel College (Kan.). Most recently, the Bulldogs competed at the GPAC Fall Individual Tournament on Sept. 16-17.
Concordia went up 1-0 on Saturday after the duos of Abadia and Juan Rabellino at No. 2 and Manuel Rodriguez and Shawn Springer at No. 3 took decisions by identical 6-4 scores. Unfortunately, the lead didn't hold as Iowa Central won all singles match other than No. 5. That's where Abadio emerged with a 6-2, 7-6 (3) win.
The rest of the Bulldog singles lineup featured Hugo Fuentes at No. 1, Eduardo Rojas at No. 2, Springer at No. 3, Rabellino at No. 4 and Rodriguez at No. 6. Fuentes and Rodriguez were both tripped up in tiebreakers. This marked the second year in a row that the Tritons have won in Seward. They took last year's meeting by a 6-1 decision.
Next on the fall slate is the NAIA Central-West ITA Regional Championship coming up next Friday through Sunday (Sept. 30-Oct. 1) in Wichita, Kan. The fall portion of the season will then wrap up with a home match versus William Jewell College (Mo.) on Oct. 8.