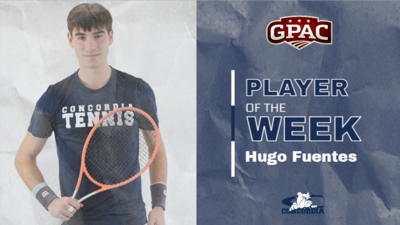 SEWARD, Neb. – For his performances in a pair of Sunday victories over KCAC opponents, Hugo Fuentes has been honored as the GPAC/Hauff Mid-America Sports Men's Tennis Player of the Week, as announced by the conference on Wednesday (March 15). Fuentes has garnered the GPAC weekly honor for the first time in his career. This marks the first GPAC Player of the Week announcement from the GPAC for the 2022-23 season.
A freshman from Denia Spain, Fuentes went 2-0 at the No. 2 singles position this past Sunday while claiming wins in matches at Bethany College (Kan.) and Kansas Wesleyan University. In singles, Fuentes won by a 6-1, 6-3, score in his first match and then took a 6-3, 6-3, decision in match No. 2. Fuentes also paired up with Shawn Springer at No. 2 doubles and went 1-1 on the day. As a team, the Bulldogs defeated Bethany, 7-0, and Kansas Wesleyan, 4-3. Overall this season, Fuentes has gone 5-4 in singles within dual matches.
Fuentes and Concordia Men's Tennis (5-5) are slated to return to action at Baker University (Kan.) at 1 p.m. CT on Saturday.