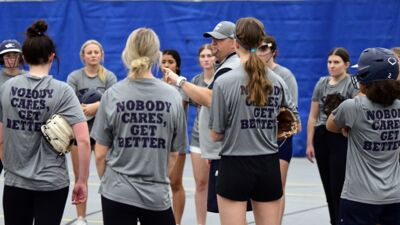 Head Coach: Brock Culler (1st year)
2022 Record: 23-24, 10-12 GPAC (T-6th)
Key Returners: Grace Boganowski (INF); Taylor Glause (C); Zoie Isom (1B); Caitlyn McGarvie (OF); Jerzi Rowe (P); Kylie Shottenkirk (SS); Julia Van Wey (1B/3B).
Key Losses: Camry Moore (P/1B); Kylee Nixon (2B).
2022 GPAC All-Conference: Caitlyn McGarvie (First Team); Camry Moore (Second Team); Zoie Isom (Honorable Mention); Kylee Nixon (Honorable Mention).
Outlook
Similar to a year ago, Concordia Softball spent an offseason adjusting to the style and approach of a new head coach. One would be hard-pressed to find someone with more passion or enthusiasm for his job than Brock Culler, who served 11 seasons as the head softball coach at Grand Island Central Catholic High School. Culler was named to his new post in June and has hit the ground running while instituting plenty of early morning practices.
The Bulldogs were pegged eighth in the GPAC preseason coaches' poll, which was merely a reflection of last season's standings. There are quite a few unknowns at this point for Concordia, but there's an optimistic and upbeat attitude taking hold as the spring beckons.
Says Culler, "When I get here every day, we're all here for the same reason: to win and be successful. I'm surrounded by people who share that same approach. These athletes are here for the same reasons we are. They want to win, they want to be successful and they want to be great leaders and great people. It's really easy to come to work every day when that's the atmosphere."
The 2022 campaign culminated in a 23-24 overall record after one postseason win at the GPAC tournament. Previous head coach Tatum Edwards found a new home at the University of San Diego. She recruited an incoming freshman class including five signees from Lincoln. Foremost among the returners, the Bulldogs welcome back all-conference honorees in outfielder Caitlyn McGarvie (first team) and first baseman Zoie Isom (honorable mention). It feels like a bit of a fresh start in more ways than one. Many of the building blocks from the 2021 national tournament team have graduated and moved on.
But this is a program that has almost always been competitive. Concordia Softball has finished with a .500 or better record in 20 of 22 seasons during the GPAC era and has made three recent trips to the national tournament (2014, 2015 and 2021). There's a tradition in place that gives the Bulldogs a starting point with which to build upon. Though expectations may be low outside the program, Culler isn't going to discount the potential of his '23 team.
"This past fall it was just getting to know each other," Culler said. "Leading into the spring, our practices have shown we're heads and tails above where we were in the fall. It's outstanding. These girls are really starting to buy into how we're wanting to play this game and how we want it to look. Confidence levels are getting higher. We just had a practice (in late January) that was unbelievable. It was by far the best practice we've had to date, including the fall."
A mainstay in left field, McGarvie is unquestionably a leader on the team considering her experience and past production. The Lincoln North Star High School product raised her game in 2022 while batting .390 with a .483 on-base percentage and .512 slugging percentage. She'll enter this season five hits shy of 100 in her Bulldog career. Only one other teammate who started as a position player at the 2021 national tournament remains on the roster: infielder Julia Van Wey. She batted .292 with 28 RBIs last season and is another veteran presence.
Additional Bulldog returners who were regular starters in 2022 include outfielder Aubrey Bruning, infielder Kylie Shottenkirk and catcher Taylor Glause. Plenty of potential was shown by the likes of Bruning, Isom and Shottenkirk, each thrown into the fire last season as freshmen. Also a Lincoln North Star product, Shottenkirk made waves late in the season by going a perfect 8-for-8 at the GPAC tournament. Isom showed the ability to hit for power (team high four homers) and Glause transferred in from Cloud County Community College and won the starting catcher role last season.
McGarvie believes intentional strengthening of the team culture is the key to unlocking its full potential. Said McGarvie, "I want to show that being a good person can lead to having a great season. I'm really pushing towards that. We're working with the culture and that's something that can help us have a great season. We want to work together and be great teammates. I think we have the connection and communication to do that."
The returning group of position players also features names like Grace Boganowski (11 starts in '22 at shortstop), Hanna Bowers, Alexis Tachovsky and Creighton Taylor. With the graduation of Camry Moore and Kylee Nixon, there will also likely be openings for freshmen to make a splash this spring. As Culler has stated, he's still eager to find out what type of offensive production this team is capable of putting forward. The Bulldogs would like to boost their average of 5.0 runs scored per game from 2022.
The pitching staff will no longer be able to rely on the star power of Moore, who went 52-27 and covered 489 innings during four seasons at Concordia. That means Jerzi Rowe stands out as the most experienced pitcher on the current staff. She recorded a 4.90 ERA in 98.2 innings last season. Megan Eurich and Brooke Townsend also gained experience in 2022. Bulldog fans should keep an eye on Millard South High School alum Jessie Bestenlehner, a freshman with the ability to make an impact as a pitcher (and with the bat). Bestenlehner was a Nebraska Coaches Association All-Star Game selection.
"We're not going to have the one pitcher we're going to wheel out there and expect to have 10 strikeouts," Culler said. "These pitchers bring a lot of good pitches to the table. Our scouting reports and in-game adjustments are going to dictate who is going to do what. I think it's going to be a little bit of a committee type of thing. Jerzi went to Iowa Western in the fall and threw a seven-inning complete game and looked outstanding. There will be opportunities to throw complete games if we're in the flow, but we've got the depth to make adjustments and bring in two or three pitchers in a game."
What Concordia Softball is looking for from Culler is stability, and he seems determined to provide it. What strikes players like McGarvie is how Culler has shown he cares about his student-athletes beyond what they do as softball players. Said McGarvie, "He really cares about us. He always wants to make sure we're doing okay. He checks on us and really shows that school comes first, before softball. That's great to have that. He always has his door open for us to come in. He's just a very caring person overall. He wants us to get better and really pushes us during practice. He wants us to have great character as people."
In the eyes of Culler, the season opener on Feb. 18 can't get here soon enough. Everything about the program seems to bring a smile to the new skipper's face. Said Culler, "The history with the program gives us a really good baseline. Here's the direction we want to go and we can do that doing these things with these players. I'm really excited about how recruiting has gone. Our current players have helped with that. They're good kids. I'm pretty fired up. I'm excited about the group we have now, the group we have coming in and the future of this thing. I want the snow to go away and I want to get on the dirt and go to work."
The 2023 season is slated to get underway on Feb. 18-19 with the Kansas City NAIA Softball Invite. The Bulldogs will take on four different opponents over those two days. The first home appearance of the spring is scheduled for March 23 with a doubleheader versus Nebraska Wesleyan University.