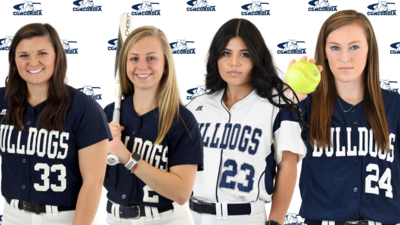 Head coach: Shawn Semler (40-14, 3rd year at Concordia; 451-272, 17th year as college head coach)
2020 record: 12-2, 0-0 GPAC
Key returners: Zoe Flores (P); Hhana Haro (3B); Tori Homolka (IF/OF); Jenessa Jarvis (OF); Regan Karel (OF); Caitlyn McGarvie (OF); Camry Moore (P); Kylee Nixon (INF); Allysia Thayer (C).
Key losses: Dalaney Nance (INF); Savannah Robertson (INF); Sydni Schernikau (INF); MacKinsey Schmidt (OF).
2019 GPAC all-conference: Hhana Haro (first team); Tori Homolka (first team); Camry Moore (second team); Allysia Thayer (second team); Brittany Woolridge (first team).
*No All-GPAC team announced in 2020

Outlook
The last time Concordia Softball took the field, Head Coach Shawn Semler's program had polished off a 7-1 spring break run in Kissimmee, Fla., and had the look of team capable of enjoying a special season. Those hopeful prospects turned to tears for a group of seniors that knew it would not return for 2021. On the plus side, the Bulldogs welcome back a core of star players with legitimate prospects of winning a GPAC regular-season championship, something the program last accomplished in 2008.

In two seasons under Semler, Concordia has gone a combined 40-14. With a roster featuring many familiar faces that have had a hand in those victories, the Bulldogs enter this spring as a confident bunch with lofty expectations.

"It's probably been one of the best atmospheres I've seen in all my years of coaching," said Semler, who is entering his 17th season as a collegiate head coach. "There's an anxiousness to get started and I think that has to do with ending last year the way we did. We ended it 12-2 and really have a great nucleus back. What I love the most is I've heard (from our players): we're going to have so much fun, and we're going to win a lot of games. I want us to go out and have fun and not worry about anything – just go out and play the game the way they can because it's a talented, talented group."

Particularly in the infield, Concordia is loaded. Camry Moore is poised to become one of the top two-way players in all of the NAIA as a star with the pitching arm and bat. The left side of the infield packs a punch with 2018 GPAC Player of the Year Hhana Haro at third base and first team All-GPAC star Tori Homolka at shortstop. This also figures to be the year that accolades roll in for second baseman Kylee Nixon. All four were stellar in last year's shortened campaign.

Moore was especially incredible in 2020 while hitting .422 with four home runs, five doubles and 20 RBIs at the plate. She also went 7-1 with a 1.27 ERA in 55 innings as a pitcher. Meanwhile, Haro batted .585 with five doubles and two home runs. She collected at least one hit in all 12 games she played. It's not a stretch to say that Haro is one of the best pure hitters in all of the NAIA.

Said Haro, "All of us have a lot of trust in each other's capabilities, especially on the offensive side. We have this mentality of pass the bat. I know if I don't do it I can look at Tori. She's got my back. I trust she's going to get the job done and vice-versa with everybody on the team. All of us just work really well together. I think we'll continue to play well together."

Homolka has started at multiple positions in her collegiate career, but has found a home at shortstop. Homolka stung the ball in 2019 when she hit .400 and slugged .679 (21 extra base hits). As for Nixon, Semler will tell you that she hit the ball as consistently hard as anyone on the team last spring. When Moore's not pitching, she will sometimes slide over to first base next to Nixon. A second team All-GPAC choice in 2019, Allysia Thayer is used to catching Moore and has been a staple behind the plate.

The outfield absorbed a significant loss with speedy center fielder MacKinsey Schmidt graduating and moving on to medical school. Semler has been pleased with what he's seeing from the likes of returners Jenessa Jarvis and Caitlyn McGarvie, who both have an inside track on starting roles. Jarvis possesses 79 games worth of collegiate experience. Finding that third outfield starter to replace Schmidt will be a priority leading up to the season opener.

Though it's a veteran team, there's also a group of young players who have a shot at making an early impact. Semler is happy to have them learn and grow while being immersed into a winning culture.

"When that (veteran) group starts doing tee work you can just see them working with a purpose – not fast, not slow," Semler said. "Every swing they take has really got a purpose. Then you look at a freshman and they don't know how to do that yet or they don't have the confidence to do that yet. These older kids are trying to show them how to slow down and how this is done here. You can see that maturity level and the confidence."

Moore figures to log the lion's share of innings in the circle, but the depth of the staff has improved. In her first exposure to college softball, Zoe Flores went 3-1 with a 2.84 ERA over 24.2 innings in 2020. Moore and Flores will be the 1-2 pitchers with Ashley Evans and freshmen Jerzi Rowe and Brooke Townsend also in line to take the ball when called upon. The pitchers have been overseen by assistant Alan Moore, the father of Camry.

Opposing GPAC coaches seem to be aware of the talent Concordia has on board. The Bulldogs landed at No. 2 in the GPAC preseason ranking and received votes in the NAIA coaches' poll. GPAC rival Morningside begins the campaign ranked 20th nationally. Concordia could very well end an NAIA top 25 drought that has lasted since 1998. The program is also itching to get back to the national tournament as it did in 2014 and 2015.

"I honestly think we can be at the top of our conference if everybody dials in," Haro said. "I talked a lot about the name game. I feel like at times that hurts us – worrying about who's on the other side and changing our game to match theirs. If we continue to play our game and trust the work we put in we'll be successfully. We basically just go out there and have fun. If everybody takes their role and plays their role I think we'll be very successful."

Semler says he's glad his pitchers won't have to face this Bulldog offense, which averaged more than 8.0 runs per game during the 12-2 stretch in 2020. The main focus at the moment has been placed upon solidifying the third starting outfield spot and the first base situation.

Said Semler, "When you look at the GPAC, there's talent and there are teams that can play. We stack up right with them. I feel like those games are going to be such intense and well-played games. I really can't wait to see this team go out and execute and play against some of the best teams."

Concordia is slated to open the season on Saturday, Feb. 13 with a doubleheader at Ottawa University (Kan.). Despite the COVID-19 situation, Semler put together a fairly normal schedule (other than the lack of spring trip to Arizona or Florida). One of the highlights of the nonconference slate will be a doubleheader at perennial power Oklahoma City University, ranked fourth in the NAIA poll.