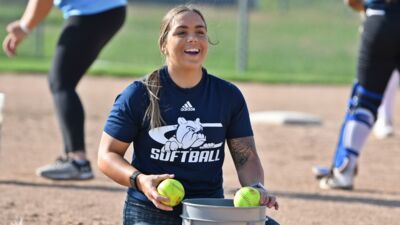 It may not have dawned on her at the time, but Tatum Edwards served as a role model for young girls throughout the state of Nebraska. A certain rising star from Crete certainly took notice. At Cornhusker Softball camps that occurred during her collegiate player career, Tatum guided young Camry Moore through a series of pitching drills.
Young Camry idolized Tatum, a two-time All-American and Big Ten Pitcher of the Year. In a plot twist neither one could have ever saw coming, Camry now looks up to "Coach T" as her head coach. For Tatum, the opportunity to teach the game she loves within a state she loves is all she could ask for.
Says Tatum, "It's fun to hear, 'Hey, I watched you when you were playing at Nebraska.' This state has given me so much in my life. Knowing that I'm in a position to give back is the coolest part. I love this state. This state has seriously given me so much. It's given me my career."
For Tatum, seeing Camry again brought back memories. She remembered the face from those pitching camps. More pitching sessions are in order now that Coach T has taken the reigns of the Concordia University Softball program. Her arrival brought a new excitement level to the start of fall practice.
"I was very excited when I found out Tatum was hired," Moore said. "She was one of my softball idols growing up. I went to a lot of Nebraska pitching camps when she was playing there, so it's pretty cool to be playing for her now."
Coach T was officially announced as the program's new head coach in August. Her first head coaching job follows three years as an assistant at the University of Nebraska-Omaha, one year as a volunteer at Purdue University and a graduate assistantship at her alma mater, the University of Nebraska-Lincoln. Although a native of Murrieta, Calif., Coach T feels at home in Nebraska. The Edwards name has gained prestige within the state not only from Tatum, but also from her twin sister Taylor and younger sister Tristen. All three Edwards sisters made their mark for the Huskers.
The family's love of softball has its roots in the state of California, where the sisters' father Brian took a liking to the game. The sport would eventually be their ticket to Nebraska.
"We started going to the softball fields when we were super young so it was always kind of a part of us," Tatum said. "It was something Taylor and I could always do together. She's way more of the athletic twin. I was just decent at softball. It was fun to see what we could do together. The pitcher-catcher combo came at a really young age. We just stuck with it. In California you play all year long."
While they were being recruited, the Edwards twins made it clear that they were a package deal. Head Coach Rhonda Revelle's Nebraska program rose above the other potential opportunities. As Huskers, Tatum starred in the circle while Taylor was on the receiving end behind the plate.
"We were super close ever since we were really little," Tatum said. "We always knew that we wanted to go somewhere together for college and play. Everyone knew when they recruited us that they were going to get both of us. Nebraska was our first ever letter that we received. We got a cool handwritten letter from the coaches there. We just built really good relationships with them. They hung with us because it took us forever to decide where we wanted to go. We built super good relationships."
The Edwards sisters remain inseparable, even when isolated by a physical distance. Coaching comes natural for Tatum and Taylor, who had to know the game inside-out as a pitcher-catcher duo. As great softball minds, they often knew exactly what the other was thinking in terms of pitch selection. Said Tatum, "Just having that twin sister pitcher-catcher combination is something you can't understand unless you've been there. Not a lot of people get to experience that."
Soon after her hiring at Concordia, Tatum added Tristen to the staff as a graduate assistant. Tristen finished her playing career at Nebraska this past spring. The Bulldog staff also features GA Bre Hamilton. Tatum and Taylor have always been close and Tatum says her relationship with Tristen has taken off in recent years.
The sisters have gotten comfortable coaching together through camps. Now the family reunion will relocate to Seward's Plum Creek Park and softball diamonds throughout the GPAC footprint.
Said Tristen, "I am excited for the opportunity to be a part of something bigger than myself and to continue to be around softball in this new capacity. I am hoping to share my passion, knowledge and experience with this group. There is so much learning and growing to do and I am looking forward to getting started."

After playing big time softball (including a stint as a professional), Coach T is making Concordia her big time. She's been struck by an atmosphere in which athletic department staff members are enthusiastic to serve one another's programs. It's exactly the environment she wanted as a first-time head coach.

Said Tatum, "Everyone here is super supportive and helpful. I think I've asked more questions the past few weeks than I had in the previous several years as a coach. I feel like I can be open and ask other coaches questions. It feels like everyone is here to help each other. I love that aspect of it. I love the community feeling here. Everyone takes care of each other. I'm excited to see us compete. From our first practice to now, I can already see growth. They've been really receptive to information. I'm just trying to open that line of communication – please ask questions. I want to be here to help mold people into who they want to be. I'm excited to continue to move forward. The first couple of weeks have been really fun for me."

The hiring of Coach T was, of course, endorsed by Revelle. Said the longtime Nebraska head coach, "Tatum Edwards is a home run hire! She is passionate, competitive and has been highly successful in the sport as a player and coach. Tatum will be an outstanding mentor, role model and leader for the young women who wear the Bulldog jersey. It is a great day to be a Bulldog."
The journey of Tatum is one that can't be told without her sisters, softball and the state of Nebraska. Each of those elements remain a staple in her life. Along those lines, Tatum's experiences have prepared her for this moment. Said Tatum, "I had such a great experience with coaches who cared about me and helped me through adversity. It taught me so much more than just throwing a strike. It taught me way more about life than I anticipated. I learned a lot of different things. Everywhere I've been I've had a lot of different experiences that helped me get ready for this role."
Life as a coach is made smoother when your team already possesses a Camry Moore. The star Bulldog pitcher and hitter already respected Coach T. Now's the chance for the bond to grow. Said Moore, "Coach T has done a great job of implementing new ideas and taking control of the Bulldog Softball Program. She brings high-level knowledge to this team and is such a positive presence. I think we are all very excited to keep growing as softball players and learn as much as we can from her."
Welcome to Concordia, Coach T.