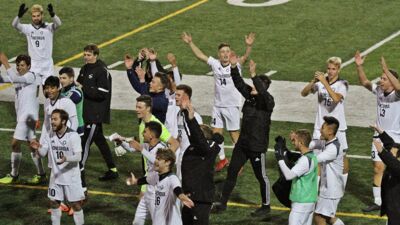 Head coach Jason Weides admits that he saw some surprises, from a positive perspective, in regards to the formation of new leadership this spring. The captains this past fall, Angel Alvarez and Jack Bennett, have graduated and will move on from a program that has been a model of consistency (eight seasons in a row with at least 10 wins). The last time the Concordia University men's soccer team appeared in an official game, it saw its 2018 season end with a GPAC semifinal loss to rival Hastings.
A lot has happened since then. The returning Bulldogs got after it during a second semester that goes mostly under-the-radar from the public eye. But Weides' watchful eyes saw plenty of developments.
"With the guys coming back who have played a lot, we wanted to see how they would assume new roles within the team and what that was going to look like," Weides said. "For some guys that meant being in more of a leadership position. For some guys that meant shouldering a load in some other way. Part of it is getting them to help nurture and mentor the younger guys. I think those guys did that for the most part. Our two captains were seniors, but there were others beyond that who are leaders. I think we were pleasantly surprised. There were some guys we didn't envision stepping into leadership positions as well as they did."
Weides says his team entered the post-spring break training period in great fitness after it went through a series of speed workouts early in the second semester. The biggest difference in spring practices as compared to the fall is the lesser amount of time spent preparing for specific opponents. However, Concordia did take on five foes this spring, including an alumni team, Central Columbus Community College, Briar Cliff, Midland and Nebraska Wesleyan.
The Bulldogs have not yet reached the level Weides expects, but some of the issues still to be ironed out are common happenings that rear up during the spring. From a defensive standpoint, Concordia has to replace a couple of key parts from the 2018 back line in Alvarez at center back and Derek Eitzmann at outside back, as well as Bennett at goalkeeper.
Said Weides, "We play well in moments and then have a breakdown here and there defensively. We might dominate the opening 15-20 minutes of the game and the opponent then has their first chance on goal when we've had several – and they score on it. We found ourselves in that position a couple times this spring. It's something we have to continue to grow from. I think going through those challenges will really help us this fall."
Of course the spring roster never depicts the complete picture that will steady into focus when the entire team comes together in August. At least for a couple of months, you work with what you have. What this team has is all-conference returners in Carlos Ferrer, Matthew Ho and Roger de la Villa. Ferrer has been a backbone of the team for each of the past three years. A number of other key parts are back in the fold.
Additional candidates to take a step forward in 2019 include the likes of David Carrasco, Evan Hayden, Carlos Orquiz, Garrett Perry, Joao Pedro Verissimo and Kevin Sanchez. Of that group, Carrasco and Hayden will both be seniors in 2019-20 and have made especially positive impressions this spring.
"We have a lot of guys who lead by example and just put in a lot of hard work," Weides said. "This offseason you could go down a list of a lot of people. It's an ongoing process (as far as officially naming captains). We really like to use the spring and offseason as a whole to help prepare guys for those roles. We also want to challenge and test them and make sure they're well-prepared for the fall. It really opens the door for people to step up that maybe we didn't expect."
Weides won't yet name team captains and he also isn't quite ready to write someone into the goalkeeper role with permanent ink. The program always seems to come up with a quality keeper, including recent examples such as Brendan Buchanan, Mark Horsburgh and Bennett. Sophomore-to-be Callum Goldsmith will have a leg up on the competition. He was the only keeper on the roster this spring and wound up starting eight games as a freshman due to Bennett getting dinged up. Goldsmith then got every single minute in goal this spring.
In other spring happenings, Weides' world changed when he and his wife Erin welcomed their son Isaiah into the world in the middle of March. With that comes a new balancing act for Weides, who probably isn't likely to change too much about his coaching style as he enters his 12th season as head coach.
For anyone who follows along on social media, it's clear that being part of the Concordia men's soccer program is more than just what happens on the field. The Bulldogs get involved in the community by working with local youth teams, such as the U9 Gladiator team from Lincoln, and by pitching in with volunteer opportunities such as the Seward Cleanup Day. They also are intentional about team building exercises, such as the Champions League watch party they held on campus.
All in all, the spring seems to point to another competitive season for Concordia within the GPAC. They have an established brand that had made it to the GPAC postseason final three years in a row prior to 2018. The 2015 team won the GPAC tournament title and the 2017 side set a new program standard for wins in a season. Now what in 2019?
"I think it's going to look a lot different (this fall compared to the spring)," Weides said. "Not just because we're adding guys to the mix, but that will certainly help. We're adding some guys who can impact our team right away. We also had an unusual amount of injuries this spring. There were guys who barely played or didn't play at all this spring who have been key contributors. Adding those guys back to the mix will be great. You take in the weeks of practice in the spring and lessons learned and what they do in the summer – that's going to prepare us for next year."