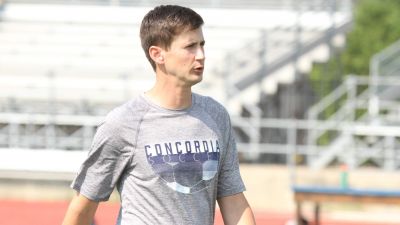 He can laugh about it now. A first-time collegiate head coach back then, Jason Weides began preparing for Grace College of Indiana in what would be the second game of his tenure. The only problem – the Bulldogs were about to take on Grace University of Omaha.
Weides soon realized he was mistaken. It probably wouldn't have mattered much anyway. Concordia trampled Grace, 15-0, for Weides' first career victory. That happened almost exactly 10 years ago.
Says Weides, "Grace of Indiana was a good team and I first started to prepare for them for a day until I realized it was Grace out of Omaha. I kind of switched up preparation. I think our team showed up ready to go. It was one of those where it was the best way to start off a new tenure. Not only did we win, we won pretty emphatically. I think it was 7-0 after the first 20 or 25 minutes. I knew all the games weren't going to go that way and there would be a lot of challenges along the way."
Very few games have gone quite that way, but Weides has been on the right side of the ledger for a strong majority of the contests he's presided over as head coach of Bulldog men's soccer. In game No. 5 of season No. 11 in his coaching career, Weides celebrated win No. 100. The latest triumph came by a 3-2 score in overtime over McPherson College on Wednesday night (Sept. 12). Jack Arra emerged as the hero.
Said Arra afterwards, "We told the guys going into overtime that we need to win this today for our coach. His 100th win has to be today. Not Saturday, not next week, but today. And we wanted it to be on home turf."
A 2002 Concordia graduate, Weides hadn't planned on coaching as a profession. The Kearney native got a job as a graphic designer out of college. That was supposed to be his career and his life's work. But the pull of coaching was too much for him to resist. He began assisting at his high school alma mater, Kearney High School, and coached an area club team, one his brother Jeff was a member of. Weides' first taste of collegiate coaching came in 2005. Then Concordia head coach Art Busha had a sudden vacancy and wanted Weides to fill it.
Weides took a gamble and left his full-time graphic design job for a very part-time assistant role. Said Weides, "I decided to take the plunge and move here without much backup. I thought, 'Oh, I'll find a job in Lincoln as a graphic designer and I can do this part time on the side and that will be great.' I did that for a couple years. I had a full-time job in Lincoln and was an assistant coach here at Concordia. That's really when it kicked in and it was something I could see myself doing."
Weides was still a young coach when Busha left the program after the 2007 season. By that time, Weides had been a three-year assistant. In a way, both sides were taking a flyer on each other. Weides was tabbed as the man to bring the program out of its string of below .500 seasons. But it wasn't just about winning. Weides went about establishing a culture that aligned with his vision.
He wanted to build a program with the right people and right fits for the university. A 2018 graduate and native of Hong Kong, Toby Down took a chance on Concordia without even visiting the campus prior to enrolling in classes. Weides made the difference in Down's decision.
"Weides called me almost every day and would ask how everything was and talk to my family," Down said of the recruiting process. "It's difficult to find someone on the same level as Weides in that he's very competitive and at the same time, he wants to maintain that good appearance. He wants us to be good sportsmen and he wants us to be champions at the same time. With Weides, the goal is winning and being good people. It's refreshing to see someone like Weides. This isn't a professional team. We're here to study and prepare for the future. Weides sets us up well for that."
Down was rewarded for his decision, in terms of both wins and lifetime memories. He was a member of the winningest senior class in program history (48-23-10) and a key figure for the 2015 squad that tasted the sweetest victory of the Weides era and the program's history to date. The '15 Bulldogs went on a magical postseason run that saw them go on the road and wipe out each of the top three seeds during the GPAC tournament.
It culminated with an upset of perennial power Hastings in the conference tournament final. The Broncos are a rival within the GPAC that has often held an aura of invincibility. But on that night, it was Concordia that celebrated with the trophy and Weides who was doused by his players with ice cold water on a chilly November evening. Of the first 100 wins, none of them topped that one, although the GPAC semifinal shootout win at Midland that same postseason is another that goes in the unforgettable category.
However, Weides wants all the players who came before that moment to know that they had a hand in making it happen. That 4-13-1 record in 2009 was part of the process. Two years later, the program broke through with an 11-5-3 mark that included a perfect 8-0 home record. Win, lose or draw, there have been hundreds of players who have happily put in the blood, sweat and tears for Weides.
"They're the reason why we're in this position," Weides said. "We're building on the backs of the guys who have been here before. Some guys have been here and have had a lot of success and some guys were here before that success, but they were the ones who set us up for that. There are a lot of names who are instrumental in getting us to that point. Maybe they never lifted a trophy, but they were definitely a part of it."
Micah Lehenbauer, an all-conference player and another piece of the 2017-18 senior class, left Concordia with plenty of admiration for his head coach. He provided some insight as to how Weides has been able to build a consistent winner. "I think the biggest thing about Coach Weides is he's just very detail oriented," Lehenbauer said. "He wants to get every little thing right. He's going to address any problem that he can. I think that's part of the reason we've been so successful. Whether it's on a personal level or the team level, he wants to address these things and make sure we get it right down to a tee."
The memorable wins, the relationships and the chance to impact young men in a long-lasting manner have made Weides' career shift worth the gamble. Eleven seasons deep into his tenure as a head coach, Weides would seem to have a hard time seeing himself in another role. With 100 wins in hand, Weides is simply focused on nailing down No. 101.
Weides reflected on win No. 100 after Wednesday's win. Said Weides, "It's nice to get that mark. The tough thing for me is I haven't kicked a ball in a really long time. None of those wins resulted from me doing anything on the field. It's many, many players over many years performing really well and helping to build our program. I think about 100 wins and I just start to think about all the memories throughout the years."