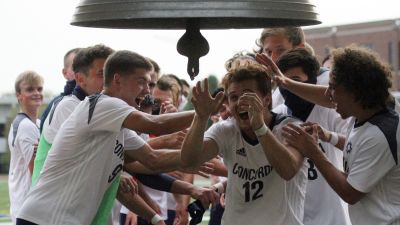 SEWARD, Neb. – Head Coach Jason Weides wasn't lying on Wednesday when he said he believed his team had many players capable of finding the back of the net three times. After sophomore Moises Jacobo accomplished that feat three days earlier at Dordt, senior Garrett Perry turned in a hat trick of his own on Saturday (Sept. 26) afternoon. Another 90 minutes of dominance resulted in a 4-0 Bulldog victory over visiting Northwestern.
The Concordia University Men's Soccer team has won four in a row to move to 4-1 overall (2-0 GPAC). Weides and his team enjoyed this week of conference action.
"We put goals in. I think that's the biggest thing," Weides said. "Our guys when they get chances they put them away. Maybe we don't score as soon or as early as we'd like, but we're really putting teams under pressure in the second half. At times we create something and at times it's forcing them into an error that we capitalize on. Both of those happened today."
As evidenced by his strike last season against Midland, Perry can score in impressive fashion. His second one on Saturday was a beauty. Perry beat a defender one-on-one and then rifled a shot inside the left post from a good 20 yards away. The native of Corona, Calif., pelted the back of the net in the 17th, 70th and 82nd minutes. The latter two tallies ensured the Bulldogs would not have to sweat it out.
The goals are also piling up for Jacobo, who has five goals over the past three games. Just 34 seconds into the second half, Jacobo stole the ball from a Red Raider and slotted it past the keeper. It marked career goal No. 11 for the rising star. Of course there could be others who emerge in future outings.
"We have a lot of boys who can put it in the back of the net," Perry said. "I wouldn't be surprised if there were a couple more to come. I think we have a lot of good finishers on the team. Today I got the chances but maybe another day they'll get the chances and I know they'll put them away."
Concordia had to shuffle its back line a bit after Decker Mattimoe left the game in the first half. Even if the opposition does penetrate the Bulldog back four, there is a growing confidence in keeper Federico Andrea Simonetti. He made five saves to preserve the shutout versus Northwestern. An anchor in the back line, Joao Pedro Verissimo was credited with an assist. So too was David Moreno and Trent Williams.
The shot count favored the Bulldogs, 12-9. That did not tell the full story of another strong showing. Since the 3-1 season opening loss to Bellevue, Concordia has outscored its opponents by a combined total of 14-1 during the four-game win streak.
"We've had a little more patience in the attack," Weides said of the past week. "Early in the season once we went forward, we went forward fast. There was no resetting, no patience and no probing. I think we're starting to have a better recognition of when to go backwards in order to go forwards and when to switch the field."
The Bulldogs hope to take that clinical approach into Wednesday (Sept. 30)'s game at Midland (1-0, 1-0 GPAC). Kickoff is set for 7:30 p.m. CT from Fremont. In their only game this season, the Warriors edged Jamestown, 3-2, on the road.