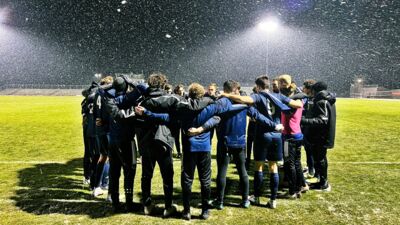 WINONA LAKE, Ind. – Amidst snowy conditions and sub-freezing temperatures in Winona Lake, Ind., the Concordia University Men's Soccer program made its second all-time NAIA National Championship appearance. The Bulldogs were locked in a 0-0 stalemate for 60 minutes before defending national champion Keiser University (Fla.) got loose for the first of its three goals. The ninth-ranked Seahawks are headed to the national tournament's second round by way of their 3-0 victory on Thursday (Nov. 17).
Head Coach Jason Weides' 2022 squad wrapped up arguably the program's greatest season ever with an overall mark of 15-2-3. Just a week earlier, Concordia celebrated a GPAC tournament title at No. 23 Hastings.
"It's a team that approached it like it deserved to be there," Weides said. "We've done so many good things this season, and it's unfortunate to see it come to a close. I felt like it was a team that had the ability to go beyond just getting here. It doesn't always go the way you want. This team has had a great season. It's hard to take that in perspective in this exact moment, but we'll have an opportunity to reflect and cherish everything that happened this season."
Though out of its comfort zone in the wintry weather, the Florida institution mostly had the Bulldogs playing on the defensive. Concordia did an admirable job for much of the evening in limiting a Keiser squad that entered the national tournament averaging more than 4.0 goals per game. The underdogs from Seward were geared up to put forth the type of gritty effort that allowed them to come back from a 2-0 deficit in the GPAC championship game. However, the Bulldogs couldn't capitalize on the few attacking chances they created.
Finally, Concordia blinked in the 60th minute when Rui Reis put away a goal while assisted by Charlie Hennen. In what was a 1-0 contest for most of the remainder of the game, the Bulldogs had one more real shot on a set piece that was delivered a little too high into the box. Reis struck again in the 85th minute for a finishing blow. As Concordia brought numbers forward in desperation time, Keiser tacked on one more goal.
Said Weides, "The score line wasn't indicative of the game. It was a really tight game. They were able to get that go-ahead goal. The last 10 minutes we really opened ourselves up. We weren't content with just playing tight and having a one-goal loss to the defending national champ. We went for it. When you do that, sometimes you open yourselves up. This team is fearless, and we wanted to go for it for Bulldog Nation. We fell a little short today, which stings, but it's a really good season."
Keeper Gabriel Mendoza helped keep Concordia close while making seven saves on the night. His first one was on a diving denial in the opening half. On the other end, the Bulldogs put two shots on goal, one apiece by Dominic Abdel-Ahad and Jarrod Henson. Keiser (13-1-2) had the better of possession (and a 17-4 shot advantage) but still found the going tough in the face of a team of believers that landed eight players on the GPAC all-conference team.
By so many measures, the 2022 team set a standard for future editions to attempt to reach. Not only did the Bulldogs win the GPAC tournament title and qualify for nationals, they went nearly two months without a loss during a 12-game unbeaten streak (9-0-3) and put behind a tough-luck 2021 campaign. The 15 overall wins were one shy of the school record for a single season. Concordia outscored its opponents by a combined total of 51-21 over 21 games.
Some seniors will say their goodbyes, and some may consider returning to use an extra year of eligibility (such as the COVID year). No matter where the players locate over the years to come, they'll always consider themselves family. The 2022 team has left a legacy.
"We want to give the outgoing seniors kudos for what they've given to the program," Weides said. "They've made an impact beyond just the soccer field. They have been a big part of what we've accomplished. One of our captains highlighted this in the postgame, and several other guys touched on it, this really is a family. Above wins and losses, this team really cares for each other. It's a really fun group and we're excited to continue to celebrate this team tomorrow, a year from now, 20 years from now and all the years to come. Had we won this game or lost it, it doesn't change this Bulldog family."
Concordia had been placed in the Winona Lake Bracket hosted by Grace College. The top seed in the bracket, the Lancers were upset by fourth-seeded Lindsey Wilson (Ky.) in the first game of the day. Keiser and Lindsey Wilson will play for a chance to advance to the 10-team final site. The Bulldogs will have to wait at least another year to claim the program's first ever win on the national stage. The 2015 squad (also a GPAC tournament champion) dropped a 3-0 decision to No. 2 Oklahoma Wesleyan University in the opening round of the national tournament.