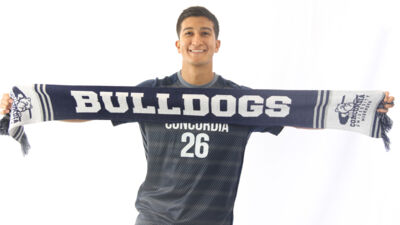 It's fair to say that David Moreno is a veteran of the NAIA soccer scene. His scope dates back to 2016 when he began his collegiate career at the University of Northwestern Ohio. Five years later, Moreno remains excited about the opportunities in front of him. After transferring to Concordia, Moreno expected to play one season for the Bulldogs. The oddities of the 2020-21 COVID-19 season have granted an extension to Moreno's career.
This was a no-brainer in regards to Moreno's decision to spend a sixth season on an NAIA roster. Says the native of Cali, Colombia, "I came here with the mindset of being a GA or coach my second year at Concordia. It wasn't a tough to decision to make. I really wanted to play – the longer the better."
Since 2016, Moreno has appeared in 59 games, including 41 at Northwestern Ohio. He made the transition to Concordia last fall as a graduate transfer and became an immediate fixture in Head Coach Jason Weides' lineup. Moreno had one season of eligibility to use after having spent the 2018 season as a medical redshirt. Then in 2019, Moreno experienced a run to the NAIA national quarterfinals with the Racers.
So why Concordia? A new educational opportunity as a graduate student served as a primary reason. Through his soccer club in his native Colombia, Moreno found out about a Concordia, where he could pursue a Master's in Business Administration. Make no mistake though, he wanted to find a winning program. As Weides pointed out, Moreno was used to having success on the field.
"They talked to me about the program and about the education," said Moreno of the conversations that took place. "I didn't realize it was that good until I got here. I got to talk to (Bulldog soccer alum) Carlos (Acosta) and find out about his experience here. From what I heard, this looked like a great place to continue my education and my athletic career."
Moreno's introduction to the Concordia campus came virtually through the magic of Google and an online tour. Without a prior visit, he made the move from Lima, Ohio, population of 37,000, to Seward, population of just under 7,000.
"Nice facilities – that was the very first thing I looked at," Moreno said. "I also saw great people, great coaches and great teammates. It's a friendly, small city where the people are really nice. That made it easier for me to adjust. The adjustment was bigger (coming to Concordia) because of the COVID situation. When I got to Ohio I got to interact with my teammates and classmates. Last season most of the guys I interacted with were my soccer teammates because of all the requirements to keep everyone safe."
On track to be named an NAIA Scholar-Athlete, Moreno has excelled in the classroom. Meanwhile, he made 16 starts as a midfielder during the 2020-21 season while helping the Bulldogs to an overall record of 10-5-3.
In order to keep up his fitness level, Moreno has been keeping out with summer workouts. He also has taken advantage of the opportunity to train with teammates who have also remained near campus this summer.
Moreno brought with him a winning attitude after having played at the final site (Irvine, Calif.) of the national tournament in 2019. In other words, he knows something about what it takes to compete on the highest level of the NAIA. He sees good things transpiring for the Bulldogs, who competed closely with the top teams in the GPAC last season. With some tweaks here and there, Concordia could be a national tournament team once again.
"I think it's going to be an interesting preseason because most of the guys are returning," Moreno said. "We are realizing that we need to be conscious of putting in the effort every time – every session and every game. We showed we could compete with top teams in the nation, like Missouri Valley, which ended up winning the national championship. I think last season helped us mature and come together as a team. I think it's going to be very interesting to see what we can do this season."
In a year in which a number of NAIA squads will likely feature more veteran rosters, Moreno's experience should come in handy. The MBA student wants to finish strong and capitalize on this unique chance to play one more year. This was just another twist in the journey for Moreno, who would likely come back and play in 2022 if they let him.
"There were lots of things I enjoyed (about my first season at Concordia)," Moreno said. "I have great teammates. It's always been fun going to training sessions and traveling with the team. I came to the U.S. with a focus on sports first and then education. Sports became my second priority, but I still want to compete and want to win. It always feels good to get on the field and compete."