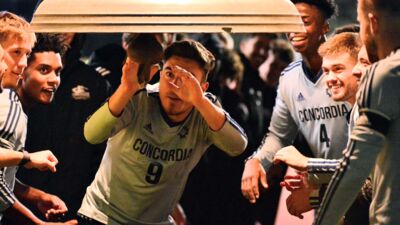 First Team
Dominic Abdel-Ahad
Max Bisinger
Carlos Orquiz
Second Team
Martin Herrera
Matt Schultz
Isaiah Shaddick
Ryan Wokutch
Honorable Mention
Gabriel Mendoza
SEWARD, Neb. – Following a GPAC tournament celebration and a 15-win pre-national tournament campaign, Concordia University Men's Soccer has cleaned up with all-conference awards. Eight Bulldogs garnered some form of 2022 All-GPAC recognition, as announced by the league on Monday (Nov. 14). First team accolades went to forward Dominic Abdel-Ahad, center back Max Bisinger and midfielder Carlos Orquiz. The GPAC honor roll features 13 first team and 13 second team award winners in addition to a list of honorable mentions.
Four Concordia standouts also landed on the second team: midfielder Martin Herrera, defender Matt Schultz and forwards Isaiah Shaddick and Ryan Wokutch. Honorable mention accolades went to goalkeeper Gabriel Mendoza.
A native of Dusseldorf, Germany, Abdel-Ahad has made a major impact in his first season as a Bulldog. The transfer from NCAA Division II Northwest Nazarene University leads the team in both goals (12) and points (27) as one of the top strikers in the conference. He ranks fourth among all GPAC players in goals and has started all 20 games. This fall, Abdel-Ahad was twice named the GPAC Offensive Player of the Week. Abdel-Ahad struck for a hat trick in the win over Dakota Wesleyan on Oct. 1.
Bisinger, who hails from Rosenfeld, Germany, has had a big hand in helping Concordia post nine shutouts and limit its opponents to a total of 18 goals in 20 games this season. The transfer from Muskegon Community College also contributes offensively and has notched four goals and one assist in 2022. Bisinger is also an NAIA Scholar-Athlete.
A fifth-year member of the program, Orquiz has enjoyed his best season yet in racking up six goals and 12 assists (24 points) while starting all 20 games in the midfield. The native of Chihuahua, Mexico, has broken program records for assists in a season, assists for a career (21) and career games played (88). Orquiz has previously been named an NAIA Scholar-Athlete and was tabbed with Second Team All-GPAC accolades in 2020.
A second-year starter in 2022, Herrera has raised his game and has contributed three goals and three assists while appearing in all 20 games (17 starts). The native of Quito, Ecuador, produced two goals and an assist in the win over Dakota Wesleyan on Oct. 1. Over two seasons at Concordia, Herrera has tallied seven goals and six assists.
A veteran leader on the team, Matt Schultz has effectively bounced back in 2022 after injuries kept him out of a large portion of the '21 season. The Lincoln Southwest High School product has earned all-conference honors for the first time while excelling as part of the back line spearheaded by Bisinger. Schultz has started all but one game in 2022 and has totaled three goals and four assists. Schultz has played in 52 career collegiate games.
Shaddick's importance to the team goes beyond the statistics. Another Lincoln Southwest alum, Shaddick has notched three goals and six assists this season while playing in all 20 games (18 starts). Shaddick went for a hat trick in the win at Presentation on Oct. 22. His six assists are second most on the team. For his career, Shaddick has appeared in 68 games and has tallied 17 goals and 13 assists.
One of the team's fastest players, Wokutch has been a dangerous performer on the attack in accumulating six goals (second on team) and three assists in 18 games (14 starts). The native of Paola, Kan., helped change the course of the 2022 season when he brought the Bulldogs back from a 1-0 deficit with a goal apiece in the 84th and 87th minutes in the 2-1 win over Northwestern. Wokutch has collected 14 goals and five assists in three collegiate seasons.
One of four players to see action this season at keeper, Mendoza has started 10 games while notching 40 saves to go along with a 1.03 goals against average and .800 save percentage. The native of Fuengirola, Spain, has recorded three shutouts and owns a record of 7-0-2. He was named the GPAC Defensive Player of the Week on Nov. 8.
Head Coach Jason Weides and company are preparing for the first round of the national tournament on Thursday. The Bulldogs will make the program's second all-time appearance on the national stage.