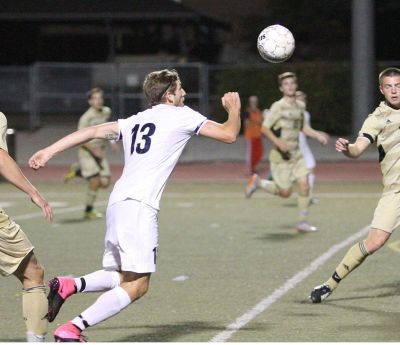 Thiel's hat trick leads Hastings College to 3-0 win over Concordia
Yannic Thiel had a hat trick, and the Hastings College men's soccer team earned a 3-0 win over Concordia University on Tuesday evening in Hastings. The Broncos improved to a perfect 15-0 overall with a 9-0 mark in conference play with the win. The recent struggles continued for Concordia. The Bulldogs (7-8-2 overall, 4-6 GPAC) have lost four straight and have fallen to ninth place in the conference standings.
It didn't take long for the Broncos to take the lead, as Thiel scored in the third minute of the game. Ryan Robinson picked up the assist, as the Broncos took the early 1-0 lead. Thiel scored his second goal in the 31st minute off an assist by Jordan Green. The Broncos settled for the 2-0 lead at halftime. Thiel completed his hat trick early in the second half off another assist by Green for the final of 3-0.
Concordia struggled to find rhythm offensively. Hastings held a 25-4 advantage in shots. Concordia managed just two shots on goal in the game. Kolt O'Kelly and Raul Lopez each had two shots for the Bulldogs.
Cody Poteat and Dru Kobs combined for the shutout for Hastings College. Each made one save. Chris Podlich made eight saves and allowed the three goals for Concordia. Blake Studer played the final 10 minutes of the game for the Bulldogs.
Concordia hosts Briar Cliff University on Saturday evening. The game is scheduled for 8 pm on Senior Night at Bulldog Stadium.