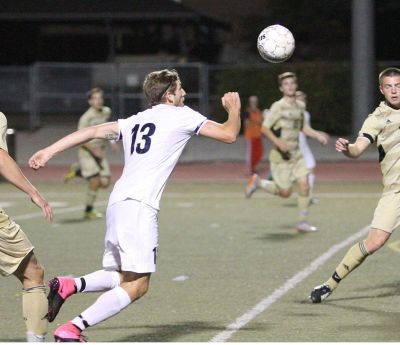 Strecker and Smith spark Doane in 5-4 win over Concordia
Doane College trailed by three goals on two occasions but rallied for a 5-4 men's soccer win over Concordia on Wednesday evening in Crete. Devon Strecker had three goals to lead Doane to the win. Concordia led 3-0 and 4-1 before the Tigers mounted the comeback. Doane scored four unanswered goals in the final 22 minutes of the game to pick up the win. The Tigers improved to 10-5 overall and 7-2 in the GPAC with the victory. Concordia dropped to 7-6-2 overall and 4-4 in GPAC play with the tough loss.
Concordia took advantage of multiple scoring opportunities in the first half. Aaron Skipworth scored his team-best eighth goal of the season in the 25th minute to put Concordia on top 1-0. Kolt O'Kelly added his fifth goal of the season in the 35th minute to increase the Bulldog lead to 2-0, and Todd May put the Bulldogs up 3-0 with a goal in the 40th minute. It was May's fifth goal of the season, and Concordia settled for the 3-0 lead heading into halftime.
Doane College got on the board early in the second half. Strecker scored following a corner kick to pull the Tigers within two at 3-1. Later in the second half, Concordia's Tim Soenksen scored his third goal of the season to put the Bulldogs back up three at 4-1.
Kyle Smith scored for Doane in the 68th minute to cut the lead back down to two at 4-2. With just over 10 minutes remaining in the contest, Strecker scored his second goal of the game via penalty kick to pull the Tigers within one at 4-3. Smith put home his second goal of the game for Doane in the 82nd minute to tie the game. Strecker then scored the game-winner with less than seven minutes remaining in regulation.
Doane College held a 17-9 advantage in shots for the game. The Tigers had 11 corner kicks compared to five for Concordia. Chris Podlich made two saves for Concordia on the night. Matt Bickley made three saves and picked up the win for Doane.
Concordia visits Morningside College on October 23.