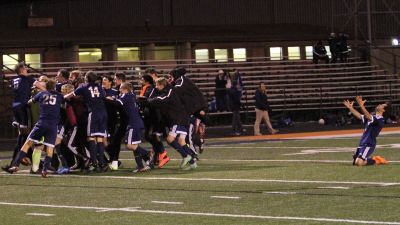 The 2015 Concordia men's soccer team provided a season's worth of memories during a 10-day span in November that saw the Bulldogs knock off the GPAC's top three seeds (all on the road) to claim the conference tournament title. No one associated with the program will ever forget Nov. 12, 2015, the day the team celebrated a 1-0 upset at No. 19 Hastings in the championship game. As head coach Jason Weides put it, "The emotion and pure joy shown by the guys after the win (at Hastings) is something I will always cherish."
What will players remember about that victory? Here are responses from some of the key figures in that special run. Also check out the PDF above for a book that commemorates the 2015 season.
CARLOS ACOSTA
It's always good to beat one of the powers in the conference and nationally - but beating them in the conference final is what makes this one of the best feelings in my life! That's why I love football. It always gives you a second chance. We all remembered the 2014 season when they beat us with just one-minute-and-thirty-seconds left in the game. That was on my mind until that 12th of November of 2015. This is the result of all the hard work and discipline that the team has been putting in. It was amazing. I wouldn't trade that moment and that feeling for anything in my life!
I'm proud of this program since the moment I decided to become a Bulldog. This program has been taking huge steps from season to season. Being part of the history of the program and the history of the school is something different. I'm so proud of playing with this team. Instead of the word "team," I would name this group of people a "family." That's one of the huge factors that helped us to achieve this. We were a family with everyone supporting everyone. I really don't know how to express what I feel right now. It's really amazing. This team will be always remembered for being the first GPAC champions in history of Concordia men's soccer. That will be forever. Concordia Bulldogs - 2015 GPAC champions!!!
MARK CAMPBELL
When the clock had five seconds left and I saw other players celebrating I nearly had a heart attack because Hastings still had the ball. Once we cleared that last ball forward and the whistle went, never in my life have I felt a feeling like the relief, the adrenaline rush and sheer elation like the feeling I had at that point. To be able to celebrate with my brothers was the happiest moment I've ever had in my life.
After I came to Concordia and learned about the history of results and feats that had never been reached by the soccer team, my goal was to graduate having left a mark on the program. I did not want to just come and go, but to be remembered. It means everything to be written into the history books. We are the team that achieved what every team before us strived to achieve and the team that every future team will look to try and replicate. That's special.
SEAN DORAN
I was ecstatic. It was like an out-of-body experience. For me, it didn't fully sink in until the following day.
I think it sets the standard for future CUNE soccer teams and to say that I was apart of that legacy, means everything. It is something I will never forget.
MARK HORSBURGH
The feeling that overcame me the most was complete euphoria. We had worked extremely hard since losing there last season and it was all worth it for that moment we had together on the Hastings field. To see the excitement on teammates' faces you have gotten to know so well is something I will never forget. To be the "underdogs" throughout the whole postseason tournament is something we relished and it makes winning the GPAC title even sweeter. We never doubted our team once and I think that brought all of us closer this year.
To be written into the history books as a team is something special because we didn't rely on individuals to win us this title. We did it as group and as a team. To be able to say "we are GPAC champions" is something that we have been working towards for three or four years now and many years before us. Wow that we can say it, it is just unbelievable not just for us but everyone who has been a part of the soccer program here. I think it is a huge step for this program and I am looking forward to taking another step forward next year.
MICAH LEHENBAUER
Honestly, when the final whistle blew I just collapsed on the field. I was so tired that it took me a minute just to gather my thoughts. When I finally realized what we had just done, all that I was thinking was, "finally, finally our hard work paid off." We knew what we had to do from the beginning and we went out and did it. The blood, the sweat, the tears, the broken bones, it wasn't for nothing this time. This time there is no 'what if.' This time it's only "look what we did."
Being a part of this team means everything to me. I think of each and every one of those guys as my brother and to go out and make history with my family is the best feeling in the world. There aren't many chances that you get to do something that no one else has done before. I just can't thank God enough for giving us that chance to prove that we are more than just a team. We are the GPAC champs.
LEWIS RATHBONE
Once we scored the first goal, we knew we were going to go on and win the game. It was a feeling of accomplishment. We believed all year that we would make playoffs, and it was our aim to get to the GPAC final and make nationals. So to win the GPAC is a start of future success for the men's soccer program.
For me, the talent on our team deserved to win the GPAC championship. We knew we started the season slowly and we had challenges that we had to overcome all year, but we found our form when it really mattered in the playoffs. We played the best soccer we had played all year and we all definitely believed in ourselves throughout the playoffs. This is when we knew we were about to make history for the men's soccer program.