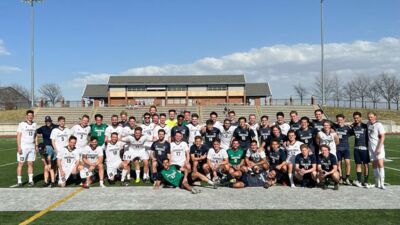 There's a strong belief in the depth of talent inside the Concordia University Men's Soccer locker room. The Bulldogs spent the spring seeking answers as to why they came up short of the goals the program had set for the 2021 season. By semester's end, Head Coach Jason Weides' squad made steps forward while aspiring to strengthen its mental toughness and grit.
A strong series of results in spring scrimmages provided plenty of encouragement and gives Concordia positive momentum heading into the summer months. Gaining the right mental edge just might be the element that puts the Bulldogs in the mix at the top of the GPAC in 2022.
"When you have the talent and fall short, you have to look in the mirror and ask why – everyone from the coaching staff down through the players," Weides said. "We have to hold ourselves accountable to have a little more resilience and grit. We feel like we have a championship mentality, but it faltered at times this past fall. I think we all realize we can do better individually and ultimately collectively. I think we took some good strides with that this spring. We also can be on the same page more with our pressing and some defensive aspects of the game."
In spring action, Concordia tested itself against the likes of Columbus Central Community College, Bellevue University, NCAA Division II Rockhurst University and a well-stocked alumni team full of former all-conference players. As Weides noted, the Bulldogs allowed only two goals the entirety of the spring and increased their efficiency on the attack. A common issue during the 7-8-3 campaign in 2021 was an inability to capitalize on prime offensive chances. The first 'normal' spring season since 2019 made for extended opportunities to fine-tune such weaknesses.
There was nothing normal about the springs of 2020 and 2021, which were altered drastically by the effects of COVID-19. A year earlier, Concordia spent the spring game-planning for upcoming opponents while playing a GPAC tournament quarterfinal match in mid-April. Said Weides, "This was the first real spring we've had in several years. We have guys who will be seniors next year that had never seen a normal spring. Last year we were playing actual games and the conference playoffs in the spring. The year before we didn't have a spring. This was the first time our current juniors had a normal spring."
A trio of Bulldogs began prepping for their fifth years of college action: Daniel Campbell, Callum Goldsmith and Carlos Orquiz. All three will have a chance to earn spots in the starting 11. In addition, João Pedro Veríssimo used the spring to make his way back from an injury that limited him to only three games in 2021. Injuries were part of what derailed what looked to be a promising '21 campaign. Victor Meneses was another potential impact player who was on the mend this spring.
Naturally, Weides and the program took it slow with those who were still banged up from the fall. Strength and fitness training this offseason are a primary focus. Injury prevention is always a key factor in team success. Weides likes what he sees of his team from a fitness standpoint.
"We've always felt the impact of strength and conditioning on our team over the years, but I really think this year was somewhat unique," Weides said. "I think it's given us a step forward over past years in that some of the things we're doing the weight room is a little more soccer-specific. It has been and will continue to be beneficial for our guys in terms of their development athletically and injury prevention. When you tie those things together, I expect it to improve performance. I thought the guys worked incredibly hard and Coach (Todd) Berner and his staff really pushed our guys. I was pleased with the gains our guys had in the weight room."
The goalkeeper position exemplifies the type of depth Weides has built inside the program. The battle at that spot (and several others) will be intense throughout August training. The crew at keeper includes three players who started at least once in 2021: Goldsmith, Gabe Mendoza and Federico Simonetti. Concordia has also welcomed in Northern Illinois University transfer Nolan Fuelberth (Lincoln Southwest High School alum), the 2021 Lincoln Journal Star Boys Soccer Player of the Year.
Three players on the roster have earned some form of past all-conference recognition: Iker Casanova, Orquiz and Simonetti. Weides also made mention of Jarrod Henson and Carter Hinman as young players on the rise. Heading into his fourth season as a Bulldog, Lincoln Southwest alum Isaiah Shaddick could be primed for a big year.
Said Weides, "We had great competition this spring. We had guys who didn't play much in the fall but played a lot this spring and took huge steps forward. We really tried to add a stressful environment within training. They were a couple steps backwards at times, but they ended up far ahead of where they were this past fall."
Weides (program record 134 career wins) is getting set for his 15th season as head coach. He will have two new graduate assistants on staff as Concordia alums Luke Batters and Jack Bennett completed their GA service this spring. Something to look forward to in the fall will be a nonconference trip to unfamiliar territory in Salem, Ore. Prior to the journey to Oregon, the Bulldogs plan to build chemistry with several preseason team activities, such as visiting nearby Branched Oak Lake.
The spring seemed to provide a breath of fresh air and a chance for the program to refine some key areas. The vibes are positive as the summer break heats up. Said Weides, "In the spring, we're not focused on an opponent at all. We focus on individual and team development. It was really promising, especially given the competition we played."