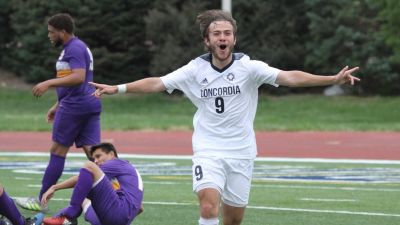 Time to reload. Gone are six seniors who started the 2017 GPAC championship final, the last time the Concordia University men's soccer team appeared in an official match. Head coach Jason Weides' program got back to the grind this spring and tested a bit different nucleus against several other quality collegiate squads in the area. Each of Weides' three 2017 first team All-GPAC honorees have graduated (Florian Caraballo, Marcelo Hernandez and Micah Lehenbauer).
The task of replacing a successful senior class isn't something new for Weides, who has been at the helm of the program since 2008. Especially over the past five seasons or so, the talent has streamed in, allowing the Bulldogs to sufficiently replace the stars of yesteryear. This spring seemed to reinforce that notion.
"Our team is in the expectation of getting back there," Weides said. "There may be some people that have some doubts in us but internally we believe in ourselves. We've had the conversation with recruits who point out that we're losing a lot of impactful seniors. They're just wondering what next year will bring. This isn't the first really good senior class we've had. We always move on and find ways to get better. That's what we'll do."
Roughly a week into the spring season, the current Bulldogs went up against a group of alums as part of an annual tradition. Concordia also challenged quality in-state opponents in Bellevue University and Midland. Scheduled matches versus Nebraska Wesleyan and York College were canceled as a consequence of a spring featuring uneven weather. Weides says that his team competed favorably in the outings the weather did allow.
These opportunities provided a first glimpse at how smoothly the 2018 squad can replace the losses of players who accounted for 42 of its 51 goals scored during a 16-3-1 campaign in 2017 that broke a school record for wins in a season. For whatever it's worth, Weides came away from the alumni game more concerned about ironing out some defensive miscues.
"That's always a challenge you face every year. Can you score goals?" Weides said. "Certainly the group this past fall scored a lot. The seniors scored a lot, assisted a lot and just created a lot of goals. I think we have some guys who can step up and have some career-type years next year now that they take on different roles. A lot of that was deferred to the seniors so naturally they were scoring goals. I really think there are some guys who are ready to have big years for us."
Based on last season's accolades, the next Bulldogs in line to grab more of the spotlight are players like seniors-to-be in defender Angel Alvarez and goalkeeper Jack Bennett, junior-to-be in forward Carlos Ferrer and Kevin Sanchez, who experimented at a different position this spring after playing holding midfielder as a freshman.
A two-year starter and Chula Vista, Calif., native, Ferrer may have been the unofficial MVP of the spring. If you'll recall, he gave Concordia an early 1-0 lead in last season's GPAC title game at Hastings. He has recorded nine career goals but that stat says little about his contributions since he arrived in Seward. Ferrer possesses as much technical skill as anyone on the roster. He'll likely have more chances to show off his theatrical flair in 2018.
"Carlos Ferrer really took a step forward this offseason, not only in terms of leadership but I think he's really hungry to get out there and attack," Weides said. "He's a dynamic player on the ball. I think he's going to put GPAC opponents under a lot of pressure next year because he's a guy who gets the ball and runs at people. He's really been working on his finishing so I'm excited to see him in action again."
Other not previously mentioned players with some level of experience who took on elevated roles this spring were Garrett Perry, Matthew Ho and J.P. Verissimo. A senior-to-be from Lincoln, Derek Eitzmann found himself in an unfamiliar situation this spring. After playing in a combined 10 games as a freshman and sophomore, he made 18 starts as a defender in 2017. He's now in a position in which he simply hopes to reclaim a starting job.
This group is just beginning to answer questions as to whether it can maintain the program's stature as one of the best in the conference. The 2016 team kept on humming after graduating a wealth of key players from the 2015 GPAC tournament titlist. The dynamics will surely be different with a team that is undeniably less experienced than the one Weides fielded in 2017.
"Part of the challenge is just figuring out a different team," Weides said. "The seniors not only were good in terms of their ability, but they were some big personalities within the team. They were leaders. It's always interesting when you remove that to see how the team adapts. Who steps into those roles? That was interesting seeing that develop over the spring. Maybe the biggest challenge was just playing with guys who have far less experience. There's certainly that hope of growth."
Inexperience will not be an issue at goalkeeper, a spot that will be held down by Bennett for the second year in a row. The native of Oxford, England, continued his development this spring while working with goalkeeper coach Dan Ball. Bennett ranked in the top 20 among all NAIA goalkeepers last season in terms of goals against average.
No program has everything figured out in the spring. Another growing process occurs in fall camp when the newcomers are sprinkled in with the returners. If the last few years are any indication, another talented crop of recruits promises to fortify the roster when they report on Aug. 9.
"I really saw this team that we have right now, if we added nobody, and how capable we could be right here," Weides said. "The returners progressed and got better. Then I start to think about the incoming players with the freshmen and transfers. They're only going to bolster it and strengthen it. Some of those guys can make an immediate impact. It should be really fun to see the competitive response when we add more quality to the team."