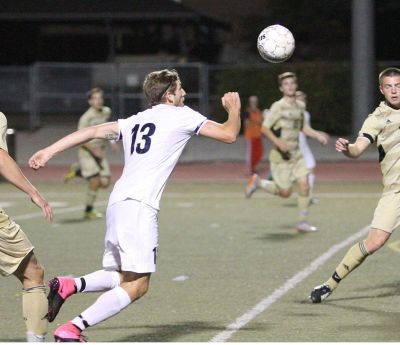 Skipworth and Douglas lead Concordia in 8-0 rout of York College
Aaron Skipworth and Nathan Douglas scored two goals apiece in the first half, and the Concordia University men's soccer team routed York College by the score of 8-0 on Wednesday evening in Seward. It was the third straight win for the Bulldogs, now 7-4-2 overall on the season. York College dropped to 1-13 on the year with the loss.
Skipworth started the scoring for the Bulldogs with a goal in the second minute of the game. Douglas put the Bulldogs up 2-0 with a goal in the 24th minute, and Skipworth had the assist. Skipworth put home his second goal of the game in the 32nd minute off a great pass by Kurt O'Kelly. Douglas made the score 4-0 with his second goal of the half in the 37th minute. Skipworth and Douglas are tied for the team lead with seven goals on the season.
Todd May and Kolt O'Kelly also added unassisted goals in the first half to put Concordia on top by the score of 6-0 heading into halftime.
The Bulldogs continued the onslaught in the second half with two more goals. Ian Euler scored his second goal of the season, and O'Kelly added his second goal of the game (fourth of the season) to round out the scoring for Concordia.
Chris Podlich made one save in goal for Concordia. Andrew Percic made nine saves for York College in a losing effort.
Concordia travels to Mount Marty College on Saturday. Scheduled start time is 4 pm in Yankton.