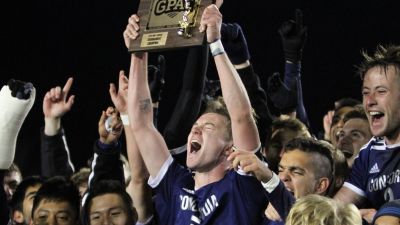 More than four months later, Mark Campbell still gets the chills while watching the 2015 GPAC men's soccer tournament championship game. He and several teammates will get together and re-watch it. Recently, Mark looked on while Marcelino Varona commentated the lone and decisive goal. He did so in Spanish, causing the room to double over in laughter.
Admits Campbell, "We were still getting nervous towards the end. We were looking at certain parts like a certain tackle or a certain shot on goal. When it was coming up to the end I was getting jitters. I was sitting in the corner by myself. The rest of the boys were celebrating. You still get those butterflies."
A constant ball of energy who's never been afraid to chat it up with anyone in his inviting Irish accent, Campbell poured his emotions onto the field that Nov. 12 as the Bulldogs celebrated their first-ever GPAC title. It was essentially a last hurrah in the collegiate career of the Dublin native.
Like many seniors in their final semesters of college, Campbell is trying to soak up the remaining weeks left in his time at Concordia. Says the all-conference defender, "Sitting around the table now reminiscing with the boys – and we still have six or seven weeks left – it's kind of emotional."
But Campbell isn't one to sit around crying, although he's also not one to hide what he's really feeling. Take for instance, the Tuesday of spring break. Campbell awoke in his apartment and had an idea. Not wanting to spend the entire off week wallowing in Seward, the spontaneous side of him thought, 'let's take a road trip.' It seemed like a great idea, even if it meant riding in the same car owned by teammate Justin Lawrie that happened to break down on a journey to Chicago for the Concordia Invitational Tournament in late January.
"Tuesday morning I woke up and it was beautiful out here and I was lying in bed," Campbell said. "I thought, 'We can't do anything around here.' There's no water. No beach. No nothing. J (Justin Lawrie) and Marcelino came into my room and I was like, 'Let's go to LA.' were all there in the car and next thing we were in Denver. We were walking around Denver. We got to Grand Junction and up in the mountains Justin's car was struggling. It was literally blowing smoke everywhere. We got that fixed and then the oil light came on. It was in the middle of the night and sleet and snow was coming down so we stayed in Grand Junction that night."
They weighed their options the next morning and decided it would be wise to simply head back to Seward. They never did make it to the beaches of Los Angeles, but it was a moment that so perfectly describes the fly-by-the-seat-of-your-pants Campbell. He's followed the paths that family and football (he won't call it 'soccer') have taken him.
A biology and chemistry major, Campbell isn't sure what his next move is, although he would like to spend some time in Lincoln following graduation. Says Campbell, "I never really make plans, I just kind of land on my feet."
His ability to land on his feet likely has something to do with not just his ability as a footballer, but also his charm and people skills. It doesn't take much to get him going on any topic. He loves pizza, he's bad at tennis, he has no idea how baseball players hit 90 mile-per-hour pitches and he thinks Nebraska people may actually be too nice.
What makes Campbell so compelling? You've heard the saying, 'you keep doing you', no? That's exactly what he does. He'll wear his skinny jeans and he'll say what's on his mind. What you see is what you get. "I don't get weird around people," Campbell said. "I'll be myself around anyone. If they don't like it, then they don't like me. I don't care."
Like never before, the 2015 Concordia men's soccer season tested head coach Jason Weides' ability to form a cohesive unit made up of many different personalities and backgrounds. It's a bunch that Campbell calls a "good group of lads." Among those personalities, few stand out in the way that Campbell does. After all, he finished a postgame interview after the GPAC championship victory by kissing the camera.
He's one of a kind.
Says Weides, "He's a lively character. He's really witty and he's got something to say about everything. We've had some guys like that before. The interesting thing about him is he's very down to business and he knows when he can joke around and have fun. At the same time, he's very professional with the way he trains and the way he goes about things as a student. He knows how to enjoy life as well. He knows how to have fun and make others around him laugh. He's fun to be around."
Of course, for years Campbell has identified himself as a football player. He has continued to train with the Bulldogs this spring, but soon he'll say goodbye. He's already noticed a difference. There's more time. Plus senioritis is a real thing if you ask him.
"It's kind of bittersweet," Campbell said of the end of his career. "Now I can focus on classes. It's the first time I've been able to do it in six semesters. You have a lot of spare time on your hands now. It's hard to fill it up without feeling you're wasting your life. When you've finished class and you're not training, it's a long day around here."
But life at Concordia has been far from a waste for Campbell, who's glad he got over the reservations he had about moving away. That hesitation played a role in delaying his arrival in Seward, as did Visa troubles. Campbell finally made it to Concordia in the middle of the season in 2013. It was an awkward way to begin the school year.
"I didn't know where Nebraska was," Campbell recalled. "I had to convince myself that I wanted to come over here. When it came down to it, I remember sitting at a table with my mom and dad. I think my mom saw in my eyes that I just did not want to do it. I was trying to convince myself so I told my dad just to click it (to book a flight). Whatever. When he booked the flight, straight away I just broke down in tears. It became real then. I'm actually moving away. Then my ma started breaking down. It was just awful. I was like, 'I can't go. I can't go.'
He did go. It's been a good thing. You may be able to speed a fastball by Campbell, but he'll always have that GPAC title. He says he'll probably have a hard time remembering those things several years from now, but if you've ever talked to him you'll find it hard to believe. He'll probably even tell you about the chicken bacon ranch pizza at Sam & Louie's.
"I'll remember the football – the games, the bad games, the good games. Hastings naturally," Campbell said. "It'll be neat sit around the table with the lads in 20 years time."