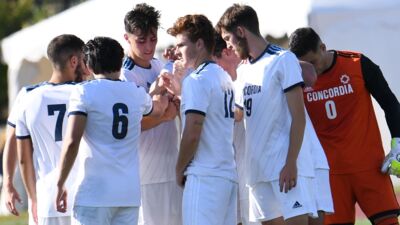 The 2021 campaign will be remembered as one that featured a series of close calls for the Concordia University Men's Soccer program. In the midst of preseason training, Head Coach Jason Weides saw enough talent to believe that his team could legitimately challenge for the program's first-ever GPAC regular-season championship. While there were a number of injuries that prevented the Bulldogs from showcasing themselves at full strength, they come away from season feeling unsatisfied.
Ultimately, the 2021 run ended with a 2-1 GPAC tournament quarterfinal loss at Morningside. In many ways, that defeat summarized the season in a nutshell.
Said Weides, "I'm a believer that tomorrow can always be different and just because something has happened during the course of the season doesn't mean it has to happen today. It was a very competitive game (at Morningside) and an exciting game to watch. When it really comes down to it, we didn't capitalize on enough of our chances. That's been a little bit of a story of the season. We felt like we had a team that maybe could have and should have been in a better position to compete for a conference title and continue on in playoffs. At the end of the day, we couldn't quite put it in the back of the net enough. It's been the smallest of margins."
The 7-8-3 overall record this fall does not tell the whole story. The final seven of those eight defeats came by just one-goal margins, three losses to NAIA national qualifiers: Bellevue and Northwestern. Concordia also earned a 3-3 draw at Hastings, the GPAC postseason champion. For much of September, the Bulldogs struggled mightily to score goals. They recovered in October with wins by scores of 5-1 over Dakota Wesleyan, 3-0 over Jamestown and 6-0 over Presentation.
The competitor within Weides will spend more time this offseason thinking about those close losses – and three ties – than he will about the victories. Successes such as the 2015 GPAC tournament title and the school record 16-win season of 2017 set a new standard for the program. Concordia had higher hopes than fifth place in the GPAC.
"It would be different if we were played off the park in some of our games and just didn't have the talent, but it was clear that we were capable of winning every game we played this year," Weides said. "Every team has their 'if's and 'buts,' but any loss for us was a tight, competitive match that could have gone the other way. I think that will definitely fuel our guys. They know we have to be that one degree better next year. I think honestly it is a one-degree difference."
In mid-November, five Bulldogs were recognized with all-conference accolades. Second team awards went to Yessine Bessaïes, Iker Casanova and David Moreno. Meanwhile, Decker Mattimoe and Garrett Perry garnered honorable mention status. Bessaïes developed into one of the GPAC's most dangerous attacking players, collecting team highs in goals (six) and assists (five). Once again, Casanova served as an anchor for a back line that helped limit opponents to 22 goals over 18 games.
Offensively, four Concordia players turned in exactly four goals: Martin Herrera, Perry, Isaiah Shaddick and Ryan Wokutch. In addition, Eli Rhodes contributed four assists. The Bulldogs accumulated 35 goals as a team. On the other end of the field, Weides had the luxury of deciding between three quality keepers. Callum Goldsmith, Gabriel Mendoza and Federico Simonetti each made at least four starts in 2021.
Considering the aforementioned names, Concordia feels good about the foundation it has in place. Prior to 2021, the program had won at least 10 games in 10-straight seasons. During that stretch, Weides had guided the program to a combined record of 110-61-22. That's also why the '21 season felt like a bit of a disappointment. However, Weides complimented his group for consistently showing strong "effort, intensity and mentality."
The Bulldogs won't lower their expectations heading into 2022 – quite the opposite. Concordia will work towards a productive spring semester that will hopefully put it in the running with the likes of Northwestern, Briar Cliff, Hastings and Morningside – the GPAC's top four teams this season.
The program celebrated six seniors on senior day back in October, but it's possible one or more could return and use the 'COVID' year of eligibility. God willing, it will be a healthy year for team captain João Pedro Veríssimo and a group of Bulldogs that remains on solid footing.
Said Weides, "The guys are certainly hungry to move forward. We usually take some time to decompress after we finish the season. We'll get going once we pick ourselves off the ground and we'll keep moving forward. We bring a lot back – we certainly lose some great players and some key players who impacted our program in so many ways. As we look forward, we return a good core of the team, and we'll add some guys to the mix to fill in some gaps. I think this team will be hungry in the offseason. We fell short of our expectations. I really believe this team was capable of winning a conference regular season title and winning a conference tournament title. Our team believes that too."