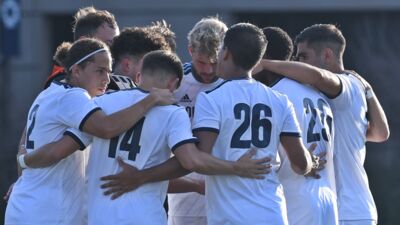 Head coach: Jason Weides (134-102-30, 15th year)
2021 Record: 7-8-3 overall; 5-4-2 GPAC (5th)
Key Returners: MF Max Bisinger; F Daniel Campbell; D Iker Casanova; D Jarrod Henson; F Martin Herrera; F Carter Hinman; GK Gabriel Mendoza; MF Carlos Orquiz; MF Matt Schultz; F Isaiah Shaddick; D Joao Pedro Verissimo; F Ryan Wokutch.
Key Losses: MF Yessine Bessaies; D Renzo Bozzo; MF Caleb Goldsmith; D Decker Mattimoe; MF David Moreno; MF Garrett Perry.
2021 GPAC All-Conference: Yessine Bessaies (Second Team); Iker Casanova (Second Team); David Moreno (Second Team): Decker Mattimoe (Honorable Mention); Garrett Perry (Honorable Mention).

Outlook
The season can't get here soon enough for a Concordia University Men's Soccer program looking to put behind the 2021 campaign. Entering year 15 as head coach of the Bulldogs, Jason Weides believes strongly in the talent of his group, which has learned that the margins are often razor thin within the competitive GPAC. The offseason has been about finding and maintaining the proper mentality that could be the difference in those physical one-goal GPAC battles.
One of the more consistently solid men's soccer programs in the country, Concordia has bigger goals than placing fifth in the GPAC, where it resided last year. All four of last season's conference defeats (as well as the GPAC tournament quarterfinal loss) were suffered by just a single goal margin. Can the Bulldogs find a way in those nail-biting moments in 2022?
"Certainly there's talent in this group, but what I'm more excited about is the mentality that has been fostered," Weides said. "The returners did a really good job of that throughout the spring and our offseason, helping lay some better foundations for this team and our success this season. The newcomers have adapted really well to that. This collection of guys seems to have that extra bit of mental resolve and they see how important our team chemistry is, understand how to deal with conflict and have that grittiness to them. We want to have that true championship mentality. That's what can set us up for success."
A championship mentality might be what pushes Concordia back near the top of the league standings after placing either fifth or sixth in each of the past three seasons. In the not-so-distant past, Weides led the Bulldogs to a GPAC tournament championship (2015) and to a record setting 16-win campaign (2017). Coming off the program's lowest win output since 2010, Weides acknowledges that he too must take responsibility as Concordia seeks a bounce-back campaign. From 2011 through 2020, the Bulldogs won at least 10 games each season. In other words, the foundation is in place.
This is the time of year to be optimistic, and there are plenty of reasons for such sentiment in Seward. Let's start with having six players back who started at least 10 games last season: Max Bisinger, Daniel Campbell, Iker Casanova, Martin Herrera, Carlos Orquiz and Isaiah Shaddick. Herrera, Shaddick and Ryan Wokutch are the team's leading returning goal scorers (four goals each in 2021). Concordia also welcomes back a veteran leader in defender João Pedro Veríssimo, who is gearing up for a sixth year inside the program.
The Lincoln Southwest High School alum Shaddick sees a team hungry to show that last season was something of a fluke. "That was a big topic in the offseason this year," says Shaddick of the team's mentality. "We came together as a team and with Coach Weides and decided there needs to be something culturally within the team that we need to change. We came together and created a set of rules that we have as a team to help lead us to that goal of being successful. We're implementing it and we're holding each other accountable. I think that's a step in the right direction. We'll see how it plays out."
To begin preseason, Weides and his coaching staff put an emphasis on the fundamentals of what it takes to be a strong defensive side. In that department, the Bulldogs know they have a rock at center back in Casanova, a two-time Second Team All-GPAC honoree from Mexico City. Weides describes Casanova as one of the team's steadiest and most consistent performers on a daily basis. In the midfield, Orquiz (second team all-conference in 2020) returns for a fifth year. Campbell is another fifth-year member of the program.
As a team, Concordia was plus-13 in goal differential (35 goals scored, 22 allowed) in 2021 and will likely need to be a fair amount better to be a conference championship contender in 2022. As a reference, the stellar '17 team scored 51 goals and allowed 16. Fortunately, there's a surplus of talent and better depth at positions that were a bit thin a year ago. Other previously unmentioned returners who saw significant time last year include Jarrod Henson, Carter Hinman, Matt Schultz and Braden Spath.
"There's good depth overall," Weides said. "It's never easy losing impactful seniors and we lost some very impactful seniors from last year. Some returners have taken a step forward and are better than they were last year in many facets of the game. We've also added some really good depth and competition in some areas. We've had some great goalkeepers here in our time, but I'm not sure we've ever had as good of a goalkeeper group as we have right now. There's some great competition there and some great competition at our striker and forward positions. We didn't have enough depth last year in that striker position and now we have some great quality depth there. We have some newcomers that are definitely going to impact us right away. We even have several guys who are exceeding our expectations these first couple of weeks. There's good competition every day."
The battle at keeper referenced by Weides is an intense one featuring returners Callum Goldsmith, Gabe Mendoza and Federico Simonetti and Northern Illinois University transfer Nolan Fuelberth, a Lincoln Southwest grad. Goldsmith, Mendoza and Simonetti have each started at some point in the Bulldog kit. The competition at keeper will be a continuing storyline throughout preseason training. Fuelberth is a potential impact newcomer along with others such as forward Dominic Abdel-Ahad, midfielder Slade Leicht, forward Miguel Navarro and defender Adrian Wambua.
If Concordia can become more efficient at putting away the chances it creates, it just might crack a top four of a conference that has seemingly become better and better each season. According to the GPAC preseason poll, the Bulldogs will be chasing the likes of Northwestern, Hastings, Morningside and Briar Cliff at the top. There just might be a handful or more teams in the league capable of winning the GPAC regular season title.
Says Shaddick, "The GPAC is a quality conference with quality competition. You really can't take a day off against our opponents. We have to make sure to come prepared and sharp every day, whether it's training, meetings, looking at film or when we're on the field. We have to make sure we bring our all. If somebody's down or not at their best, we have to bring each other up. I think that's what will lead us to a successful season and hopefully finish with a GPAC championship."
Added Weides, "Our conference has gotten better overall, top to bottom. Our conference, in a way, has been compressed. There's less of a gap between the top team and the second team or the top couple teams and everybody else – and there's less of a gap between the bottom team or the bottom couple teams. It makes for a much more competitive conference and for more teams that are truly in the hunt. The challenge in the GPAC is you can't stumble much. You lose two games – that's more than most of our regular season champions have had. You have to be really good and really consistent over the long haul. Most every game you play could go either way."
As part of a unique trip out to the Pacific Northwest, Concordia will open the 2022 season by playing Northwest University in Salem, Ore., on Aug. 25. The Bulldogs will also take on Corban University in Salem on Aug. 27. Weides' squad will make its first home appearance on Sept. 10 when it hosts No. 12 Bellevue University.