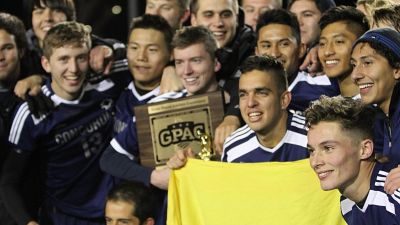 Head coach: Jason Weides (70-68-15, eight years)
2015 Record: 11-7-3 overall; 4-4-2 GPAC (6th); GPAC tournament champion; national tournament qualifier
Key Returners: MF Carlos Acosta; F Toby Down; D Aries Fung; GK Mark Horsburgh; F Tyler Jensen; MF Micah Lehenbauer; MF Lewis Rathbone
Key Losses: MF Julian Amaya; D Mark Anderson; D Mark Campbell; D Sean Doran; D Justin Lawrie; MF Marcos Leon; MF Jake Sells; MF Gideon Soenksen; F Dean Stevens
2015 GPAC All-Conference: Julian Amaya (second team); Justin Lawrie (second team); Lewis Rathbone (second team); Mark Campbell (honorable mention); Gideon Soenksen (honorable mention)
Season Outlook
For the first time in program history, Concordia men's soccer enters a season as the defending GPAC tournament champions. Last season in head coach Jason Weides' eighth year at the helm of the program, the Bulldogs caught fire down the stretch and ran to an improbable conference title. Behind a senior-laden group Concordia stunned conference heavyweight Hastings in the championship game and reached the national tournament for the first time ever.
That unprecedented glory was a long time coming for an outfit that went 4-14 the year prior to Weides' promotion to head coach. Now the Bulldogs have won 53 games since the start of 2011 and have put together five-straight winning seasons for the first time since the 1980s. The culture has changed.
"You just look around and see the facilities that we have and the resources that we have. It's allowed our program to take steps forward," Weides said. "The culture of these guys is together and team first. When we first took over it was the world was against us and we were fighting against everybody to try and achieve success. Winning breeds winning and losing breeds losing. We finally developed that culture of winning. Now the upperclassmen are instilling these things in the newcomers when they come."
That winning culture could be the key to keeping things humming after the graduation of a slew of integral pieces. Departed all-conference players such as Julian Amaya, Justin Lawrie, Mark Campbell and Gideon Soenksen were instrumental as leaders both on and off the field for the winningest four-year period in program history.
The backline will have to be completely rebuilt as all four starters, including the highly-regarded Lawrie, have moved on. Sure there are question marks, but the program has progressed to the point that no one feels panicked.
"We're losing 13 seniors but I know the new guys coming for this fall and they're pretty good," said starting holding midfielder Carlos Acosta. "I think they're going to be good additions to the team. We seniors are going to have to take control of the team and make it feel like home for the new guys. Everyone has the same goal. We have to try to create an environment for everyone to feel welcome."
Acosta is the most experienced player returning having appeared in 51 games over the past three seasons. The native of Cali, Columbia, does the dirty work in the middle of the field and has great technical acumen. Plus he carries an air of confidence.
It's Acosta's roommate who brings perhaps the most intrigue and the potential to significantly elevate the team's ceiling. A transfer from Evergreen Valley College (Calif.) and Ecuador native, Hernandez totaled 16 goals and 14 assists over 19 games at Evergreen in 2014 and adds sizzle as an attacking midfielder.
"He's a dynamic player," Weides said of Hernandez. "He's the type of guy who can beat someone 1v1. He's very tricky on the ball – great feints, great deception. He's the type of guy who can at times maybe put the team on his back when things aren't going as well. He can flash individual brilliance, but he's a team player. I think he's going to give us a cutting edge on the attack."
Hernandez will have company on the attack. Concordia welcomes back each of its three players who shared the team's goals lead in 2015 – juniors Toby Down and Micah Lehenbauer and sophomore Tyler Jensen. The season's biggest thrill came via Jensen who came up with the lone goal in the GPAC championship win at Hastings. A second team all-conference pick in his first season as a Bulldog, Lewis Rathbone contributed two goals and six assists over 16 games a year ago.
In other words, there is no shortage of goal-scoring options. Now to shore up a backline that helped the Bulldogs limit opponents to an average of 1.24 goals per game last season. The good news is that budding goalkeeper Mark Horsburgh returns for his senior season. 'Sparky,' as his teammates call him, starred as one of the heroes of the GPAC tournament, during which Concordia did not surrender a single goal. Horsburgh also clinched the GPAC semifinal match with a successful penalty kick.
Now Horsburgh will see some unfamiliar faces directly in front of him. Sophomore Aries Fung started 15 games as a freshman and could see more minutes on the backline. Others who will compete for increased roles are the likes of senior Andrew Mussell, junior Dillon Hixson and sophomore Angel Alvarez. There's also another talented Evergreen transfer on hand in Florian Caraballo, who hails from Spain.
"We have several defenders coming in who are guys we feel can impact our team immediately," Weides said. "I think we'll have a good blend of newcomers – some are freshmen, some are junior college transfers. Then we've got some returners. I think it will be a good combination. When you have a group of four seniors – they're just all on the same page. It's just going to take us a little while to get on the same page, but once we do I think it's a really good group."
The 2015-16 senior class, big on both quality and quantity, may have moved on, but the mindset it brought remains. As Acosta points out, Concordia has advanced a little bit further in the postseason each of the past few seasons. The Bulldogs bounced back from a 3-2 conference quarterfinal loss to Northwestern in 2013, reached the semifinals and suffered a heartbreaking overtime loss at Hastings in 2014 and then took home a trophy in 2015 by finally solving the powerhouse Broncos. Says Acosta, "We have more confidence in ourselves now."
Concordia hopes the 2016 group resembles the 2015 squad that rattled off a late six-game unbeaten streak more so than the one that began the conference season at 2-4-1. A repeat won't come easy as Weides cautions his players.
"We approach it the exact same way," Weides said of the 2016 season. "We're going to have to convince our players that we approach it the same. I think we have some guys who think the trophy is going to be sent to us already. That's not the case. We just approach it one game at a time. I think we have realistic goals and expectations to push forward and raise the bar a little bit. We feel like that's attainable."
Season Opener: The Bulldogs officially open the 2016 season on Aug. 31 when York College invades Bulldog Stadium for an 8 p.m. kickoff. Fans can get a glimpse at this year's squad on Saturday (Aug. 20) when the current Concordia team takes on a squad of alums. The alumni game is slated to begin at 4 p.m.