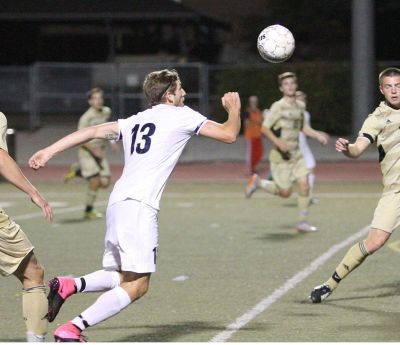 SEASON PREVIEW: 2015 men's soccer
By Amanda Gubbels, Assistant Director of Athletic Communications
Head coach: Jason Weides (59-61-12, seven years)
2014 Record: 10-6-4 overall; 5-2-3 GPAC (5th)
Key Returners: MF Carlos Acosta; MF Julian Amaya; D Mark Anderson; D Mark Campbell; D Sean Doran; F Toby Down; D Justin Lawrie; MF Marcos Leon; F Dean Stevens
Key Losses: GK Brendan Buchanan; MF Chris DeFeyter; MF Rajan Kooner
2014 GPAC All-Conference: Gideon Soenksen (first team); Chris DeFeyter (second team); Mark Campbell (second team); Brendan Buchanan (honorable mention); Justin Lawrie (honorable mention)
Outlook
Concordia men's soccer carries motivation from an agonizing 2014 season-ending defeat into a new year. After falling 2-1 in overtime to perennial power Hastings in the GPAC semifinal game, the Bulldogs have set their sights on taking another step. Last year they broke through with a 1-0 win over Doane in the opening round of the GPAC tournament.
Said Weides, "I think our team obviously felt a lot of pain and it took a little time to get over that loss (to Hastings) and to do it in that fashion as well. They use it as fuel in the off season. I think most teams use that last loss as motivation. I think to our guys, it meant something more because they wanted to get back there, they wanted to get further than that for this upcoming year. We've always had guys work really hard in the off season, and this year was no different in that, but I felt like there was a little something the guys had, that little extra motivation."
This season will see a lot of key returners with a senior class of 11, a uniquely large group of four-year players. Gideon Soenksen and Justin Lawrie, two veterans for the Bulldogs, will compete in their final season after grabbing GPAC all-conference honors last year. Soenksen was the team's top goal scorer with six and also led in shots on goal with 22.
Weides noted on Soenksen. "I think more than anything it's what he does when no one is watching that were impressed by the most. He's had a really nice career and continues to get better and we're expecting big things from him this year."
On Lawrie Weides said, "Justin has always been a good player for us but I think last year took a huge step forward and he's just a guy that we see as an all-conference player."
A question mark in the Bulldog lineup is at the goalkeeper position. In Brendan Buchanan's absence, Weides and staff will turn to less experienced options. Buchanan was tabbed with honorable mention all-conference recognition and was placed on the Capital One Academic All-America second team after last season. The new keeper for the Bulldogs will have big shoes to fill. One possible candidate for keeper is junior Mark Horsburgh.
"He has been here for a couple years and I think is ready for that position," said Weides of Horsburgh. "We've got a couple new players, one from England and one from here in Lincoln that are going to immediately compete for that position as well."
Whoever ends up at goalkeeper will have the services of a stellar backline to work with. Lawrie will team up with the likes of Mark Campbell and Sean Doran on a stingy defensive unit that allowed an average of only 0.95 goals per game (29th fewest among all NAIA teams).
With no individual tallying more than six goals on the 2014 season, goal scoring was spread out amongst the team. Soenksen recorded those six goals while graduated senior Chris DeFeyter and returner Dean Stevens found the back of the net five times a piece.
"I think we have guys that could step up and end up with 10 plus goals," Weides stated. "We've got other guys who I think that could do that. We've got some young freshman that are coming in that are goal scorers so I think that there's a lot of players that could help contribute to that. I still think we'll probably be a little bit like last year where it's spread out."
Improvement late last season and in the off season will show this fall. Lawrie, Toby Down and Micah Lehenbauer have shown significant progress and are expected to have solid seasons this year.
Said Weides, "I think there's a lot of guys that could make that big leap this season." Also, returning players coming off injuries will help boost the Bulldogs up a level. "Once we get those guys back like Marcos Leon, then we'll be plugging on all cylinders," stated Weides.
Before taking on GPAC foes, the 'Dogs will face a tough non-conference season. Benedictine will come to Seward to open the season and Bellevue will visit shortly after, two teams that have been in the top 25 in recent seasons. A road trip to Denver, Colo., will also be highlighted before conference play takes off. Contests between Johnson and Wales University and Sterling College will be played in the Centennial state.
"We've got some teams that will really test us. Our non-conference will test us and prepare us for our conference season," said Weides.
Looking at the GPAC schedule, the Bulldogs will continue to have tough competition this fall. Hastings finished last season 9-0-1 in the GPAC with Midland and Dordt not far behind. However, Concordia finished in the top half and expects to again this season.
"I think our group is going to be competing with everyone in the conference this year. We're right there in the mix of the top teams." Weides says, "On paper, we should be there with all these teams but that's why we play the game and we'll see. I think the league overall is getting better all the time. We see every team improving. It'll be a really fun league this year."
The Bulldogs will open action on Aug. 26 when they welcome Bethel College from Kansas to Bulldog Stadium. Kickoff is set for 8 p.m. GPAC play will begin on the road for the squad as it travels to Orange City, Iowa, to take on Northwestern on Sept. 26.