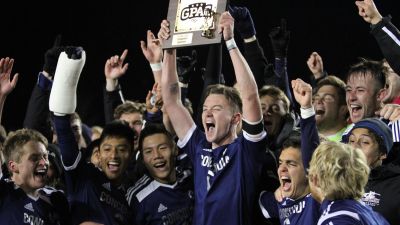 Raw emotions poured out all over Lloyd Wilson Field, engulfing a stadium that has made a habit of stamping out national tournament dreams for GPAC opposition. But not so on Nov. 12, 2015. Said senior Mark Campbell in the immediate aftermath, "I just can't believe it. This is what we've been striving for three or four years now."
As a program, Concordia men's soccer had been striving to soak up such a moment for much longer than three or four years. A Tyler Jensen 66th-minute goal and a third-straight GPAC tournament shutout allowed the Bulldogs to stun conference regular-season champion and 19th-ranked Hastings in the league title game. It's no hyperbole. This was the most significant win in the 45 years of Concordia men's soccer.
So forgive the Bulldogs and their large throng of fans who partook in an extended celebration that chilly night in Hastings. Countless hugs were exchanged. Hundreds of photos were flashed. It was a historic instance made for Instagram. Eighth-year head coach Jason Weides, who received a dousing of ice-cold water from his players following the win, will have the images of that night etched in his mind forever.
Says Weides, "I'll never forget the moment in which we captured the GPAC tournament title – just the excitement on the guys' faces and how happy they were. They put in a lot of hard work to get to that point. It was great to see them be rewarded."
The prize at the end of the line proved especially rewarding considering where Concordia came from. The Bulldogs emerged from the depths of a 2-4-1 conference mark on Sept. 18. They also fought through nagging injuries to numerous starters and a string of tough-luck results. Concordia's chances of making even the GPAC tournament were in question when it trailed 2-1 late in the game at Dakota Wesleyan on Oct. 24. Justin Lawrie and Matt Meisinger surfaced with late goals that helped rescue the season.
Once in the GPAC tournament, junior goalkeeper Mark Horsburgh looked superhuman. He made a highlight-reel save to preserve the 1-0 quarterfinal win at Northwestern and then played the role of hero in the semifinal at Midland. In a dramatic penalty-kick shootout following 110 minutes of scoreless action, Horsburgh made two saves and clinched the PK win by drilling the back of the net.
At that point the Bulldogs had bounced the GPAC's Nos. 2 and 3 seeds from postseason play. That meant Concordia would travel to top-seeded Hastings to play the title game as a decided underdog. Somehow, Weides' group believed just the way it had when a 2-4-1 GPAC record stared it down.
"I don't think the attitude changed," Weides said of the late-season success. "I think the biggest thing was that guys continued to believe in what we had laid out for expectations. They continued to believe in what we could accomplish as a team. They were steadfast in thinking about their goals and not letting themselves stray from that. I think the fact that our mentality didn't change despite the challenges was what propelled us."
Believing and doing are two different things. Weides admits there may have been some doubts about whether his team could see out its 1-0 lead at Hastings. Too many times before the former Bulldog player had seen conflicts with the Broncos end in agony. A year earlier Concordia left Hastings after a 2-1 heart-breaking overtime defeat in the GPAC semifinals. In 2012 Hastings escaped Seward with a 2-1 overtime win. The Broncos won by the same 2-1 score in 2009.
Not since the late 1990s had Concordia upended the GPAC power that claimed the 2010 NAIA national title. The Bulldogs were getting closer. Close wouldn't be good enough anymore.
"Though we've been very competitive with them the last few years and have had overtime games and narrow losses, there's a little bit of a sense of wondering if we can do this," Weides said. "I think when it got to under five minutes and we had a lead against them – I don't want to say there was panic – but a little worry. Can we hold this out? I think winning against them, especially in a big moment in a conference final, gives the guys confidence. I think it will help us in the future. We don't ever have to think about, 'oh it's been a long time since we've beat Hastings.' Hopefully that's something we can move past."
Concordia's breakthrough win kept the Broncos from reaching the national tournament. As the GPAC's lone representative at nationals, the Bulldogs dropped a 3-0 contest at second-ranked Oklahoma Wesleyan in the opening round. Concordia held almost no possession in the first half, but recorded 16 shots in the second half in an experience that future teams can build upon.
Weides would like to think the floodgates have been opened and that Concordia will now compete for GPAC championships on an annual basis. The reality is that the Bulldogs must replace 13 seniors, including six that started in the national tournament game. Seniors Mark Anderson, Campbell, Sean Doran and Justin Lawrie were rock solid along the back line. Another senior, midfielder Jake Sells, was praised effusively by Weides for his growth in his final collegiate season.
Some of the names will change in 2016, but Weides relishes the unfamiliar standing the program now finds itself in. Now the trick is to make it back to the national stage.
Says Weides, "We've never been in a position before where we can say, 'we want to get back to nationals and you can help us.'
"Winning breeds winning."