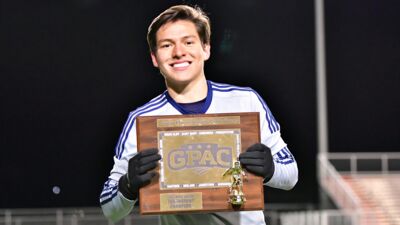 After hearing the thud of the ball hitting the right-handed mitt of keeper Federico Simonetti on the penalty kick save that clinched the 2022 GPAC tournament title, Carlos Orquiz found himself in the middle of a celebratory dogpile. Orquiz knelt to the ground with his hands covering his face as the emotion of that instant hit him like the chill of that mid-November night. It's one of those moments you never forget. It's why Orquiz returned to Concordia for a fifth season in 2022.
The boy who grew up loving the sport of soccer in Chihuahua, Mexico, was realizing the dreams he had dared to hold when he took a chance on coming to Seward, Neb. As one might expect of someone who lived in warmer climates, Orquiz wasn't keen on the cold. But the temperature made no difference on the night he became a GPAC champion, along with his teammates.
"From day one, that was our goal to win GPAC," Orquiz said. "The way we accomplished it adds an important piece to it with how we came back from a 2-0 score. We kept fighting through that challenge as a team. In the end, it was a perfect ending. I don't think if someone would have written it the way it came out to be, it wouldn't be as perfect as it was. The whole night was a special moment for us, and we enjoyed it as a family."
In the eyes of Orquiz, his teammates are an extended family, his family away from home. A May 2022 graduate, Orquiz had already earned his degree in Business Administration from Concordia. He could have packed up his things and left behind the school that has helped him grow as a man. Orquiz wasn't ready yet and, thanks to the extra 'COVID year' of eligibility, there opened a door for his return. The 2021 season (8-7-3 overall record) had been characterized by close defeats and left a sour taste in the minds of the players who knew they were capable of something more.
The way Orquiz talks, it's quite evident that this decision was not a difficult one. There was unfinished business to tend to – and how could he say 'no' to another year of doing what he loved with teammates that have become like brothers?
Says Orquiz, "There's something positive out of bad things that happen. For me it was a fifth year and having that blessing to keep playing the sport that I love and keep representing this great program. It was an opportunity that I needed to take. It also gave me the opportunity to pursue my MBA and continue to grow personally off the field."
Perhaps no one was quite prepared for what would become of 2022. The Bulldogs were picked fifth in the GPAC preseason poll and were completely off the national radar coming into the season. As for Orquiz himself, his first four years were solid by any standard, but he wasn't necessarily a major offensive threat. Concordia struggled with its finishing touch on the attack in 2021 and needed help in that area. Orquiz was ready to answer the call.
Calm and collected, Orquiz is the man for the job whenever a penalty kick opportunity comes about, and he's absolutely deadly when it comes to set-piece situations. The work Orquiz has put in has clearly paid off as he's produced six goals and a school record 12 assists while starting all 20 games as a First Team All-GPAC midfielder this fall. Orquiz played an instrumental role in allowing Concordia to rally back at Hastings. He assisted Adrian Wambua's goal on a beautifully executed corner kick and then drilled the PK that tied it. He also converted his PK during the shootout.
"It's important to set personal goals before the season," Orquiz said. "I had high expectations for myself. I wasn't focusing on the records but as the season went along, I thought, 'whoa, that's attainable.' The more assists I get, the more goals we score and the more we win."
Prior to college, Orquiz took a year off from school and lived in San Diego while playing against high level competition in an amateur league. It gave him a chance to connect with potential colleges. One of the recruiting connections that came about happened to be with former Concordia graduate assistant coach Nico Luque (now an assistant at UMass Lowell), who recommended Orquiz take a look at Concordia. Orquiz signed to play at Concordia without visiting the school. He put his trust in Luque's recommendation and in Head Coach Jason Weides. Orquiz saw Concordia as a place grow not just as a soccer player, but also as a person.
Fast forward to the present and you see a more mature version of Orquiz, who is clearly someone his teammates look up to. He even has set a standard of composure on the field as someone who did not get carded during the entire 2022 regular season. He can also lay claim to having played in more games (89) than anyone in the history of the Concordia Men's Soccer program. Weides referred to Orquiz as someone who "really cares for the people in his life."
Unselfishly, Orquiz even agreed to play outside back his sophomore year when Weides felt like the team needed him in that spot. It took a bit of time for Orquiz to accept his role, and he even considered leaving Concordia at one point. He's glad he stayed. When the personnel allowed for it, Weides moved Orquiz back to his more comfortable role in the midfield. This fall, everything fell into place for Orquiz.
"The past couple years he has clearly been one of our top players," Weides said. "His game has evolved over the years, especially recently. A couple key areas he has grown and is excelling this season is his positioning in the attack and movement off the ball, along with his service on set plays. His defensive positioning, communication and transition have been great this season too. It's been fun to see him really put it all together this year. He was great for us in previous years, but I feel he is twice the player this year."
Orquiz is the right person to hold individual school records because he cherishes them in the context of what they mean to team success. Even when there were times of struggle, Orquiz always believed that the Bulldogs were destined for the mountaintop moment they achieved on Nov. 11. That evening, Orquiz had difficulty putting it into words.
Said Orquiz in the postgame, "That's exactly why I stayed a fifth year. I couldn't be prouder of all my family here and I'm really, really happy right now … I'm just speechless. To be here with this family fighting together for our goal, I'm so proud of everyone."
The reward for Orquiz's patience and persistence is the chance to end his career at the national tournament. No matter the result, Orquiz will always have the relationships he's formed, that special someone he met on the women's soccer team and the memory of that GPAC championship night in Hastings. Orquiz is also known within the team as an enthusiastic karaoke singer. As Weides put it, "These moments are everything."
It didn't matter that it was 1 a.m. when the team returned to campus – they were going to ring that bell. Orquiz was one of the veteran leaders that did the honor of letting the neighborhood know of the unforgettable victory. That celebration is over. Now it's time to refocus on the next obstacle that awaits Orquiz and his "family."
"It will be a great challenge for us," Orquiz said. "We're just trying to enjoy the journey at this moment. We already put this team in the record book. It's the second time the program has qualified for nationals. We know it's going to be a tough challenge and we're up for it. We know that if we stay together, anything can happen."
Weides feels better about entering this week's challenge knowing he has someone like Orquiz in his starting 11. Said Weides, "He's always been a fierce competitor, someone you want on your side when the going gets tough. He competes everyday whether it be a game, training or a fun activity. Orquiz plays to win."