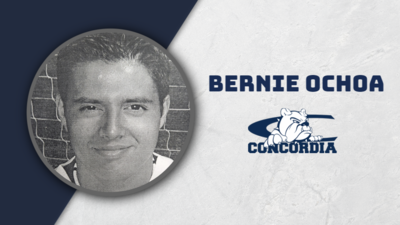 A Californian for virtually his entire life, Bernie Ochoa expanded his horizons as part of a collegiate career that meandered into the Midwest. In the first days of the Great Plains Athletic Conference (which began in 2000), Ochoa emerged as one of the league's initial stars on the soccer pitch. The Napa, Calif., native shared GPAC Player of the Year honors in 2000 and was recognized as an Honorable Mention All-American while playing for Head Coach Bill Schranz.
While Ochoa began his collegiate career at San Francisco State University near his hometown, Concordia wound up being the right fit and the perfect chance to get out of his comfort zone.
"It was definitely a big culture shock to me," Ochoa said. "Getting off the plane and driving from Omaha to Seward, I knew it was quite different from California. I knew a little bit about what I was getting into. I figured it was a good opportunity for me to branch out and do something new. I had always been in California. At the beginning I didn't know what to think but I think it was a great experience and a great change of pace."
A three-time all-conference honoree, Ochoa remains one of the greatest players in Concordia Men's Soccer history to this day. In recognition of his accomplishments, Ochoa will be officially inducted into the Concordia Athletic Hall of Fame this September. He will become the first Bulldog soccer individual to take his place within the Hall of Fame. Not since the mid-2000s has Ochoa walked a campus that has undergone a significant makeover.
There may be new buildings in place, but the tenets that made Concordia special to Ochoa back then are alive and well in the present. As Ochoa took time to journey down memory lane, he neglected to mention his own major moments of glory or recognition. Despite relocating more than 1,500 miles from Napa, Ochoa found comfort because of the people who greeted him.
Said Ochoa, "There was a lot of help given to me from day one. Everyone was very helpful and very nice to me. They welcomed me to Concordia – from teammates, to coaches to counselors and teachers. Everybody was very welcoming. It was just a family atmosphere. It made it a really smooth transition for me."
The comfort felt off the field likely led to Ochoa feeling more comfortable on it. He immediately elevated the Bulldogs, who went 12-7 in 2000 and broke the school record for wins in a season (a record that stood until 2017). Ochoa tallied 31 goals in just three seasons while showcasing skills that were a cut above the rest. Ochoa took to the campus culture, studied Physical Education and Spanish and gained instant respect from his teammates.
One of those teammates was current Concordia Men's Soccer Head Coach Jason Weides. Said Weides, "He's without a doubt one of the top players I played with. I learned a ton from Bernie. He was a very technical player who was versatile and could play several positions. For us it was evident that he could help us as an attacking player. He could create chances and score goals, sometimes by himself, but he also was a great team player. He made those around him better players and brought a calming presence to our team. He was comfortable under pressure in tight places. He could do things with the ball that other people just can't. He could do something magical that no one else could anticipate or see coming. He always understood the game really well."
Ochoa's decision to follow former high school teammate Tim Lawson to Concordia proved fruitful. When Ochoa went through some academic struggles as a freshman at San Francisco State, Lawson began selling him on the idea of joining him in Seward. Ochoa says the adjustment to Nebraska wasn't all that difficult. He simply had to acclimate to being so far away from his parents for the first time. The team camaraderie smoothened the journey for Ochoa, who fondly remembers the road trips and bonding outings. Says Ochoa, "Teammates were all more than welcoming. Even the community of Seward made it really easy for me to be able to adjust to the culture at Concordia and in Nebraska in general."
At one point named a GPAC Player of the Week after a hat track during the 2001 season, Ochoa was quoted as saying, "Soccer is my life, my inspiration. It is what keeps me going. It's my talent." Still the only Bulldog in program history to be named GPAC Player of the Year, Ochoa helped propel the 2000 squad to the GPAC semifinals with a two-goal performance in a conference quarterfinal home win over Sioux Falls. In part because of Ochoa's arrival, Concordia became a serious challenger within the GPAC.
Before moving back to Napa, Ochoa even tried his hand at placekicking for the football team and served that role late in his Concordia career. Explained Ochoa, "It was a big adjustment. Practices were easy but once you got into a game situation there was a lot of pressure. With no linemen in front of you and no pressure, it's pretty simple. When you get in a game it's different. It was quite an experience as well. That's why I did it. I wanted to try something different."
After completing his undergraduate degree, Ochoa returned to California and became a pillar within the Napa community. He put his soccer knowledge to use and became a mentor for youth players while coaching for 17 years in successful runs leading high school and club teams. Ochoa even guided one of his club teams to a national title and won a high school state title coaching at his alma mater, Vintage High School. In separate ceremonies, Ochoa was twice given a key to the city of Napa, but it wasn't about personal accolades.
Said Ochoa, "I just wanted to be an educator. I learned a lot from Coach Schranz. My experiences growing up and at Concordia told me that this was my calling. As soon as I graduated, I went straight into coaching. I figured that was my way to give back the way others gave to me."
While circumstances have not allowed for Ochoa to get back to campus in recent years, he has carried himself as an ideal Christian ambassador for Concordia University. Ochoa and Weides have remained and touch. At various times, Ochoa has worked on helping educate potential recruits on the opportunities at Concordia. There's a genuinely special place that Ochoa holds in his heart for his alma mater.
He called his selection as a Concordia Athletic Hall of Famer "shocking." Continued Ochoa, "It's just really rewarding to know that Concordia remembered me and what I was able to do not only as a soccer player but as a student and a person. I'm definitely very appreciative of the school and what it's done in recognizing me. I'm thankful to Concordia University for everything it did for me and how it helped me grow."
In the present, Ochoa runs laundry mat businesses in Napa, because he is always willing to try something new. Ochoa made the career switch five years ago while scratching an entrepreneurial itch. In just a few short weeks, Ochoa will make good on an intention he's had for a while – to make a return visit to Concordia.
Even after years gone by, Weides looks at Ochoa as a friend and an important part of Concordia Men's Soccer history. Says Weides, "He's a great asset to the program in many ways. It's been fun to continue that relationship."
Added Ochoa, "I'm definitely excited to go back and see the whole new campus, especially the athletic department."