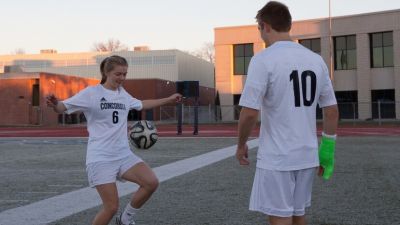 NOTE: A version of this story first appeared in the winter edition of Concordia's Broadcaster magazine.
If ever there was a first family of Concordia University soccer, the Soenksens would be it. As Linda Soenksen, mother of nine children, says jokingly, "If you don't like soccer we're going to have to kick you out of the herd."
The herd tended by Linda and her husband Phil won't argue with mom. In following a family tradition, every Thanksgiving the Soenksens head over to the grassy field at nearby St. Peter's Catholic School in Lincoln. At times Linda will excuse herself to run home and check on the turkey. She'll hustle back and the Soenksens will resume.
Just don't mistake this for your family backyard kickball game in which grandma swings and misses and face plants. Of the seven Soenksen siblings that are college age or older, six have played or are still playing collegiate soccer – and the other one could have. Plus the two youngest Soenksens appear on their way to earning scholarships of their own.
Soenksens and soccer balls are inseparable.
"Whenever we go somewhere it's like, 'do we have a soccer ball along?'" Phil Soenksen said. "So we've got soccer balls in most vehicles sitting around. Whenever we're stopped at a rest stop or have a little time pretty soon a soccer ball is out and they're passing it around to each other and juggling."
In some form or another, Phil has coached each of his nine children. Phil possessed a limited soccer background when he began coaching his oldest son Jesse in a youth league in a small town just north of Iowa City, Iowa. Jesse quickly developed a passion for the sport and the dominoes began to fall.
The soccer bug bit the Soenksen family and it bit hard.
"My mom actually did track and cross country. My dad played baseball," said Gideon Soenksen, the third Soenksen brother to make his way to Concordia. "I'm really not sure how it got started. I think my oldest brother just thought it would be cool to try. Then he played and my dad liked the sport so we all just kind of followed in his footsteps."
Before welcoming Esther (the seventh of nine siblings and current Concordia women's soccer player) to the family, the Soenksens moved from Iowa to Lincoln, a location that fostered more soccer opportunities. By that point, Esther and younger siblings Uriah and Grace had virtually no choice. They had been born into an established soccer family.
Esther's explanation for the family's love affair with the sport closely resembles the remarks made by her brother Gideon. Says Esther, "Everyone else was playing so I just started playing. Jesse started. He was the oldest and everyone else just kind of followed suit. It was just something we all did."
The family's migration to Lincoln significantly increased the odds that one or more Soenksens may end up at Concordia. As a family that greatly values its Lutheran faith, Phil and Linda saw the close proximity of Concordia as an added bonus to living in Lincoln.
Tim, the second oldest brother, began the pipeline to Seward when he transferred to Concordia for the fall of 2010 after beginning his career at Iowa Western Community College. Kevin came to Seward right out of Lincoln Lutheran High School a year later. Then another year later Gideon chose to be a Bulldog. Two years after that Esther became the fourth member of the family to arrive at Concordia. (Linda is an alum of Concordia-Irvine, then called "Christ College").
Every year since 2010, at least one Soenksen sibling has called Concordia home. Tim and Kevin played together for one year at Concordia. As did Kevin and Gideon. The opportunity to compete alongside his brother proved a perfect selling point for Gideon, who earned first team all-conference accolades in 2014.
"For me it was between Bellevue and here," Gideon said. "I just ended up picking here. It was close and my brother was here. I wanted to play with him. I think that's ultimately what decided it because I love playing with my brothers."
The Soenksen siblings, who all live within 80 miles of each other, continue to share a close bond built around – soccer, obviously. This past Halloween each of the Soenksens, even Phil and Linda, wore costumes to the Concordia home soccer doubleheader that night. Then from Nov. 3-13, most of the Soenksen family spent the whirlwind period crisscrossing the GPAC footprint as both Bulldog soccer teams made runs to GPAC tournament championship games. It was a six-game-in-11-day bonanza.
Such is life for the Soenksen parents, who really couldn't even estimate the number of their children's games they have attended. Says Linda, "I have no idea (how many). A lot." Replied Phil, "Easily in the hundreds. I don't know if it gets into the thousands, but I really don't know."
The soccer lineage could have gone up in smoke before it even got started. Jesse Soenksen tried tee ball in addition to soccer as a youngster in Eastern Iowa. With many more Soenksens soon entering the world, the parents made their kids choose. Jesse blazed the trail. Recalls Phil, "I said, 'OK, you have to choose one thing. We can't be doing multiple sports with multiple kids. We just don't have the resources to do that.' They picked soccer."
Phil and Linda likely had little idea of what was to come, of how consumed in the game they would become. Even when they're not playing, the Soenksens are rooting for Liverpool FC or gathering to watch the World Cup. Family vacations? Well those are centered upon soccer as well.
"A lot of what we've done has revolved around soccer," Linda said. "We haven't taken many family vacations but what we have done is go to out-of-town soccer tournaments. This year we've spent a lot of time going to Gideon and Esther's games. Most of the family has been able to go on those excursions."
Eat. Sleep. Breathe. Soccer. One thing Concordia men's soccer head coach Jason Weides has never had to worry about: having a Soenksen tire of a game each of the siblings started playing seemingly as soon as physically capable. Esther stated simply, "I wouldn't know what to do with myself not playing soccer. I've always done it."
"You can be guaranteed you're going to get an incredible work rate," Weides said. "Every Soenksen we've ever had has been really professional in the way they train and the way they approach improvement. They're really passionate about the game. I've never had to tell any of the Soenksens, 'why don't you work harder?' Or 'why don't you care more?' They just love the game and they give everything they have all the time."
Weides, then an assistant at Concordia, had his first interactions with the Soenksens in 2005 when Jesse considered playing at Concordia. A few years later Weides had become head coach and expressed interest in Tim. Says Weides, "He proved to be a very important recruit for us because it opened the door up for conversations with his siblings down the road. Tim was a great player for us and helped us take steps as a program."
The Soenksen-Concordia relationship has certainly been mutually beneficial. Esther's freshman season coincided with the first-ever GPAC title and national tournament appearance for the women's program. The next year Gideon finished his collegiate soccer career by leading the men to their first-ever GPAC championship and national tournament trip. In turn, Gideon and Esther are receiving the high-level Christian education they sought.
Whether winning three-versus-three tournaments on Soenksen-only teams in Council Bluffs, Iowa, or taking to Bulldog Stadium, the family's passion for the game has been undeniably evident.
It certainly makes sense that the Soenksens would give all they have to a game that's rewarded the family so richly. "It's pretty amazing," Phil Soenksen says. "It's been a blessing. It's helped them covering expenses. We're thankful that they have the ability to do that. It's been pretty neat to have kids that are capable of playing soccer at a college level. We feel very blessed by that."