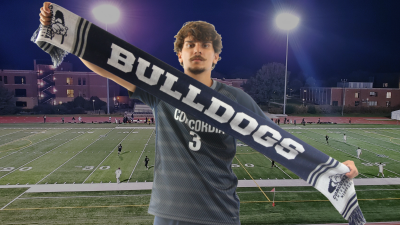 What a difference a few years makes. João Pedro Veríssimo can smile now as he reflects on the journey from Nova Mutum, Brazil, to Seward, Nebraska. Sight unseen, Pedro Veríssimo gave his pledge to Concordia University, located in a state he had never been, inside of a country he had never stepped foot in. Admitted João of his feelings then, "I don't know where I'm going or how it's going to be."
Pedro Veríssimo will tell you that it was a God thing that led him here. That belief had to have been in mind when he landed in Miami, Florida, en route to Seward for the very first time. In the airport, a stranger told Pedro Veríssimo a joke while speaking English and then laughed. Pedro Veríssimo grinned back, but he hadn't been able to comprehend what was said.
"I just kind of took a shot in the dark," Pedro Veríssimo said of his decision to attend Concordia. "I said, 'I want this program.' I didn't go to any showcases or visits. I made my highlights on my own and sent them to some coaches. I had some other offers, but the way they treated me here made the difference. The most important thing was the human interaction."
Now in the midst of an unusual 2020 season, Pedro Veríssimo has found a comfort zone and a role as one of two captains on the Bulldog Men's Soccer team. He's one of the most respected leaders on the team. Pedro Veríssimo conquered the fear of learning to communicate in English. He can speak not just English, but also Portuguese and Spanish. Such fluency comes in handy on a diverse team represented by many different nations.
Thirteen years into his tenure, Head Coach Jason Weides knows what leadership looks like. He sees the way that teammates gravitate towards Pedro Veríssimo.
"He's the type of guy that's not only there for other international players. He's there for the team," Weides said. "Whether you're from Lincoln, Nebraska, or whether you're from somewhere else in the world, he's a guy our players can turn to … He's one guy that every single person on our team when we ask who they see as leaders on our team, they mention his name. He's just really a great leader on our team."
Jokingly, teammates sometimes refer to João as the "grandfather" or the "senior citizen." He's a good sport about it. He's not the oldest on the team in terms of age, but he is "by body, for sure," João says while laughing. Of course he's coming off an injury that took away nearly his entire 2019 season. There may be some body aches that linger, but Pedro Veríssimo is a gamer. He's an essential part of this team on and off the field. He's started all 10 games this fall as an outside back.
The injury actually might have made Pedro Veríssimo a better leader. He had to find a different way to make an impact last season when he couldn't be on the field.
Said João, "Last year I was a captain and I ended up getting injured in the second game. That took a lot of time to digest the fact that I wasn't able to be on the field with my teammates. It changed my mindset of being a leader off the field and making sure everyone was ready to go. This year, being on the field is totally different. I want to be an example by what I say, but I can also be an example by performing … the main goal of leadership should be producing new leaders."
In other words, João cares about what happens to the program after he's gone. He wants the younger players to carry on whatever momentum is built this season. Why should he care? Because he's thankful for the opportunity he's had here – and for the people. When Pedro Veríssimo had zeroed in on Concordia as a possibility, he began messaging current players on the team. He learned about a healthy culture. It was something he wanted to be part of.
It was going to be different. He was worried about the language barrier – and of course the weather. He was warned of cold winters and humid summers. Now he sees the beauty of snow and the changing of the seasons in Nebraska. None of that really matters when you're surrounded by the right people.
"Amazing people," João offers as one of the best things about Concordia. "It's kind of cliché to say that, but it's really true. People here are really welcoming. They try to make you feel at home. That's the main thing for me."
Weides has been struck by the uncompromised positivity of João. As Weides put it, João always pictures the most ideal outcome in all situations. In a regularly scheduled one-on-one meeting with his head coach, Pedro Veríssimo requested it take place at 8 a.m. When he arrived, Weides asked if João was a morning person. João replied, "I'm an all-day person."
"All Day" João will graduate in May 2021 with a degree in Business Administration. He's also started his MBA with plans on returning and playing again next season in taking advantage of the year he lost in 2019. Simultaneously, Pedro Veríssimo is interning with Chartwells Dining Services, an opportunity that is giving him real world experience in business and finance (João grew up in a farming family with a father who works on the financial side of it).
Pedro Veríssimo may choose to go that route for his career, but he figures he still has a little time to decipher the road ahead. At this moment, he continues to follow his passion. Few things bring him more joy than the game of soccer, a sport that is basically a rite of passage in his native country. As João puts it, the sporting culture in Brazil is "all about soccer."
It's a game that brought Pedro Veríssimo to the United States and has given him a window into a whole different world. The greatest rewards are not the results on the field – even if it meant a win over rival Hastings – but the relationships formed with teammates, coaches, professors and fellow students.
João will leave Concordia eventually. Not all people can make this claim, but João can. Says the Bulldog captain, "I'll have friends all over the world to visit after I graduate."