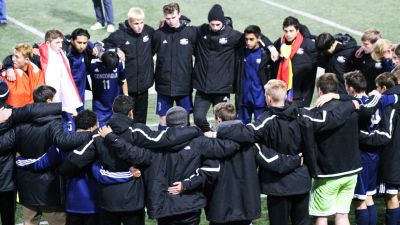 There's a sense of discontent inside the Concordia University men's soccer program – and that's not a bad thing. The expectations and the sense of what is possible have changed. After winning the 2015 GPAC tournament title there's a thirst that only another trip to nationals could quench.
But historically, the 2016 campaign ranks among the best seasons ever for the program. For the second-straight year, the Bulldogs advanced to the GPAC championship game in Hastings.
"Our guys were really prepared for the challenges of the conference tournament," Weides said. "Considering we lost 13 seniors from last year, to be able to get back to the final is a nice accomplishment. It's not an easy thing to do. Our guys did a great job of beating some good teams. Obviously Midland was a highly-ranked team. The semifinal turned out to be a wild and exciting game.
"The team was excited to get back to the final. We were just one step short of where we really wanted to be."
While a trip to nationals got nixed by eventual national champion Hastings in the 3-1 Concordia loss in the title game, the Bulldogs proved that their surprise 2015 run was no fluke. The 2016 Bulldogs relied upon senior goalkeeper Mark Horsburgh and a rebuilt backline that meshed quickly enough to allow just one goal over the season's first five games.
What the 2016 team did better than the 2015 side was play more consistently throughout the balance of the conference season. Concordia finished this past fall with a 6-3 GPAC regular-season mark, earning the right to host a conference tournament quarterfinal game for the first time in 15 years. The Bulldogs didn't disappoint the home fans, overcoming a 1-0 deficit with a pair of Lewis Rathbone goals that were the difference in a 2-1 win triumph over Northwestern.
That set the stage for the season's most satisfying victory, a 3-2 upset of 13th-ranked Midland on the Warriors' home turf in the conference semifinals. Holding a seemingly comfortable 3-0 advantage, the Bulldogs saw their lead cut to a single goal. They managed to hold on and knock Midland out of the conference tournament for the second-straight year.
This was further evidence of how far the program has come. Concordia had beaten a team that would end up among the final 16 teams left standing in the national tournament.
"It's exciting for the growth of our program knowing where we're at now and where we can go," Weides said. "We're at a point where we can compete against anybody. Eight years ago those names (such as Hastings and Midland) scared us a little bit. We weren't quite prepared to play them. Now we are and know we can get results against them. We really look forward to those big games against top 25 teams. Those are games we circle on the schedule."
Most impressive about 2016 was how seamlessly the Bulldogs transitioned after graduating four of their five all-conference selections from the previous season. Five players who started the GPAC championship game were new to the program. Two of them – Florian Caraballo and Marcelo Hernandez – were transfers who wound up with first team all-conference honors.
In addition, Weides faced challenges that are difficult to prepare for like when two international recruits were unable to make it to Nebraska and when one starter left the school midseason. Despite such issues, Weides knew there was talent on board for another shot at a special season.
"There's a lot of time training that goes into developing players," Weides said. "We tinkered with things a lot and had a lot of different personnel in the back. Finally, towards the end of the year, it started to get more settled. That was helpful for us down the stretch. We had a lot of moving parts for about the first three-quarters of the season. We had a lot of different guys at different positions. Coach (Nico) Luque spent a lot of time working with our defenders. A lot of credit goes to him and having Sparky returning at goalkeeper was really helpful. We had that stability behind them. Sparky was able to come up with some saves when we did have breakdowns."
Not only did Concordia defeat Midland, it also toppled national tournament qualifier and Association of Independent Institutions tournament champion Georgia Gwinnett, 1-0, early in the season. The previous day, the Bulldogs played then 24th-ranked Lyon College (Ark). To a scoreless draw.
From a goal scoring perspective, Concordia got contributions from up and down its roster. Hernandez and second team all-conference performer Micah Lehenbauer tied for a team high with eight goals apiece. Rathbone and freshman Carlos Ferrer were next in line with five goals each. For the year, the Bulldogs recorded a goal differential of plus-19. Though not an explosive attacking group, Concordia was solid in all phases.
When looking ahead to 2017, the Bulldogs are fortunate to return the large majority of the key pieces from a second-straight GPAC tournament finalist. The biggest question mark will be at goalkeeper, a position that will be vacated by the steady and reliable Horsburgh. In addition to Horsburgh's departure, Concordia will say goodbye to Hernandez and defender Carlos Acosta.
Lessening the blow from those losses will be the return of 11 of the 15 Bulldogs that saw action in the conference title game.
"I'm excited to see (goalkeepers) Jack (Bennett) and Nick (Varilek) more this offseason," Weides said. "Those guys have worked really hard. With seniors at other spots that are graduating, I think we have players that are well-prepared to take over. I'm really interested to see the team and how they come together. We want to see who the guys are that want to work really hard. One thing that's helped us the last few years is having a lot of guys who spent time on their own working on their craft. I want to see who wants to invest in our success."
Concordia will enter 2017 as one of only three teams in the GPAC to have won at least 10 games in each of the last six seasons. The Bulldogs have also reached at least the GPAC semifinal round three years running.