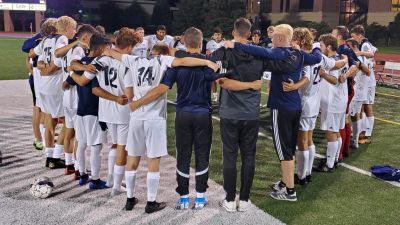 The finish to the 2019 season seemed to motivate members of the Concordia University men's soccer team. This past fall, the Bulldogs started out 7-0 before closing at 10-6-2 overall. It wasn't the season they were striving for, but it was another campaign of close competition with many of the league's top teams. Quite quickly, the focus moved towards getting back to the level of the 2015 through 2017 squads that each reached the GPAC tournament title game.
The signs are there that one of the nation's most consistently solid programs will be a tough side to be reckoned with again in 2020 – even if there is no spring season of training.
"Our guys were working really hard in the weight room," Weides said. "Coach (Todd) Berner and Coach Ben (Berreckman) had them working hard and making some great gains. We've historically made great gains, but I think this group especially was developing nicely. You could physically see it in our guys. They were changing and looking more athletic and stronger."
Weides was looking forward to seeing the weight room progress equate to better performance on the field. Concordia had been slated to scrimmage this spring against opponents from the NAIA, NCAA Division II and junior college levels. We all know why those matches are not taking place. All over the world, soccer is at a standstill. Alum Toby Down and his Tai Po team of the Hong Kong Premier League managed to play behind closed doors for parts of March before that league too was shut down.
Once classes at Concordia moved online, Weides began to help his players scatter across the globe. The 2019-20 roster features 11 student-athletes from outside of the United States. A select few out of that group have remained in Seward during this unique time period.
"Logistically it was a bit of a challenge," Weides said. "All teams went through that, not just here at Concordia. Those teams that have international students probably found it a little more challenging in that we had to provide more support or help them adapt. There were a few more variables for them to sort out. We wanted to help our guys be prepared to succeed in the transition to online delivery for academics. Then it was connecting with them. Thinking about soccer came after all of that."
A new challenge has involved how the team is able to communicate remotely. The time gap difference amongst teammates is 15 hours. Imagine trying to attempt to schedule a Zoom meeting under those circumstances. However, Weides, says they are making it work even if it has to be really late at night or really early in the morning for some. Said Weides, "It's a lot of fun to see everybody's faces again."
For a lot of coaches, this feels like an extension of summer. The months of May, June and July require a certain level of trust that student-athletes will put in the work on their own. Considering Concordia has won at least 10 games in each of the past nine seasons, it's fair to say the program has a process that works. Weides has consistently found players who want to put the time in.
"We've laid out expectations in some of our team (virtual) meetings," Weides said. "We've talked about adapting in a unique time and how we can do it. Normally everything right now is controlled in a team environment where we can really manipulate it. It's now up to the student-athletes to hold themselves accountable, and we try to help them do that. It certainly mimics a summertime period. They have to have the drive and discipline to want to be better."
The program celebrated seven seniors this past season. That group included Carlos Ferrer, four-time All-GPAC honoree. Four all-conference selections will return in goalkeeper Eduardo Alba, defender Renzo Bozzo, forward Moises Jacobo and midfielder Garrett Perry. Simply having a cleaner bill of health in 2020 will serve as a key in 2020. Injuries played a role in the regression over the second half of last season.
Weides acknowledged that a little break from soccer could be a good thing – but not for too long. Heading into year 13 as head coach, Weides is hopeful that this fall's preseason training will look similar to many of those in the past. If the players arrive in good shape, training can continue as normal and the Bulldogs can begin to fulfill expectations they felt they fell short of in 2019.
"I don't see that there needs to be major modifications to our fall camp," Weides said. "This certainly is going to be a hurdle. The comfort for anybody in this position is that we're not the only team in America dealing with this. Every single team around the nation is dealing with this. I don't think we have to adjust our expectations of what we can do next year based on the challenges right now. We will adapt and make sure we're ready to go."
The official start to the season is slated for Aug. 26 when Tabor College (Kan.) will be in town. In a short time frame, the Bulldogs will attempt to assimilate the newcomers and make up for the time that's being lost right now. Weides wants his team to embrace the opportunity.
Says Weides, "I'm excited about what we were building and I don't think that really changes that much. I'm really excited about what we have coming back and the players we're adding to the mix. We should have a good opportunity to succeed this fall. I can probably speak for my players in saying we'll be excited to get back to action. One of the bigger challenges of all of this is missing out on that sense of team. It's something we all love so much. There's no substitute for being together."