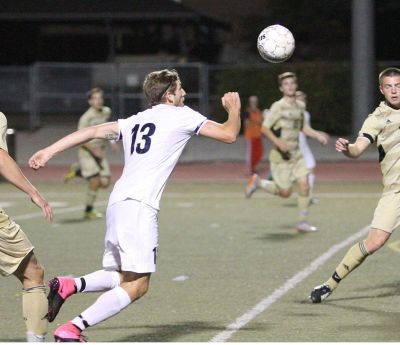 Douglas and Esser lead the way in 4-0 win over Mount Marty
Concordia University pulled away for a 4-0 GPAC men's soccer win over Mount Marty College on Saturday evening in Seward. Nathan Douglas had two goals, and Nick Esser had a goal and two assists to highlight the Bulldog win. Concordia improved to 8-3-1 (2-2 GPAC), while Mount Marty dropped to 1-10 (0-5 GPAC).

Mount Marty played most of the match with just 10 players, as starting goalie Oscar Martinez-Mojica got a red card in the 18th minute. He tackled Concordia's Chris DeFeyter (Scottsdale, Ariz.) inside the box, resulting in a penalty kick for Concordia. DeFeyter scored on the penalty kick to give the Bulldogs the early advantage. Just before halftime, Douglas (Winnipeg, Can.) scored his first of the game to increase the lead to 2-0. Esser (Lincoln, Neb.) was credited with the assist.

Concordia tacked on two more goals late in the second half. Douglas scored off another assist by Esser, and Esser added an unassisted goal with less than two minutes remaining in regulation for the final of 4-0. The Bulldogs finished with 14 shots overall with eight shots on goal. Chris Podlich (Brisbane, Aus.) made four saves to pick up the win in net for the Bulldogs.

Jose Marquez-Garcia had a match-high five shots to lead the way for Mount Marty. Jeremiah Kiehn allowed the four goals and made three saves for the visiting Lancers.

Concordia hosts Midland University on October 12.