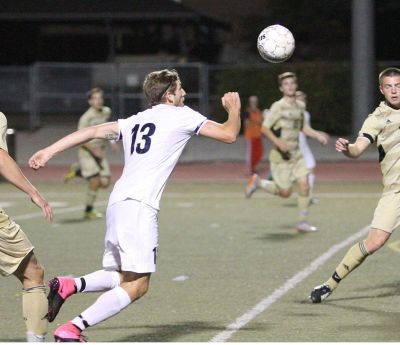 Doran, freshmen key ninth-straight home win
SEWARD, Neb. – The Bulldogs extended their home winning streak to nine games on Saturday night by defeating William Woods (Mo.) 2-1 in a non-conference matchup. Concordia improved to 3-0-0 on the season in its first game at Bulldog Stadium of 2012.
Just as they did in their first two games this season, the Bulldogs got on top early and then relied on their stingy defense to shut the door. Sean Doran, a freshman defender, curled in his first collegiate goal off a free kick from 20 yards out at the 20:55 mark of the first period. The score, which caromed off the intersection of the left post and the cross bar before finding the back of the net, gave Concordia a 1-0 lead that it would not relinquish.
"Once again we came out of the gates firing and got a couple goals in the first half," head coach Jason Weides said. "We're really proving we can score some goals in the first half. It was a good performance. I thought we really controlled the play the first half. Again some young guys played really well."
Weides also noted that Concordia has yet to score a goal in the second half of any of its first three games this season, but a Gideon Soenksen goal off the assist from Aaron Skipworth in the 34th minute proved to be just enough against the Owls.
Another theme continued as freshmen came up big for the Bulldogs, who have now seen four of their seven goals this season netted by rookies. Doran, a Dublin, Ireland, native known for his rugged defense in the back, even found the back of the net. The 6-foot-6 Doran has made a seamless transition to collegiate soccer.
"I've been playing soccer for so long and fit into the team nice and easy," Doran said. "All the guys here are easy to get along with so that's what makes it great."
Concordia had held all of its 2012 opponents scoreless until William Woods' Ryan Mann grounded the ball past Bulldog keeper Chris Podlich in the 88th minute off a scramble that resulted from a corner kick. The Owls failed to threaten the remainder of the contest and fell to 0-2 on the season after finishing 10-9-1 overall last season out of the American Midwest Conference.
"We're certainly excited. You can't complain when you start out 3-0," Weides said. "But I think our expectations continue to grow, so we want to get better. We've got a really tough week this next week with two games against Top 25-type teams, so they should be great contests."
Concordia sophomore keeper Brendan Buchanan still has yet to allow a goal in just over 252 minutes in goal this season. He notched four saves on Saturday before being relieved by the senior Podlich.
The Bulldogs get back to action on Friday when they play Bethel College (Ind.) at 7:30 p.m. as part of the Hastings Tournament. They then turn around for a challenge from No. 6 Grand View (Iowa) on Saturday at 5 p.m. in Hastings, Neb.