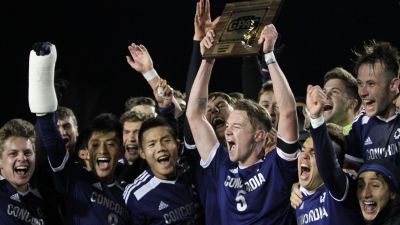 HASTINGS, Neb. – The Concordia University men's soccer team completed an improbable conference tournament run by slaying an elusive GPAC dragon on Thursday night. For the first time in program history, the Bulldogs raised the GPAC championship trophy by way of a 1-0 victory on the home field of top-seeded and 19th-ranked Hastings.
After an up-and-down regular season, head coach Jason Weides' squad found its groove in the conference tournament. The Bulldogs did not allow a single goal in 290 minutes of conference postseason action on the way to a championship that left the Broncos stunned. That 25-game Hastings unbeaten streak against league opponents? Gone.
Concordia is headed to the NAIA national tournament for the first time ever.
"I think we believed the whole time," Weides said. "It was a bit of a rocky road for us, especially mid-season, opening up conference play we didn't get the results we expected. The reality is this is where we expected to be and this where we thought we had the capability of being in the conference final game. We just took a little different path."
Under Weides, no Bulldog team had ever gone toe-to-toe with the powerful Broncos in the way that the eighth-year coach's bunch did on Thursday. This was no fluke. Hastings outshot Concordia, 16-7, but in only few instances did the potent Broncos seriously threaten to put away a goal. And when they did, GPAC defensive player of the week Mark Horsburgh stonewalled Hastings.
After a scoreless first half, the only goal came in the blink of an eye. A booming Horsburgh goal kick helped lead Tyler Jensen in behind the defense. With All-American goalkeeper Alex Guyer drawn well off the goal line, Jensen softly tapped the ball from left to right into the net for his seventh goal of the season.
The Bulldogs smelled blood. With just under 20 minutes to play, senior Gideon Soenksen got free in the box for a shot that Guyer got enough of to deflect to the left of the goal. Guyer made four saves on the night in another solid effort.
There just wasn't any denying a team that won a heart-stopping penalty kick shootout at Midland in the semifinals. "Finally," exclaimed senior defender Mark Campbell. A team that had been 2-4-1 in conference play at one point suffered through injuries and tough luck. All of those frustrations transformed into jubilation at Lloyd Wilson Field, where opponents typically go to die against a Hastings program that won the 2010 NAIA national championship.
"I just can't believe it," Campbell said. "This is what we've been striving for three or four years now. We've never beaten them. After last year and the heartbreak of losing in the last minute, this is what we deserve. We've deserved this. If you look around, the emotions and everybody – it's just amazing. We're going to nationals."
Horsburgh, the hero of the semifinal at Midland, made nine saves on Thursday, pushing his GPAC tournament save total to 26. On the attack, Soenksen was most active with three shots – all on goal.
"It's just incredible," Horsburgh said. "It's the journey we've been on in an up-and-down season. It was just a huge effort from everyone. It was brilliant."
The Bulldogs will be back on the road at a site to be determined for the opening round of the national tournament, set for Saturday, Nov. 21. Pairings will be released by the NAIA on Monday (Nov. 16).
But no one was quite ready to think national tournament on Thursday. This was a night to celebrate a historic moment for the program. Concordia players doused their coach with ice water and posed for seemingly hundreds of photos while exchanging hugs. Campbell provided postgame remarks and then kissed a camera.
This wasn't supposed to happen. But someone forgot to tell the Bulldogs.
Said Campbell, "Not a lot of teams would have went up against the setbacks we had and been able to kick back and still have the belief to go and win the GPAC championship."