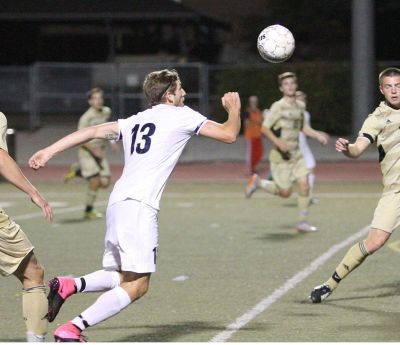 Concordia rolls past Briar Cliff, 4-1
Nate Friesner scored two goals and added an assist, and the Concordia University men's soccer team picked up a 4-1 win over Briar Cliff University on Senior Night at Bulldog Stadium. The Bulldogs improved to 11-3-2 on the year with a 5-2-1 mark in GPAC play. Concordia is currently second in the conference standings. Briar Cliff dropped to 6-7-1 (3-5 GPAC).
Concordia got off to a fast start, as Kolt O'Kelly (Littleton, Colo.) scored in the third minute. Friesner (Shawnee, Kan.) and Nathan Douglas (Winnipeg, Can.) picked up the assists on O'Kelly's fourth goal of the season. Friesner followed with his first goal of the game in the 20th minute. Just over a minute later, Jonathan Avalos (Napa, Calif.) scored his first goal of the season to increase the Concordia lead to 3-0. With less than five minutes to play in the first half, Friesner added his second of the game (third of the season) to give Concordia a 4-0 advantage heading into halftime. Following the game, Bulldog senior Kolt O'Kelly talked about Concordia's fast start. "It was really nice to get a couple of quick goals and put them in a hole early on," said O'Kelly. "The first couple of goals got us going, and we were able to build some momentum early in the game."
Briar Cliff avoided the shutout with a goal early in the second half. Stephan Salansky picked up the goal for the Chargers, who totaled 10 shots (four on goal) in the contest. Kyle King made six saves and took the loss in net for BCU.
Chris Podlich (Brisbane, Aus.) played the first 62 minutes in goal for the Bulldogs and made one save. Brendan Buchanan (Broomfield, Colo.) made two saves in the final 27 minutes. Concordia totaled 24 shots (10 on goal) in the contest.
Concordia concludes the regular season with road contests at Doane College (Oct. 26) and Northwestern College (Oct. 29). The Bulldogs will look to build upon what has been a very impressive stretch. The Bulldogs are 5-0-1 since October 4. O'Kelly discussed the final stretch of the season.
"We need to continue doing the things that have helped us get to this point," remarked O'Kelly. "We need to keep working hard, and we don't want to lose sight of who we are. We really trust each other, and it's always nice to play with confidence like we have been. We have some big games coming up, and we hope to have a pretty good fan base at Doane next week. We look forward to the atmosphere at these road games, and hopefully we can finish the regular season strong."