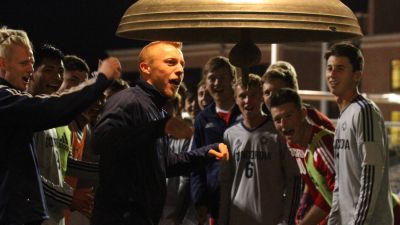 SEWARD, Neb. – The Concordia University men's soccer team aims to play the role of dragon slayer on Wednesday when eighth-ranked Hastings makes a visit to Bulldog Stadium. Kickoff is set for 8 p.m. CT for a showdown between sides currently occupying the top two spots in the conference standings. Tenth-year head coach Jason Weides' has gradually built up a program that can seize at least a piece of the GPAC championship pie with a win on Wednesday.
Concordia (14-1-1, 7-1 GPAC) is not yet satisfied despite the 2017 squad already owning program records for overall wins and conference wins in a single season. Among all 191 NAIA men's soccer programs, the Bulldogs possess the fourth best winning percentage (.906). Now Concordia can focus on its most anticipated home game of this fall.
"It was really hard," Weides said of keeping his team from looking ahead to Hastings prior to Saturday's 5-0 win at Dordt. "Overall we did a good job of it. I think we all struggled, our coaches included. It was really challenging not to think about the what ifs, the scenarios and the projections. When we left the locker room (at Dordt), we were able to leave the elephant in the room."
The 'elephant in the room' may as well have been a bucking Hastings Bronco. The defending national champions should expect to get Concordia's best shot on Wednesday. While the Bulldogs are the underdog on paper, all they have to do is look back to their 2015 GPAC tournament title game upset at Hastings for inspiration. Few people would have given Concordia much of a shot, but the night of No. 12, 2015, turned into one of the most memorable days in program history.
With only one loss all season, the Bulldogs have built a winning culture. They have made it to two GPAC championship games in a row. For the 2017 squad, Wednesday night will be the ultimate test.
"It definitely is a big challenge to know that you have Hastings as your last game," said senior Micah Lehenbauer. "It's one that even at the beginning of the season you circle it. It's the one that you're pointing towards. It was really stressed before the game against Dordt that the game against Hastings didn't matter if we couldn't get the result against Dordt."
Concordia got the result it was looking for in a blowout win that featured yet another Lehenbauer goal. Weides didn't have to sweat out the latest victory, which came three days after Midland forced overtime via an equalizing goal with two seconds left in regulation. Lehenbauer came to the rescue with a header goal that came off a throw in in the 104th minute. It's just been that sort of magical ride.
"It's indescribable, really," Lehenbauer said of that golden goal feeling. "There's all that emotion knowing that the game's over and you don't have to run anymore. It's indescribable. You have all your teammates hugging you and running towards you. There's no feeling like it in the world."
Lehenbauer has been on a tear. He's recorded 10 of his 11 goals over the past nine games. Concordia is the only team in the GPAC to have three players with 10 or more goals. Lehenbauer and Lewis Rathbone have 11 apiece while Marcelo Hernandez has chipped in 10 goals. Meanwhile, junior goalkeeper Jack Bennett ranks 13th nationally in goals against average. Bennett made numerous key saves in the win at Midland.
It's likely going to take another stellar game from Bennett and the rest of the Bulldogs' central figures to knock off a dominant Hastings team. The Broncos have outscored GPAC opponents 37-4 through their first seven conference contests. The Concordia back line will have to keep tabs on Daniel Whitehall, who has scored 68 goals in his collegiate career. On the other hand, the Bulldogs have outnumbered conference rivals, 26-5.
Wednesday's occasion will be deserving of a raucous crowd. An upset of the Broncos would make for another monumental day for Concordia men's soccer.
"It would mean a lot," Lehenbauer said. "It reflects on the hard work that has been put in on past seasons. The guys that have graduated and the guys that are still up-and-coming shows how the program has been growing. Coach has put in a lot of hard work and time as well."
Regardless of Wednesday's result, the Bulldogs will be one of the top three seeds in the conference tournament. They will host one of four quarterfinal games at 7 p.m. CT on Tuesday, Oct. 31. Other GPAC postseason dates are Saturday, Nov. 4 for the semifinals and Thursday, Nov. 9 for the championship game.
All Bulldog home games can be watched live via the Concordia Sports Network.