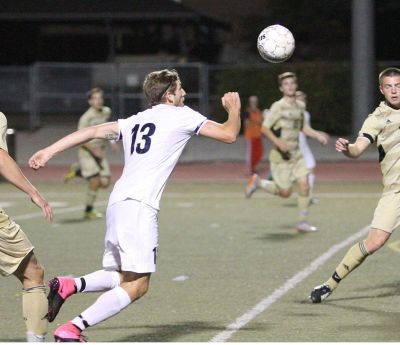 Concordia grad assistant soccer coach catches on with Lincoln Haymakers
By Jake Knabel, Sports Information Director
SEWARD, Neb. – Growing up in Kilkenny, Ireland, Concordia men's soccer graduate assistant coach Benny Hanaphy lived and breathed soccer. The game is what brought him to America on scholarship at nearby York College, where he would star as an NAIA All-American. But the game of football? Now that felt foreign to Hanaphy.
"I knew very little about football," Hanaphy said. "I knew (the U.S.) had a Super Bowl and that there was a football (video) game called 'Madden,' but I couldn't understand why they called it football when they don't use their feet."
Yet somehow Hanaphy found himself debuting as a kicker for the Lincoln Haymakers on April 26. A YouTube video of Hanaphy drilling kicks inside Bulldog Stadium as far out as 52 yards caught the eye of a Grand Island indoor football team, the Nebraska Danger. Soon after playing two games for the Danger, Hanaphy was contacted by the Haymakers, a first-year squad in the Champions Professional Indoor Football League (CPIFL).
The 6-foot-2 football rookie used his powerful and accurate left leg to become a fixture at the end of the season for the Haymakers. In a league with exceptionally narrow uprights (10 feet wide compared to 23' 6" for college), Hanaphy nailed 8-of-18 field goal tries and went 12-for-16 on PATs. His field goal percentage of 44.4 was not far off the league leader.
The kicking part came natural, but the football uniform complete with a helmet and pads did not.
"It was awkward," Hanaphy said. "The helmet was heavy and obscured my vision. The pads made it hard to swing my arms like I wanted to, but after the warm-up I got used to them. I was a bit nervous, but mostly because I wanted to do well for the team, due to being so new."
Adapting to a new game and sporting culture, Hanaphy knocked in three field goals in his first game, helping the Haymakers to a 46-40 victory over the Oklahoma Defenders. Two weeks later he connected on the longest successful field goal of any Haymaker kicker in 2013, converting on a 42-yard field goal.
Not bad for someone who had never played the sport before. While his style may look unorthodox compared to kickers who were groomed to play football, Hanaphy has developed a routine that works for him.
"Most kickers have prescribed steps," Hanaphy says. "I just back up three-four steps diagonally and go and kick it. It's more natural for me. I don't think the robotic style would help me at all."
Bulldog defensive coordinator Patrick Daberkow stood in as holder for the YouTube video that helped Hanaphy land with the Haymakers. Hanaphy was so impressive kicking the pigskin that Concordia football coaches were ready to offer him a spot on the roster, however, he had used up his playing eligibility at York.
Instead, Hanaphy caught on with the fledgling Lincoln indoor team. Even though he possessed little understanding of the game, Hanaphy, carrying his charming Irish accent, was greeted warmly by his new teammates.
"They were very welcoming," Hanaphy said. "They knew I could kick a ball but also knew that I was new to the game and would need some help with the rules and procedures. They really looked after me and made me feel included from the start."
The welcoming atmosphere allowed Hanaphy to find comfort in what seemed like a strange game. He liked the experience in his four games so much that he just might find himself in the Haymaker uniform again next spring.
"They've already asked me to sign for next year so that's very flattering," Hanaphy said. "I'd love to play again. This past season was mainly to get my foot in the door and get asked to play a full season next year."
However, soccer is still Hanaphy's primary passion. He will serve one more season on Bulldog head men's soccer coach Jason Weides' staff while completing his master's degree. The next step will be to obtain a head coaching position of his own, likely within the United States.
"I really like the competitive nature and professional training and recruiting environment of the college soccer scene in America so I'd love to stay and coach there," Hanaphy said. "Hopefully I can get that chance once I'm finished at Concordia after this upcoming year."
According to Weides, Hanaphy is on track to reach his career goal.
"He would be great as a head coach," Weides said. "He definitely has a knowledge of the game. He's a student of the game. From a training aspect, he knows how to train players to get the maximum out of them. He knows how to build relationships. He's good socially. He's good with our players. Our players love him. He's one of those guys that fit it from day one."